21st-Century Odyssey
Behringer's über-affordable homage to the legendary 1970s ARP Odyssey gives you all the classic features — plus state-of-the-art modern updates. Like the original, the Behringer Odyssey is a dual-VCO duophonic analog synthesizer with 37 full-sized, semi-weighted keys. But Behringer has brought the Odyssey into the 21st century by adding an arpeggiator, a 32-step sequencer with onboard storage, and world-class Klark Teknik digital effects that include reverb, chorus, flanging, delay, pitch shifting, and multi-effects. Back in the day, the Odyssey was a formidable synth with an immensely fat, aggressive sound that cut through raucous guitars like a hot knife through butter. Boasting a pure analog signal path with authentic VCO, VCF, and VCA designs from the '70s, this new incarnation nails the circuitry, sound, and feel of the original. Factor in its updated feature set, and the Behringer Odyssey makes it easier than ever to whip up killer patches on the fly.
True to the original analog circuitry
Behringer meticulously engineered the Odyssey's analog circuitry to be true to the original, using vintage-style voltage-controlled oscillator, filter, and amplifier designs that make it easy to re-create the coveted sounds of the '70s. This painstaking attention to detail is what gives the Odyssey its prodigious sound-shaping ability, which covers everything from ultra-fat basses and searing leads to stunning otherworldly effects.
Massively fat sounds
The Behringer Odyssey lets you re-create the magic of classic synth tracks that drove prog rock, synth pop, and disco in the 1970s. From its introduction in 1972, the Odyssey immediately became the go-to instrument for squelchy basses, industrial effects, shrieking leads, and more. It brought a number of innovations to the budding synth insurgency — and this Odyssey nails them all. First of all, the Odyssey is duophonic — which means you can play two notes at once. Odyssey's two voices are the product of two analog VCOs, each with a choice of sawtooth, square/pulse wave with pulse-width modulation, or sine/square wave LFO. You can create insanely fat bass lines with the Odyssey. Want proof? Check out Herbie Hancock's classic track "Chameleon" from his 1973 Head Hunters album. Odyssey also has oscillator hard sync, which lets you create the type of visceral "tearing" sync sounds famously used by The Cars on their 1979 hit "Let's Go."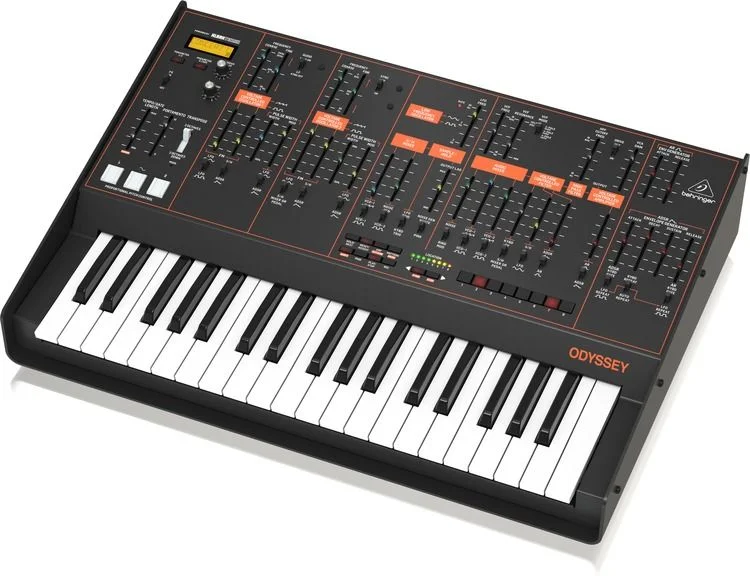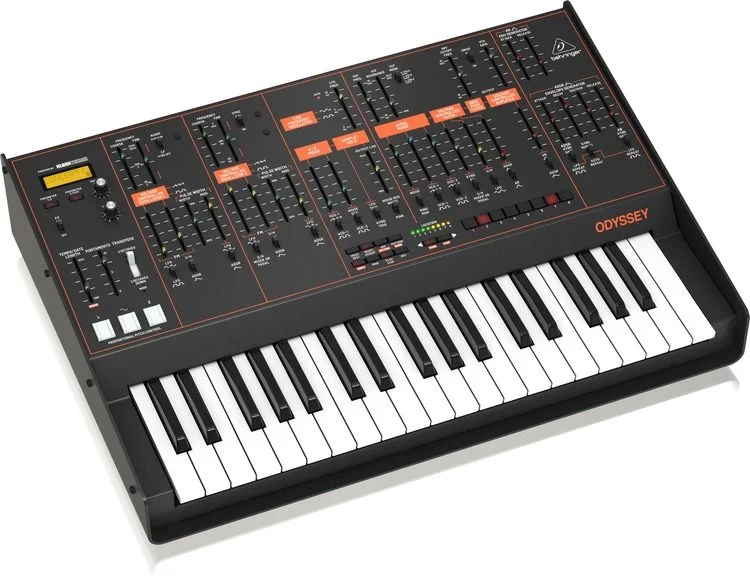 Three classic filters onboard
It's well-known that during its decade-or-so of production, the original Odyssey sported three different filter designs. The MKI filter was a 2-pole 4023 type, with an open sound and biting resonance. MKII was a 4-pole 4035 ladder filter; round, fat, and rich — great for basses. The MKIII 4075 filter was also a 4-pole design and similar in many ways to its predecessor, but smoother and silkier when you pushed the resonance. The Behringer Odyssey contains all three filter types, and they're all available at the flick of a switch. There's also a new Drive circuit that hits the filter harder, taking the instrument's renowned sonic aggression to a whole new level.
Modulation à go-go
The Odyssey gives you generous modulation options, including two envelope generators, an ADSR (Attack, Decay, Sustain, Release) and an AR (Attack, Release). To allow for an even broader range of performance options, switches are provided for ADSR Gate/LFO Repeat, AR Gate/LFO Repeat, and Keyboard Repeat/Auto Repeat. Another feature is Sample & Hold (S/H), which allows you to modulate your pitch and filter settings using a variety of waveforms. The S/H section also includes the Output Lag slider, which generates a glide effect between voltage steps, effectively rounding off the edges of the LFO waveform.
When you set the LFO to be triggered via the keyboard, it gives you a cool auto-wah effect on every note you play. And using Ring Modulation in conjunction with oscillator sync or the wealth of pitch modulation available, you can create all manner of thunderous, clangorous, and totally magical musical mayhem. There's also a pink/white noise generator and Portamento, which lets you sweep smoothly from one note to the next for silky transitions — another classic synth effect.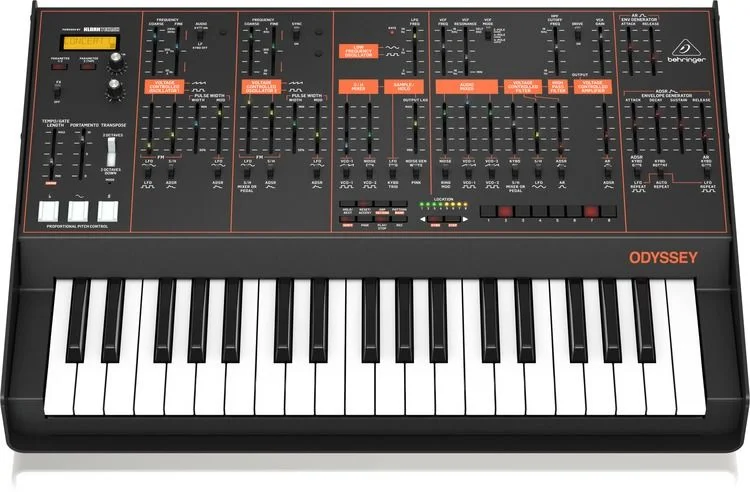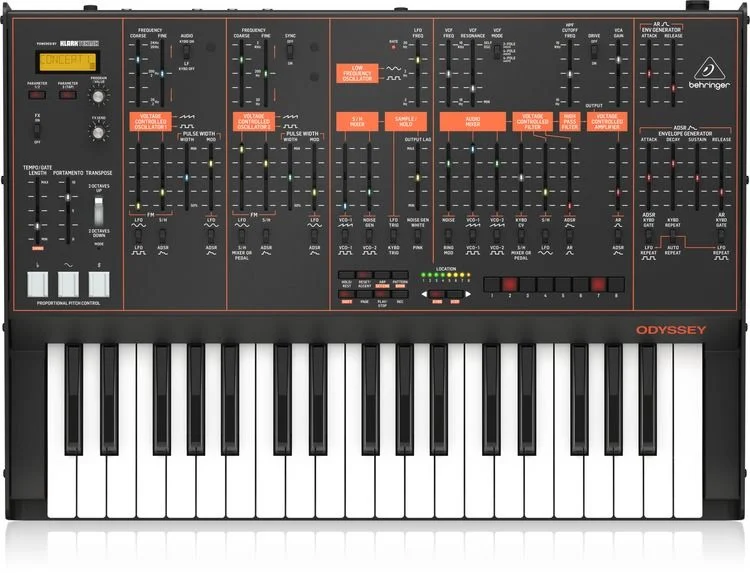 Onboard sequencer and arpeggiator
Odyssey's sequencer — a feature that the original Odyssey lacked — lets you easily program up to 32 note/rest steps via either Keyboard or Step mode and save them as a pattern. You can record, save, and recall up to 64 patterns that can be stored in eight banks, with each bank holding up to eight patterns. The onboard Arpeggiator offers eight patterns that you can trigger simply by playing a chord.
World-class Klark Teknik effects onboard
Boasting a four-plus decade legacy of quality, Klark Teknik enjoys a worldwide reputation as one of the UK's preeminent audio companies, and they even have a TEC Lifetime Achievement Award to back it up. Which is why Behringer has incorporated custom-engineered Klark Teknik digital effects into the Odyssey, breathing new life into this classic instrument with a full arsenal of world-class FX presets that include reverb, chorus, flanging, delay, pitch shifting, and multi-effects. Klark Teknik created this 24-bit, studio-quality effects engine specifically for Behringer to provide a professional finishing touch for your performances.
Plentiful hands-on controls and connectivity
For the ultimate in hands-on vintage synth-style tweakability, Odyssey's roadworthy all-metal chassis is equipped with 35 illuminated, dimmable LED sliders, 25 switches, and three pressure-sensitive buttons for pitch and modulation control — all laid out in the classic arrangement that helped make the original Odyssey synthesizer a legend. Input and output connectivity includes MIDI I/O over USB and DIN connections, sustain Pedal and Portamento footswitch jacks, Low and High Outputs, External Audio In, CV (Control Voltage) I/O, Gate I/O, USB/MIDI, balanced XLR and 1/4″ Main outputs, and a 1/4″ Headphones Out jack with a dedicated Volume control.

Behringer Odyssey Features:
Authentic mono/duophonic synthesizer with 2 analog oscillators
37 full-sized, velocity-sensitive semi-weighted keys
Pure analog signal path based on legendary VCO, VCF, and VCA designs from the 1970s
2 voices with sawtooth, square/pulse with pulse-width modulation, and sine/square wave LFO
3 VCF modes: 2-pole MKI (4023), 4-pole MKII (4035), and 4-pole MKIII (4075)
Easy-to-use 32-step sequencer with 64 sequence locations
Arpeggiator with wide patterns for great sound effects
World-class Klark Teknik FX (fully bypassable) with reverb, chorus, flanger, delay, pitch shifter, and multi-effects
35 illuminated, dimmable LED sliders and 25 switches to give you direct and real-time access to all important parameters
3 pressure-sensitive buttons for pitch and modulation control
Powerful pink/white noise generator with Sample & Hold plus lag processor
Comprehensive USB/MIDI and CV connectivity
Balanced XLR (High) and 1/4″ (Low) Main outputs
1/4″ External Audio In, Headphones Out with level control
Roadworthy all-metal chassis
Designed and engineered in the UK
3-year Warranty
Tech Specs
Type:

Keyboard Synthesizer

Analog/Digital:

Analog

Number of Keys:

37

Type of Keys:

Semi-weighted, Full size, Velocity-sensitive

Other Controllers:

3 x Pressure-sensitive Buttons (pitch, modulation)

Polyphony:

Mono/Duophonic

Oscillators:

2 x Analog VCO ; square/pulse, sawtooth, pulse-width modulation

LFO:

1 x LFO ; Sine/Square wave

Filter:

2-pole MKI, 4-pole MKII, 4-pole MKIII

Envelope Generator:

1 x ADSR, 1 x AR

Effects Types:

Klark Teknik Reverb, Chorus, Flanger, Delay, Pitch Shifter

Arpeggiator:

8 patterns

Sequencer:

32-step, 64 patterns

Audio Inputs:

1 x 1/4″ (external audio input)

Audio Outputs:

1 x XLR (high), 1 x 1/4″ (low)

Headphones:

1 x 1/4″

USB:

1 x Type B

MIDI I/O:

In/Out/USB

Pedal Inputs:

1 x 1/4″ (pedal), 1 x 1/4″ (portamento footswitch)

Other I/O:

CV in/out, Gate in/out, Trig in/out