Novation's Flagship Keyboard Synth
Built on the formidable foundation of Novation's renowned Peak synth module, Summit is a 2-part, 16-voice synthesizer with three oscillators per voice, aimed at the professional or semiprofessional musician seeking a powerful, inspiring 61-note keyboard synth for onstage and studio deployment. Summit puts the power of two Peaks right at your fingertips, letting you split or layer two completely independent patches across the keyboard, or switch between them on the fly. Summit also expands on Peak's layout, with many additional controls and functions accessible on the front panel — including FM routing, LFOs 3 and 4, complete arpeggiator parameters, and more — plus pitch and mod wheels. Summit also features numerous new filter options and an audio input for processing external sources through its reverb, chorus, and delay FX.
Gloriously vibrant analog sound
The beating heart of Summit is its three digital New Oxford Oscillators per voice, hosted on the FPGA (Field Programmable Gate Array) chip. As well as generating authentically analog-sounding waveforms at ultra-high resolution, this architecture also facilitates FM and wavetable synthesis that delivers rich, harmonically complex, and highly textured raw tones. Each voice has a true stereo signal path with dual analog filters, three stages of analog distortion, and analog voltage-controlled amplifiers; while a wealth of modulation assignment options and colorful per-part effects (distortion, chorus, delay, and reverb) add movement, verve, and polish to your patches.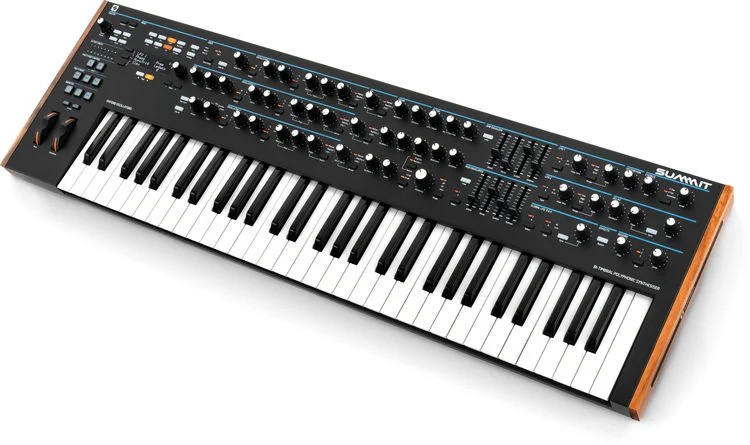 Novation Summit 61-key Polyphonic Keyboard Synthesizer Features:
Premium 5-octave semi-weighted keybed with velocity sensitivity and aftertouch
2-part multitimbral 16-voice polyphonic synthesizer
Hybrid architecture: "Digital where it counts, Analog where it matters"
Multitimbral engine for splitting, stacking, and switching between 2 simultaneous patches
3 NCO New Oxford Oscillators per voice, enabling subtractive, wavetable or FM synthesis
Dual analog filters, analog VCAs, and 3 stages of analog distortion per voice
Per-voice analog multimode 12/24dB filters with Dual mode
Per-part arpeggiator and effects (distortion, chorus, delay, and reverb)
Stereo audio in routable to onboard effects and aux outputs
Includes Ableton Live Lite DAW software and access to the Novation Sound Collective
USB-MIDI class-compliant
Weight: 23.46 pounds
More Info:Novation Summit