Roland Streamlines the RD Stage Piano
Roland is on the cutting edge of evolving digital piano technology, and they've packed their latest stage piano, the RD-88, with renowned RD sound and playability in a lighter weight, more affordable instrument. For decades, pro keyboardists have trusted RD pianos have been trusted by professionals, gig after gig, on stages worldwide. Now, the RD-88 gives you the premium ivory feel of Roland's PHA-4 Standard weighted action with escapement, along with their powerful next-generation ZEN-Core sound engine with SuperNATURAL acoustic and electric pianos. The interface, optimized for live performance, is quick and easy to use onstage with hands-on real-time controls and three zones with Apple MainStage integration. Amazingly, Roland has even built stereo speakers into the RD-88's sleek chassis — incredibly handy for sketching out arrangements backstage!
Packed with authentic sounds
To be truly great, a stage piano should have authentic sounds with character. Drawing upon Roland's rich sonic legacy, the RD-88 draws features newly developed SuperNATURAL pianos and electric pianos that can go from grit to sparkle with a few knob twists. And for extra versatility, there's a curated selection of acoustic and electronic sounds from our historic legacy using the same sound engine found in our flagship synthesizers.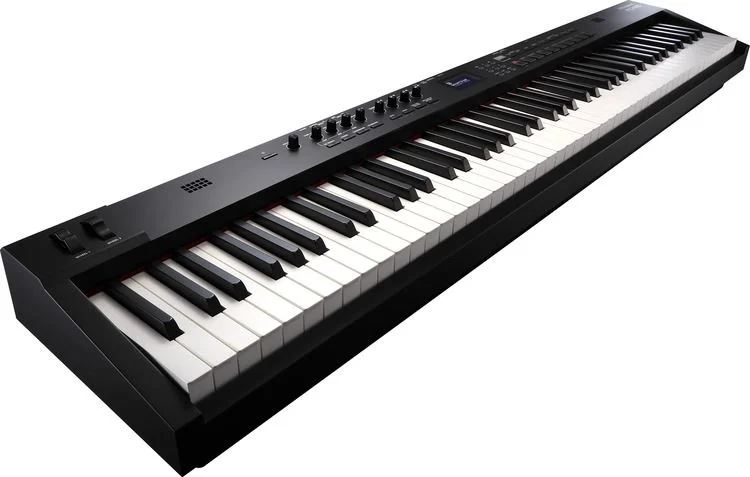 Fast, easy-to-use interface
Thanks to their intuitive controls and welcoming, ergonomic layout, RD stage pianos have become famous for their user friendliness. The RD-88 continues the tradition, giving you only what you need for confident and expressive performances. Critical controls are clearly marked and always in reach, so you can quickly find your favorite sounds, add effects, and shape the overall tonal balance to suit the venue.
Integrate your soft synths
Sometimes you need a very specific sound or the unique capabilities of a particular soft synth or sample library. The RD-88 offers three zones that you can configure with internal sounds — or you can integrate and control soft synths from Apple MainStage. This makes it easy to duplicate the sound of a track live or mix your favorite soft synths with the RD-88's own sounds.


The perfect gigging piano
Whether you're on the road, gigging locally, or heading out for a weekend getaway, the sleek, compact RD-88 is the perfect companion. Its lightweight, roadworthy build makes it easy to transport and quick to set up, even on tiny stages or in tight rehearsal spaces. And with its über-convenient integrated speaker system, you won't need an amp or PA system for those small coffee house gigs or hotel room jams. With its outstanding portability, great sounds, and classic RD playability, Roland hit it out of the park with the RD-88.
Roland RD-88 Stage Piano Features:
Lightweight and compact design for easy transport and setup
Easy to use interface optimized for live performance
88-note PHA-4 Standard Keyboard with Escapement and Ivory Feel
ZEN-Core Sound Generator with SuperNATURAL Piano and E. Piano
Three zones with external control and Apple MainStage integration
3 Parts; 3,000+ Tones, 400 Scenes
Zone Multi-effects: 3 systems, 90 types
Zone EQ: 3 systems
Zone Tone Color: 3 systems
Scene Multi-effects (IFX): 90 types
Sympathetic Resonance
Chorus/Delay: 8 types
Reverb: 6 types
Master Compressor
Master EQ
Input Reverb
Input EQ
Other functions: Favorite, Rhythm Pattern, Song Player, MIDI Master Keyboard, DAW Control
Controllers: Assignable Wheel x 2, Assignable Control knob x 8, Master Volume knob, Damper Pedal, Assignable Pedal x 2
2-way stereo speaker system (6W/channel)
Graphic display: LCD, 128 x 64 dots
USB flash drive
Phones jack: stereo 1/4″
Output jacks (L/Mono, R): 1/4″
Mic input jack: 1/4″
Line input jack: stereo 3.5mm
Pedal (Damper, FC1, FC2) jacks: TRS
MIDI out jack
USB-to-device; USB-to-host (supports USB MIDI/AUDIO)
DC in jack, Power Supply: DC 12V AC adapter (included)
Weight: 29 pounds, 13 ounces
Includes AC adapter, Switch pedal, Owner's manual

More Info:Roland RD-88