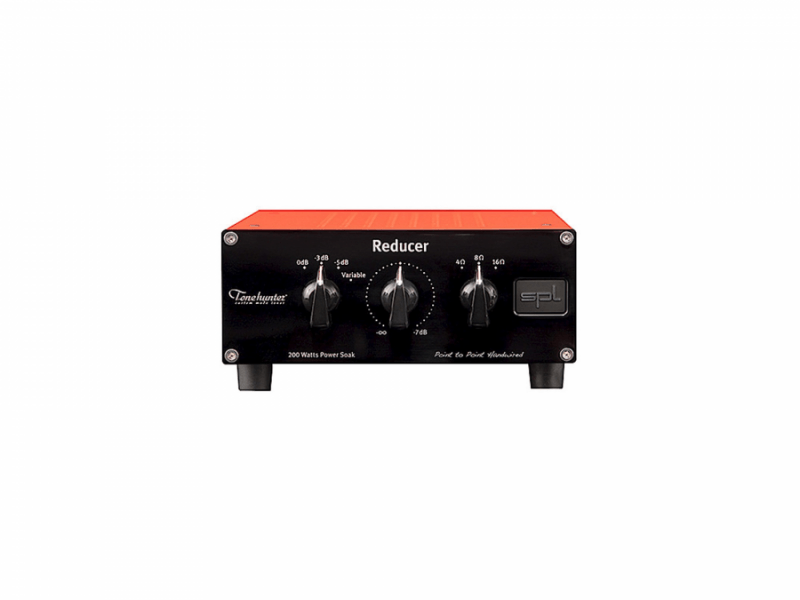 The SPL Reducer does what its name implies, reducing the power output of your guitar or bass amp – while maintaining the killer tone you so meticulously crafted. This means you can overdrive all kinds of amps, particularly tube amps, without disturbing the neighbors or bludgeoning your bandmates and overwhelming the monitors onstage. As with the other SPL power soakers Transducer and Cabulator, the company developed the Reducer in coordination with the amp specialists at Tonehunter in Cologne, Germany. If you dig your tone but you're too darned loud, take it from Sweetwater – give the SPL Reducer a try.
Input Socket: 1/4″ TS (mono jack)
Impedance: 4, 8, or 16 Ohms switchable
Max. input load
@4 Ohms: 90W RMS/120W Peak
@8 Ohms: 200W RMS/260W Peak
@16 Ohms: 160W RMS/180W Peak
Output Socket: 1/4″ TS (Mono Jack)
Dimensions
Height: 68mm, 85mm with feet
Depth: 190mm, 208mm with controls and sockets
Width: 179mm
Weight: 3.97 lbs.
More Info: SPL Reducer