Krāsa

Sudraba

HP Izmērs

8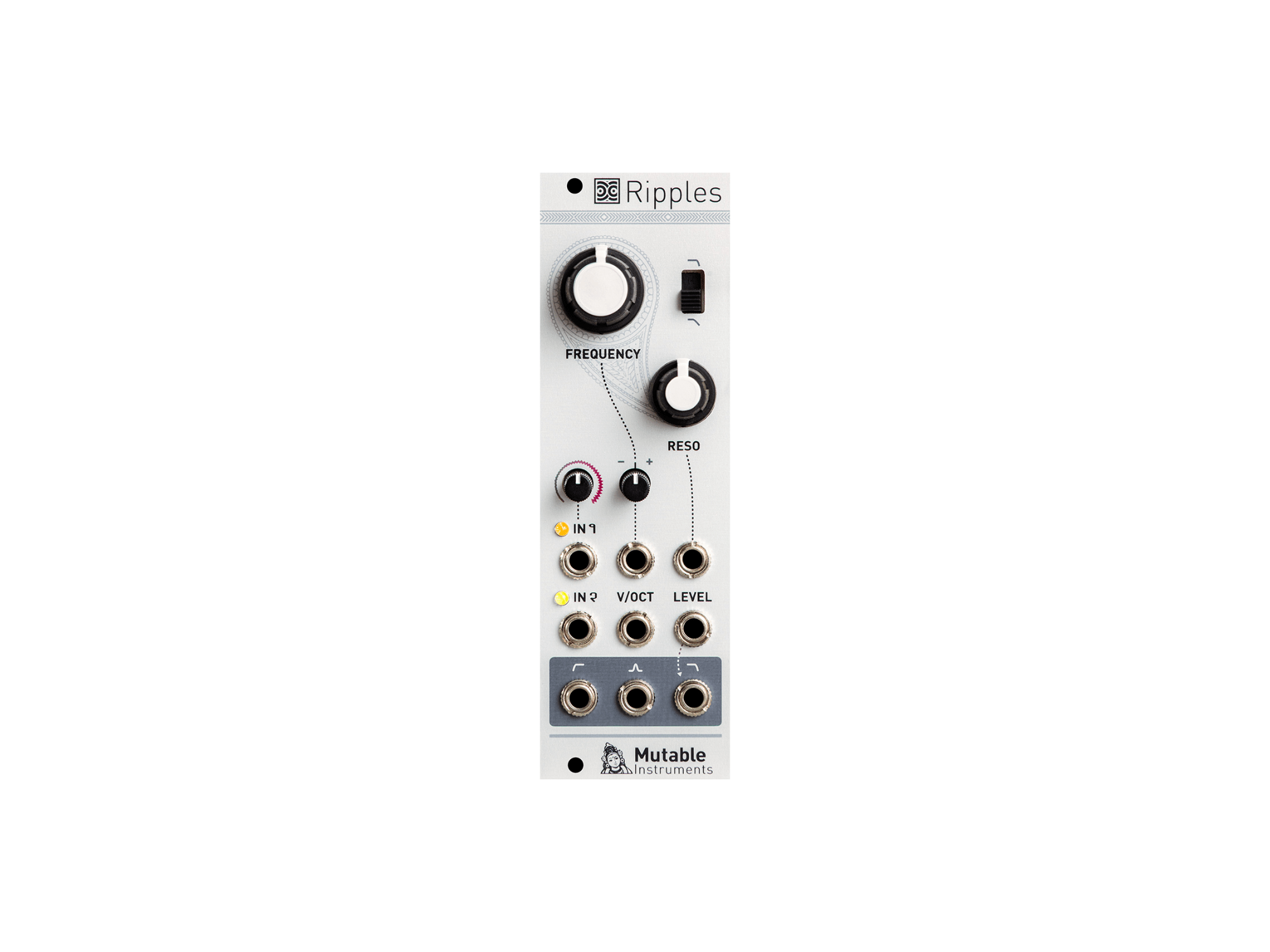 Liquid filter
THERE'S A MILLION FAT-SOUNDING EURORACK FILTERS OUT THERE… BUT THEY DON'T ALL BRING YOU LASAGNA AT WORK.
Ripples delivers a classic, big-sounding analog four-pole filter in a small 8-HP package, continuing Mutable Instruments' lineage of warm and tasty filters started by the Shruthi SMR4 mkII and 4-Pole Mission.3 filter modes are available: 2-pole band-pass, 2-pole low-pass, and 4-pole low-pass.Self-oscillation is available for all modes and produces a clean sine-wave on the LP4 output. Unlike many classic 4-pole designs, this filter does not suffer from "loudness drop" when resonance is increased. The resonance loudness compensation circuit brings a slight tone coloration reminiscent of the Roland SH/Jupiter filters, with a very round and "liquid" resonance.The 4-pole low-pass output is additionally sent to a VCA. This makes Ripples a good final stage module for an inexpensive/space-constrained subtractive synthesis synth voice.8HP
25mm
+12V:35mA
-12V:35mA
A multimode filter
2-pole band-pass.
2-pole low-pass.
4-pole low-pass.
4-pole low-pass processed by an internal VCA – the perfect "end of subtractive chain" output!
All the CV inputs you need
Un-attenuated frequency CV, calibrated for 1V/Oct tracking of the self-oscillation tone over 4 octaves.
Frequency CV with attenuverter.
Resonance CV. Self oscillation starts at 4V. Control voltages above 5V are non-linearly compressed, for fine control of resonance overdrive.
VCA level for the LP4>VCA output.
Specifications
Cutoff knob range: 18Hz to 18kHz.
Fully analog, based on the V2164 low noise/distortion quad VCA chip, and LM13700 OTA for that extra bit of non-linearity.
Frequency CV inputs impedance: 100k.
Audio input impedance: 75k.
Resonance and VCA CV input impedance: 30k.
All CV inputs handle audio-rate modulations.
More Info: Mutable Instruments Ripples