Krāsa

Melna

Skaļruņa Izmērs

15'', 9''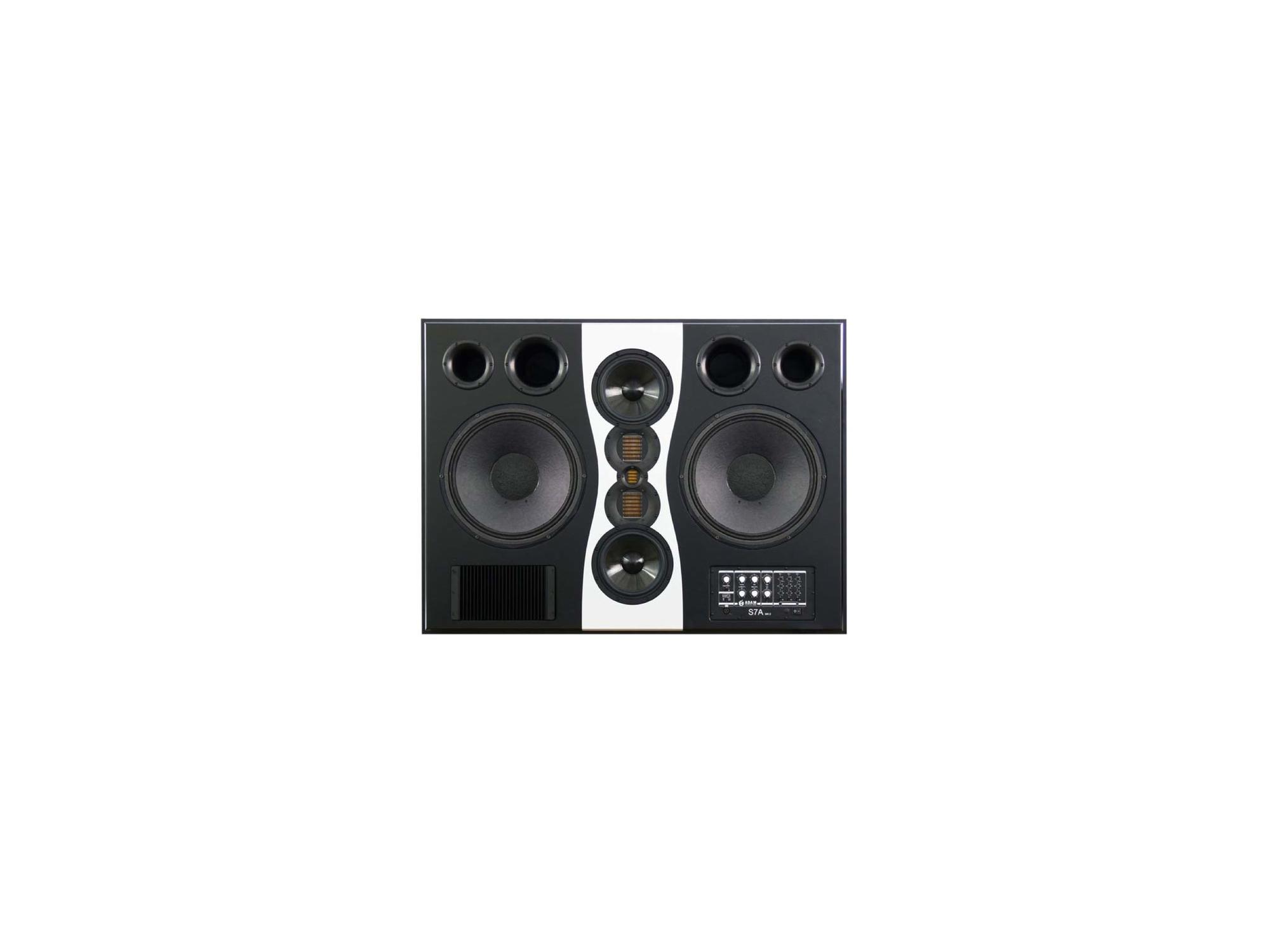 Truth In Monitoring
While acknowledging the inherent value of compact, nearfield "real-world" studio monitors, there's no substitute for unflinchingly accurate main monitors that tell you everything you need to know about what you're recording; reproducing high-resolution, full-bandwidth audio with absolute clarity and uncompromised dynamic range. Designed for large control rooms and film re-recording stages, the ADAM Audio S7A Mk2 active main monitor employs a symmetrical 7-driver configuration (powered by seven dedicated PWM amplifiers totaling 2,750 watts) to deliver ADAM's hallmark flawless sound reproduction at high sound pressure levels. Engineered in Berlin to the strictest tolerances, the S7A Mk2 features cutting-edge proprietary technology, including the company's renowned, handcrafted X-ART accelerated ribbon tweeter. With its unerring accuracy, astounding 20Hz–50kHz frequency response, and breathtaking dynamic range, the S7A Mk2 brings ADAM Audio's signature monitoring prowess to world-class recording studios and post-production facilities.
Stunning highs up to 50kHz
Instead of producing sound with a piston-like diaphragm like most loudspeakers, ADAM Audio's X-ART folded-ribbon tweeter uses a pleated diaphragm capable of moving air four times faster than the folds themselves are moving. Handcrafted to the tightest tolerances, the X-ART tweeter delivers ultra-low distortion and breathtaking highs up to 50kHz, enriching the soundfield with stunning detail and faithfully conveying every nuance of the source material so you can work over long periods without listening fatigue. Being handcrafted and meticulously tested in the ADAM's Berlin laboratories, the X-ART high-frequency driver is a rare exception in these days of automated mass production.
Breathtaking bass response down to 20Hz
If you've ever heard a loud playback on the main monitors in a world-class studio, it's a revelation. For the uninitiated, the first reaction is one of being overwhelmed. After you've caught your breath, the first thing you marvel at is the incredibly tight and deep bass. With the S7A Mk2's ruler-flat frequency response down to 20Hz, you feel in your chest cavity the crush of a well-recorded kick drum, the full weight of organ pedal tones or a fat unison synth bass. To record frequencies this low, you need to be able to hear them. With the ADAM S7A Mk2, you can.
Engineered to deliver optimized low-frequency reproduction with extended dynamic range and freedom from coloration, the dual 15″ low-frequency drivers in the S7A Mk2 are no off-the-shelf woofers. Designed from the ground up using proprietary ADAM technologies, each employs a rigid, yet low-mass driver cone; a highly efficient magnet assembly and precisely aligned voice coil; and an optimized driver chassis/basket design. The result is unparalleled low-frequency reproduction with exemplary transient response, even at extremely high volumes, without diaphragm breakup.
4-way symmetrical extended D'Appolito driver configuration
2 x 15″ woofers and 2 x 9" midbass drivers
X-ART tweeter and 2 X-ART midrange drivers, handcrafted in Berlin
Ultra-light but extremely dimensionally stable woofer material
Spacious bass reflex ports on the front
Wide horizontal dispersion with solid stereo and multi-channel imaging
Directional sound radiation in vertical plane mitigates ceiling and floor reflexions
Highly efficient 2750W PWM amplification with dedicated amp for each of the 7 drivers
Linear frequency response of 20Hz to 50kHz
Maximum peak sound pressure per pair at 1 m ≥ 138dB
Sophisticated onboard room acoustic adjustments
Analog XLR front and rear inputs
2 year warranty; optional extension to 3 years upon product registrationct
Sold individually
More Info: ADAM Audio S7A MK2