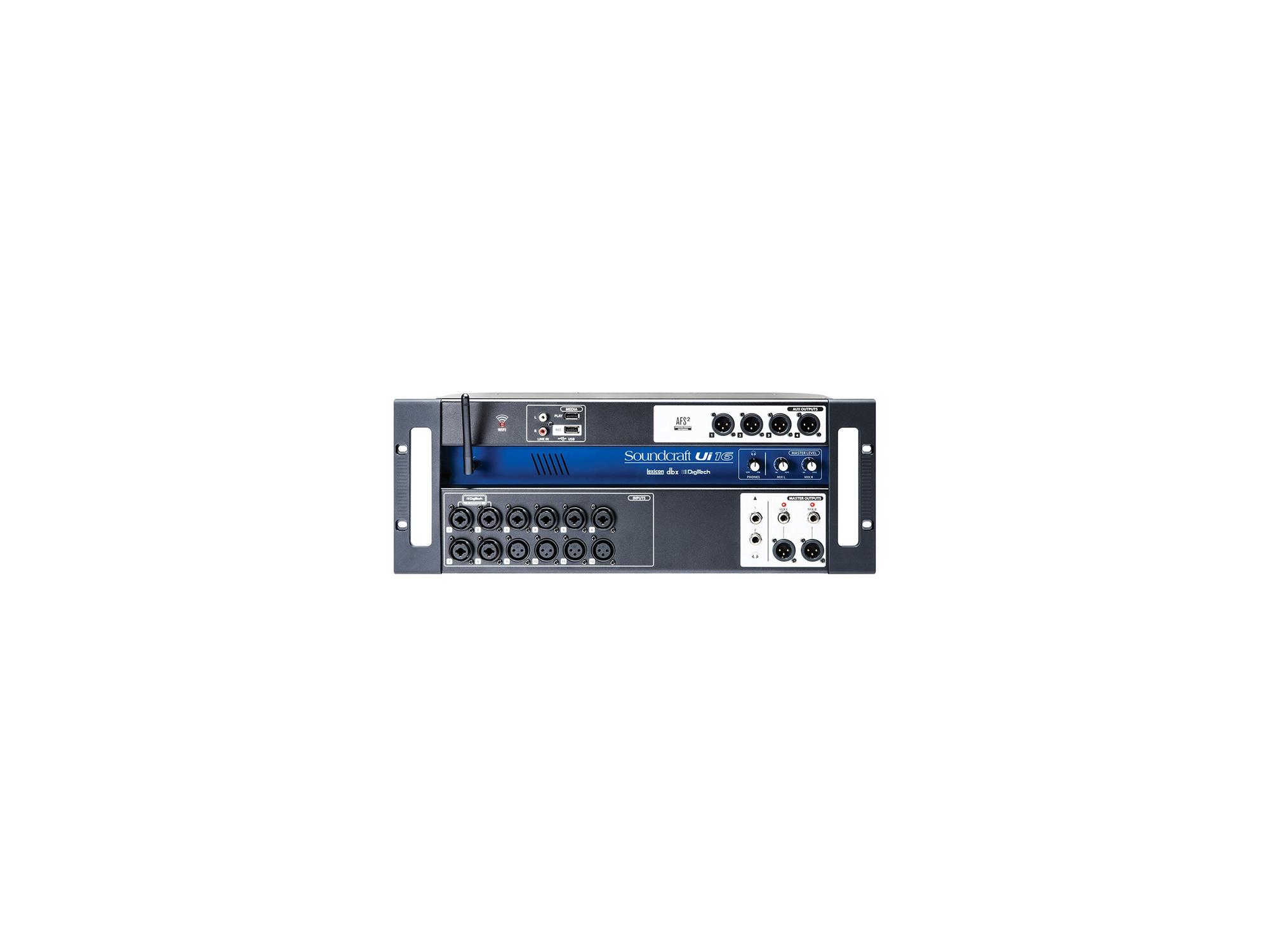 Digital Mixer That's Perfect for Live Gigs.
The musician-friendly 16-channel Soundcraft Ui16 digital mixer has tons of features and powerful wireless control options, all at an affordable price. Each channel sports a 4-band EQ, compressor, de-esser, and access to award-winning Lexicon and dbx signal processing. The Ui16's built-in Wi-Fi lets you use any device with an HTML5-capable browser to control every aspect of this mixer. No app is needed, and you don't have to worry about OS limitations — use any phone, tablet, or computer! It's never been easier to take control of your mix than with Soundcraft's Ui16 digital mixer.
Connect and Control with Any Device.
Take control of this digital mixer with any device.
Soundcraft built Wi-Fi into the portable and compact Ui16 digital mixer. You don't need a router or other fancy device — this mixer has it all. Any device that can connect via Wi-Fi and has a browser can take control of the Ui16. That's right, no apps, no worrying about OS issues, just connect to the mixer and take control. Use your phone, tablet, laptop, or desktop computer. Soundcraft's Ui16 can connect up to 10 devices at the same time, so the band can take control of their own mixes and volumes. The Ui16's software gives you full input and output processing on each channel. You also get control of the effects parameters, buses, Shows/Snapshots, and much more. A handy Ethernet port lets you take wired control of this digital mixer via your computer or laptop. There are even an HDMI output and extra USB port for hooking up a monitor and mouse directly to the unit if you want. The Soundcraft Ui16 makes connecting to and taking control of your mix easier than ever!
Integrated Wi-Fi connects up to 10 devices simultaneously
Complete control via your HTML5-compatible browser — no app needed
Ethernet for wired connections
Lexicon, dbx, and DigiTech Processing.
Onboard signal processing gives you a professional sound.
Soundcraft Ui16 digital mixers incorporate Lexicon effects, dbx signal processing, and DigiTech amp/stompbox modeling. Fully adjustable parameters mean you can tweak each effect to your heart's content. You get three dedicated effects buses that feature award-winning Lexicon effects including reverbs, delay, and chorus. Each channel has dbx compression, de-essing, and noise gating built in and ready to use, plus a powerful real-time frequency analyzer (RTA). The two hi-Z inputs feature DigiTech's amp and stompbox modeling with tons of amp, cabinet, and effects choices. Soundcraft's Ui16 digital mixer has all of the signal processing and effects you need to give your performance a professional sound.
Award-winning delays and reverbs from Lexicon
DigiTech amp/stompbox modeling for perfect guitar sounds
Every channel has dbx signal processing
Fights Feedback Automatically.
The dbx AFS2 feedback system kills feedback dead.
The Soundcraft Ui16's dbx AFS2 feedback suppressor boasts dbx's updated Advanced Feedback Suppression algorithm. The AFS2 listens to the incoming signal and can anticipate problem frequencies before feedback even begins. You won't hear it working, and you won't notice any sonic difference with it in your signal chain. Live sound engineers at Sweetwater know that even if you're an expert at tuning your sound system, cramped stage conditions or careless performers always have the potential of introducing feedback. The built-in dbx AFS2 feedback suppressor system in the Soundcraft Ui16 is like getting sonic insurance for your live sound.
2-channel feedback suppressor
Updated AFS algorithms respond fast and transparently
It's a Soundcraft.
The options and flexibility you need for any gig.
As befitting any Soundcraft digital mixer, the Ui16 gives you innovative connection options, killer audio quality, and industry-standard Lexicon and dbx signal processing. With prodigious processing power, bulletproof reliability, impressive flexibility, amazing ease of use, and a surprisingly friendly price tag, Ui16 digital mixers are an outstanding value. And once you dial in the perfect sound, you can save it for instant recall at a later date. Exactly what you'd expect from Soundcraft.
Compact package that will fit on any stage
Solid construction and design to handle heavy gigging
All the effects and functionality you need for any performance
Type:Digital
Channels:16
Inputs – Mic Preamps:8 x XLR/TRS Combo, 4 x XLR
Inputs – Other:1 x Stereo (RCA)
Outputs – Main:2 x XLR, 2 x TRS
Outputs – Other:4 x XLR
Send/Return I/O:4 x XLR
Data I/O:Ethernet
Headphones:2 x 1/4″
EQ Bands:4-band Parametric
Effects:Yes
Rackmountable:Yes (4U)
Height:7″
Depth:4.3″
Width:19″
Weight:7.9 lbs.
More Info: Soundcraft Ui16