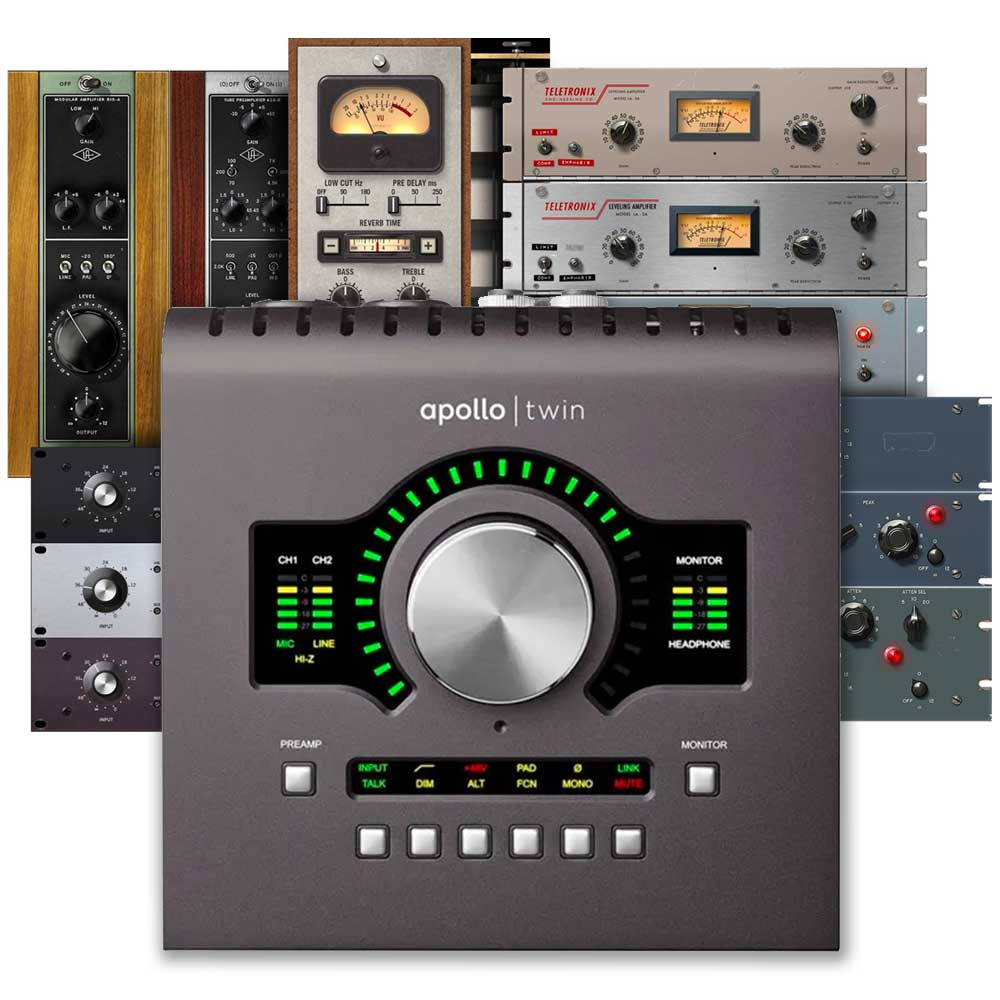 Universal Audio Apollo Twin MKII Duo Heritage features:
Heritage Edition
With 2 SHARC DSPs to process the UAD plug-ins without strain on the CPU of the host computer
24 bit / 192 kHz
Unison technology for modelling classic tube and transistor-based preamplifiers, guitar amps, and stomp boxes
Integrated talkback microphone
Monitoring functions such as: Monitor remote control and controls for Mono, Mute, DIM, and ALT monitors
2 Unison microphone / Line combo inputs: XLR / 6.3 mm jack
2 Line outputs: 6.3 mm jack
Hi-Z instrument input and headphone output: 6.3 mm jack
2 Digitally controlled analogue monitor outputs: 6.3 mm jack
Optical digital input: S/PDIF / ADAT
Thunderbolt connection
Power supply connector: 12 V DC
For Mac OS and Windows
Includes software bundle Desktop Heritage Edition and Realtime Analog Classics
Note: Thunderbolt cable is not included
Sensational plug-in bundle included!
UAD Powered Plug-ins have earned their reputation for being some of the most accurate emulations of analog audio equipment ever created. The astonishing processing power of the UAD platform is what makes these plug-ins sound so great. You simply can't get the depth, color, and character these plug-ins have without devoting huge CPU resources to them. Best of all, Apollo Solo lets you record your audio through UAD plug-ins in real time with sub-2ms latency. You'll receive the Realtime Analog Classics bundle, which includes:
UA 610‐B
Marshall Plexi Classic Amplifier
Teletronix LA‐2A Legacy
UA 1176LN Legacy
UA 1176SE Legacy
Pultec EQP‐1A Legacy
Pultec Pro Legacy
Precision Channel Strip
Precision Reflection Engine
Precision Delay Modulation
Precision Delay Modulation L
Raw Distortion
Ampeg SVT-VR
RealVerb‐Pro
SPECIAL OFFER:
Free Plugins with a value of $646
All customers that buy a Universal Audio Apollo Interface during the period from 01.04. through 30.06.2021 will receive, after registering, the following Plug Ins with a value of $ 646 as a free Download:
Antares Auto-Tune Realtime Access
Century Tube Channel Strip
EP-34 Tape Echo
Oxide Tape Recorder
Additional information here.