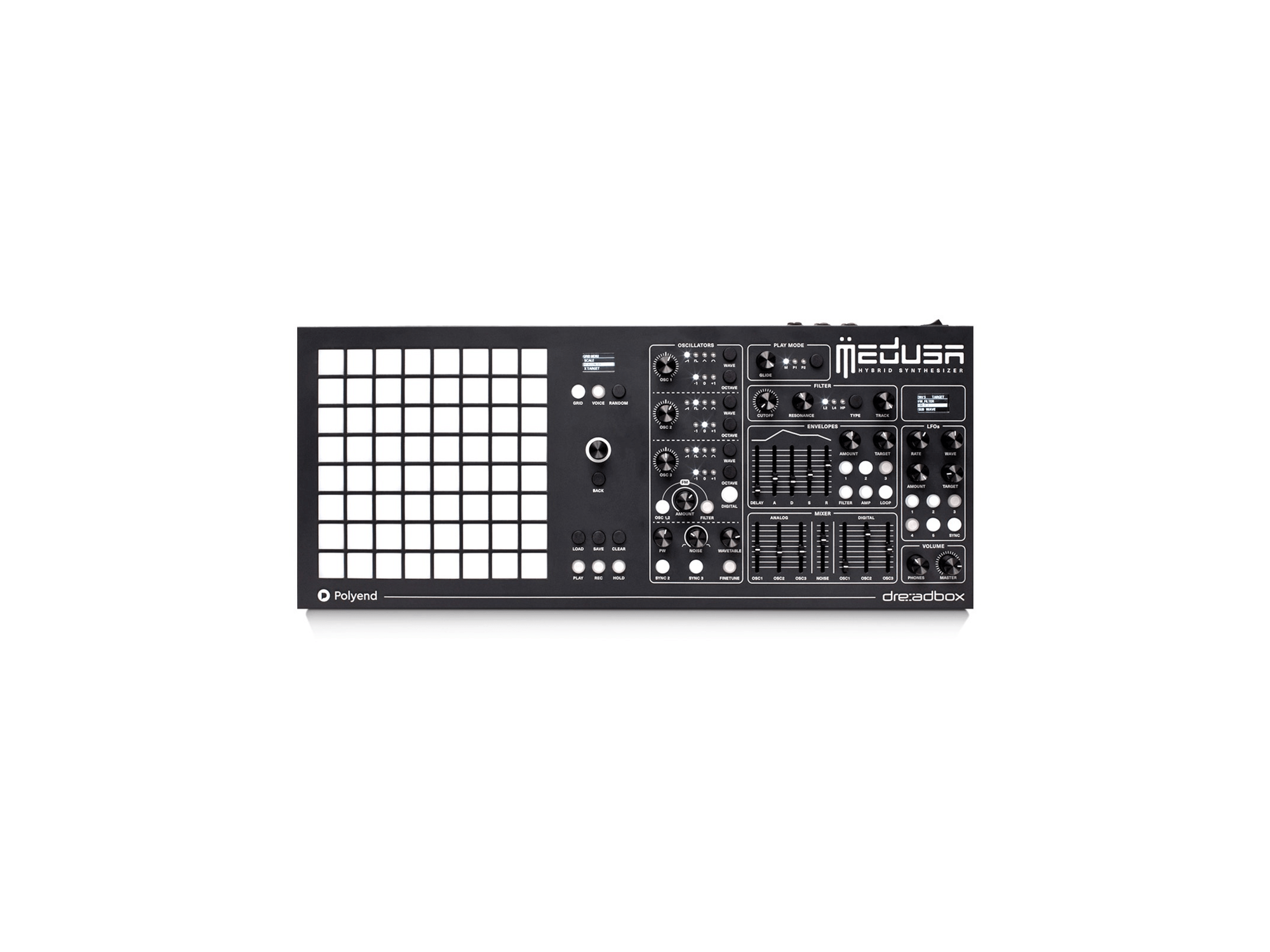 64 fully responsive and customizable, three-dimension expressive pads.
The Grid is storing 256 independent sequences and voice presets.
Choose any modulation parameter per pad for X and Y pressure axis.
Three sequencing modes: step, live and incremental.
Both a musical controller and sequencer fixed in one powerful Grid.
Sequence notes, parameter locks or even entire synth voice presets per step.
Advanced voice and sequence randomizer onboard.
All necessary Grid information is given on a crispy OLED display.
Customizable user menus.
Three synchronizable analog oscillators with the choice of four classic wave types for each of them.
One 24dB classic Dreadbox analog filter with three different types (2pole LP, 4pole LP, HP).
FM frequency modulation separately for oscillators and filter.
Noise generator with color shaping.
Three wavetable digital oscillators.
Three different play modes: monophonic, paraphonic x3, paraphonic x6.
Audio input lets you use the power of Medusa with external audio sources.
Second OLED screen to display all necessary synthesis data.
Five independent and adjustable low-frequency oscillators with an extensive pool of parameters to control.
Five independent, adjustable and loopable DADSR envelopes with a wide list of parameters to assign.
Mixer for all seven paths of independent analog, digital and noise voices.
Separate volume control for headphone and main audio outputs.
Implemented MIDI protocol with bi-directional USB and DIN input, output and through
All that analog and digital functionality connected in one clearly marked layout sealed in a sturdy tabletop aluminum chassis.
Aluminum covered knobs, informative LED buttons for the comfort of use.
The Grid pads made of specially designed silicone, so their 'immaculately matched density and firmness are providing an instant and precise response.
More Info: Medusa