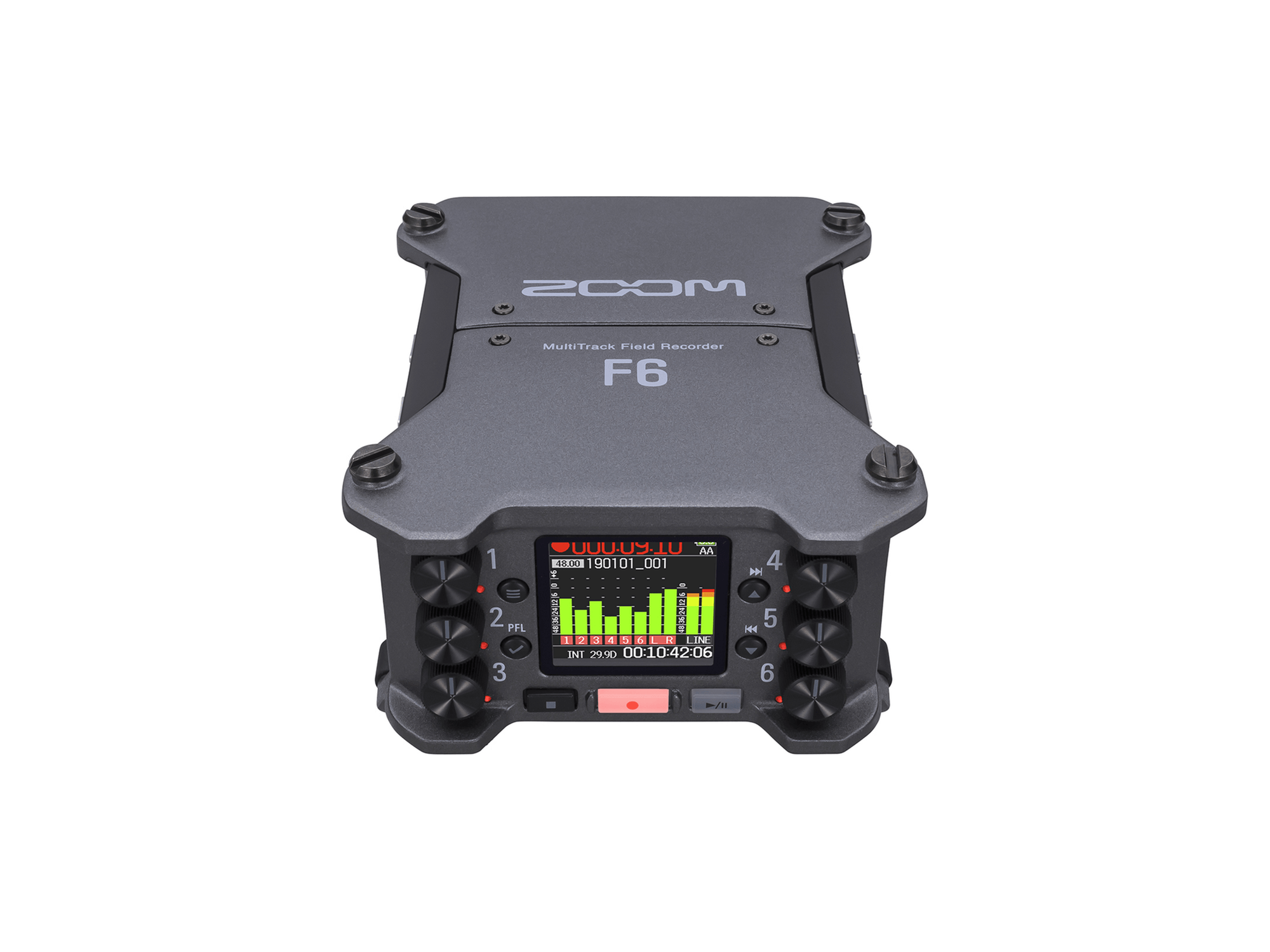 https://www.youtube.com/watch?v=bQbPCI29KiU
Capture Better Sound in the FieldDesigned for high-quality audio and reliability in the field, the Zoom F6 multitrack field recorder sets a new standard for portable recording devices. You can expect great results with practically any microphones, thanks to premium preamps with up to 75dB of gain and a virtually silent noise floor. Time-code I/O is available to sync with other recording devices, and a headphone output delivers plenty of gain for monitoring your recordings. And for recording flexibility, you can record to SD card, use the F6 as a USB audio interface, or do both simultaneously.
Use as an audio interface, SD card recorder, or bothThe Zoom F6 field recorder offers a lot of flexibility, both in the field and also back in your editing studio. For onboard recording, the F6 supports SD, SDHC, and SDXC cards up to 512GB. You can also use the F6 as a 6-in/4-out USB audio interface with your Mac or PC. And if you want or need to record to two separate destinations at the same time, for redundancy or file management purposes, then you can record to SD card and use the F6 as an audio interface simultaneously.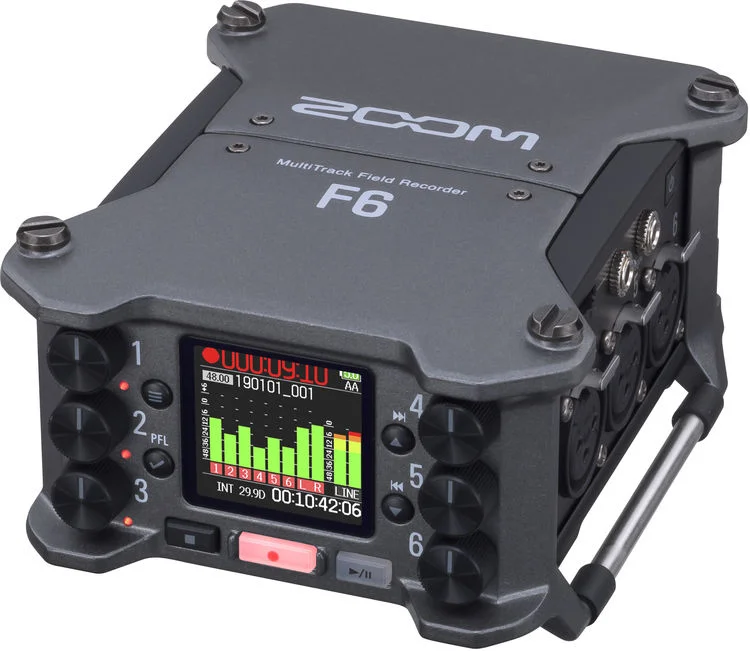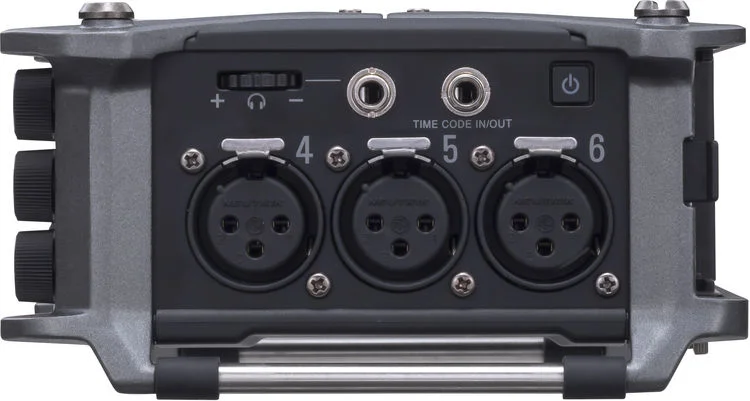 Top-notch sound qualityFilmmakers and sound designers have long approved of Zoom's handy portable recorders for all types of applications, and the F6 sounds mighty impressive. Its mic preamps offer generous gain for your microphones, up to 75dB, with an ultra-low noise floor. The dynamic range is amazingly wide, thanks to 32-bit A/D conversion.
Your iOS device can be your remote controlDepending on the details of your recording project, you may want to tuck the F6 out of the way and manage it with your iOS device instead. Just use the free Zoom F Control App to gain wireless remote control, including recording and transport functions. You'll also be able to rename files and enter metadata from the app, potentially saving you time in the editing room later on.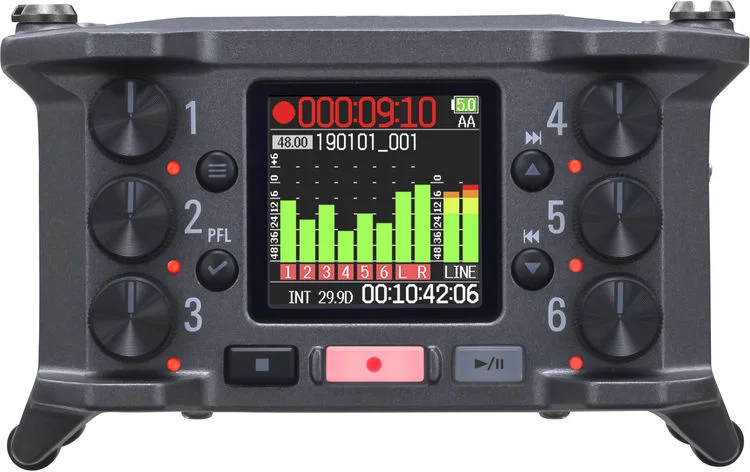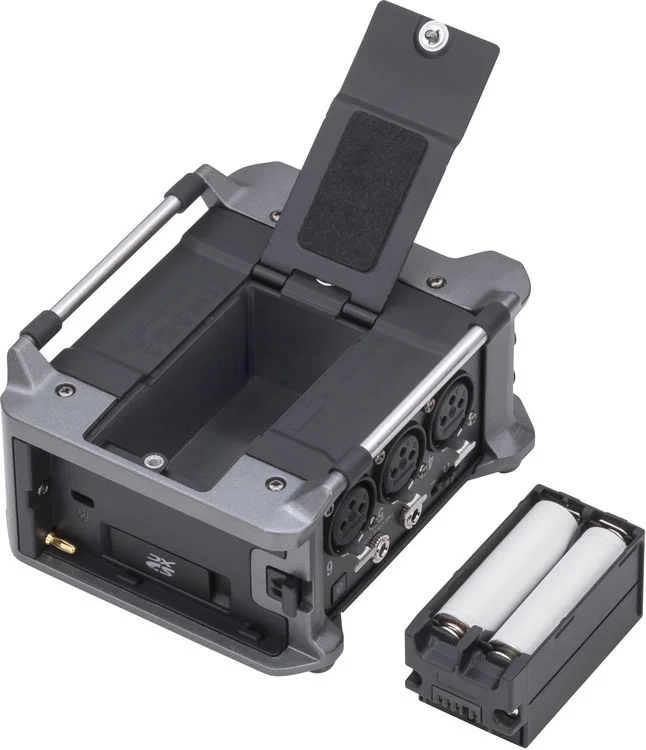 Zoom F6 Multitrack Field Recorder Features:
6-input/14-track field recorder
High-quality microphone preamps with up to 75dB of gain
Reliable connectivity thanks to locking Neutrik XLR inputs
Multiple power options: 4 x AA batteries, AC adapter, or Sony L-Series batteries (not included)
Excellent dynamic range with 32-bit float recording
Time-code I/O with support for dropframe and non-dropframe formats
Look-ahead hybrid limiters prevent signal spikes from ruining your recordings
Dedicated headphone output for monitoring your recordings in the field
SD/SDHC/SDXC card slot supports up to 512GB card media
Can operate as a 6-in/4-out USB audio interface
Can be used as an audio interface while simultaneously recording to SD card (up to 48kHz resolution)
Use the free Zoom F Control App for iOS for remote transport control, file renaming, and metadata entry
CMF-6 mounting bracket included
More Info: ZOOM F6