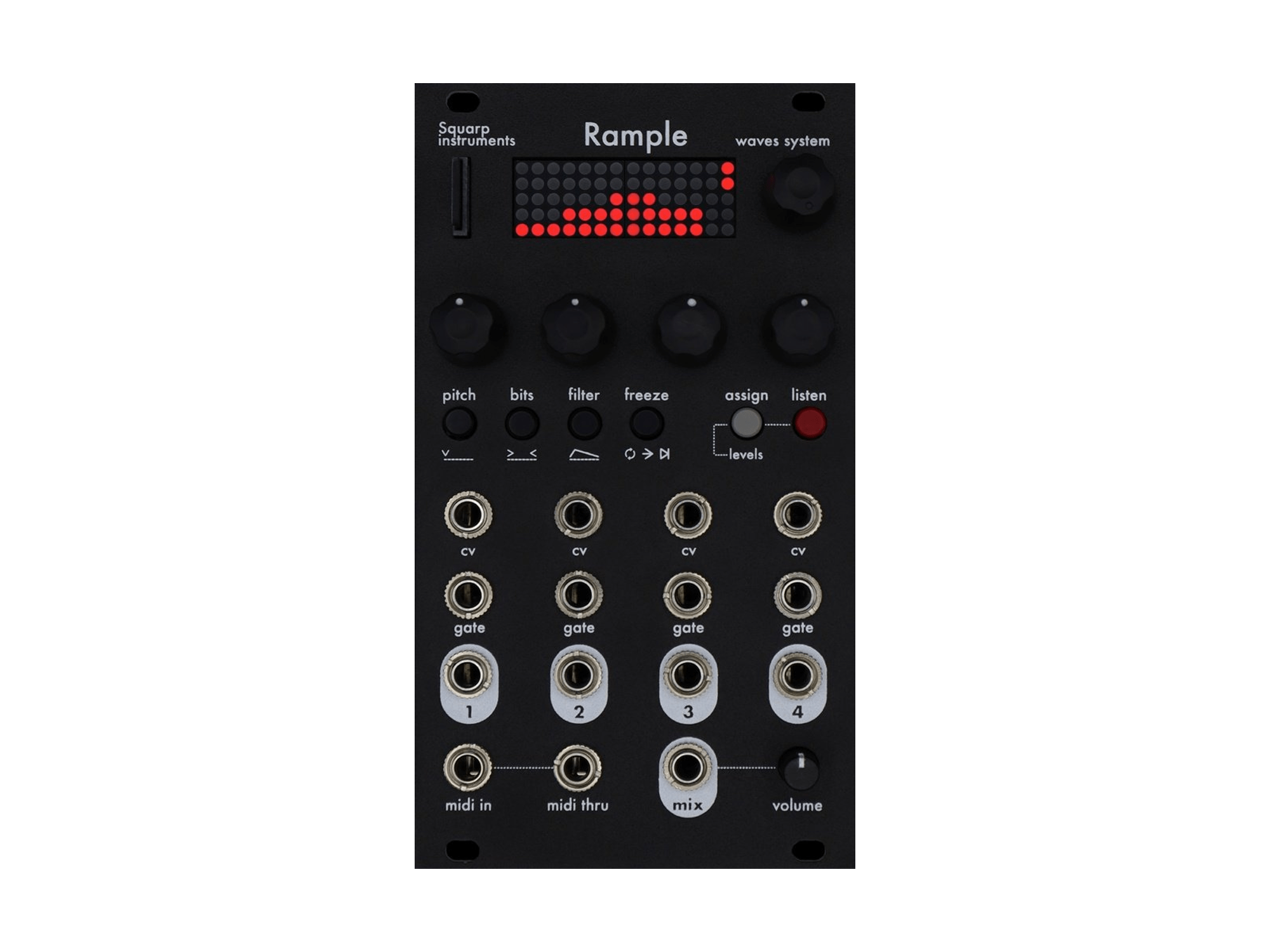 Versatile sample machine
From percussive drum-machine kits to synth samples, breakbeats to sound FX, backing tracks to hour-long audio music, Rample can play up to 4 .wav files on independent audio outputs :
These samples are stored inside the provided SD card, and organized as kits, from A00 to Z99… allowing up to 2600 banks of 4 voices, with on-the-fly loading! The SD card is preloaded with tons of samples, and we made it very easy to import your own kits.Thanks to the DC coupled audio outputs, it's also possible to play CV waveforms.
Effects rack
Each voice has its own "rack" of effects, and all audio effects can be enabled at the same time, allowing you to manipulate your samples in real time, from a gentle lowpass to massive destruction!
pitch – a great sounding pitch engine, based on a 6-pole interpolator, which ranges from -1 octave to +1 octave.bits – two different bitcrushing algorithms, based on sample rate and resolution reduction. It produces distortion and warms the audio signal.filter – a low resonance filter, DJ-style, cuting off the high frequencies or the low frequencies.freeze – sample and loop a fraction of the played waveform, creating a glitching effect.levels – decrease the gain or drive the signal.It's also possible to edit 'advanced parameters' like the start point, sample length, attack/decay and run mode, and create mute groups without breaking a sweat.Finally, thanks to the 4 CV inputs, any of the effects (or advanced parameters) can be assigned to create amazing modulations!
Multi-layer sampling
One of the key feature is the ability to "multi-sample" your kits, multiplying Rample's potential. Each voice supports up to 12 samples, can be played randomly or in a controlled fashion. It's a great way to add complexity and variations, to create organic/acoustic sounding drums, or simply to increase the number of samples per kit (up to 48).
As an example, we are providing a multi-layered drum kit, with 12 different recordings of a kick, 12 different recordings of a snare, etc. Sequencing them randomly leads to a more natural drum playing.We are also providing an other kind of multi-layered acoustic drum kit, where each drum is recorded with 12 levels of velocity. Controlling the layer to be played leads to intricate, convoluted drums programming.Of course, it's very easy to create your own multi-layered kit, and you can use this method to perform multiple synth chords, sound glitches, voices, breakbeats, …
CV/Gate and Midi interface
Rample is designed to be the perfect rhythmic companion of your eurorack system thanks to its Gate (trig samples) and CV (modulate samples) connectivity.You can also use it as a standalone midi machine, without using the CV/Gate connectivity: the midi in port allows you to trig & control all samples parameters + effects values at the same time. Each Rample comes with a 'stereo jack to midi DIN' and 'stereo jack to jack' adapters, easing the chaining of multiple modules in order to create an 8-voice, 12-voice, 16-voice (or more) midi drum machine!
More Info: Squarp Instruments Rample