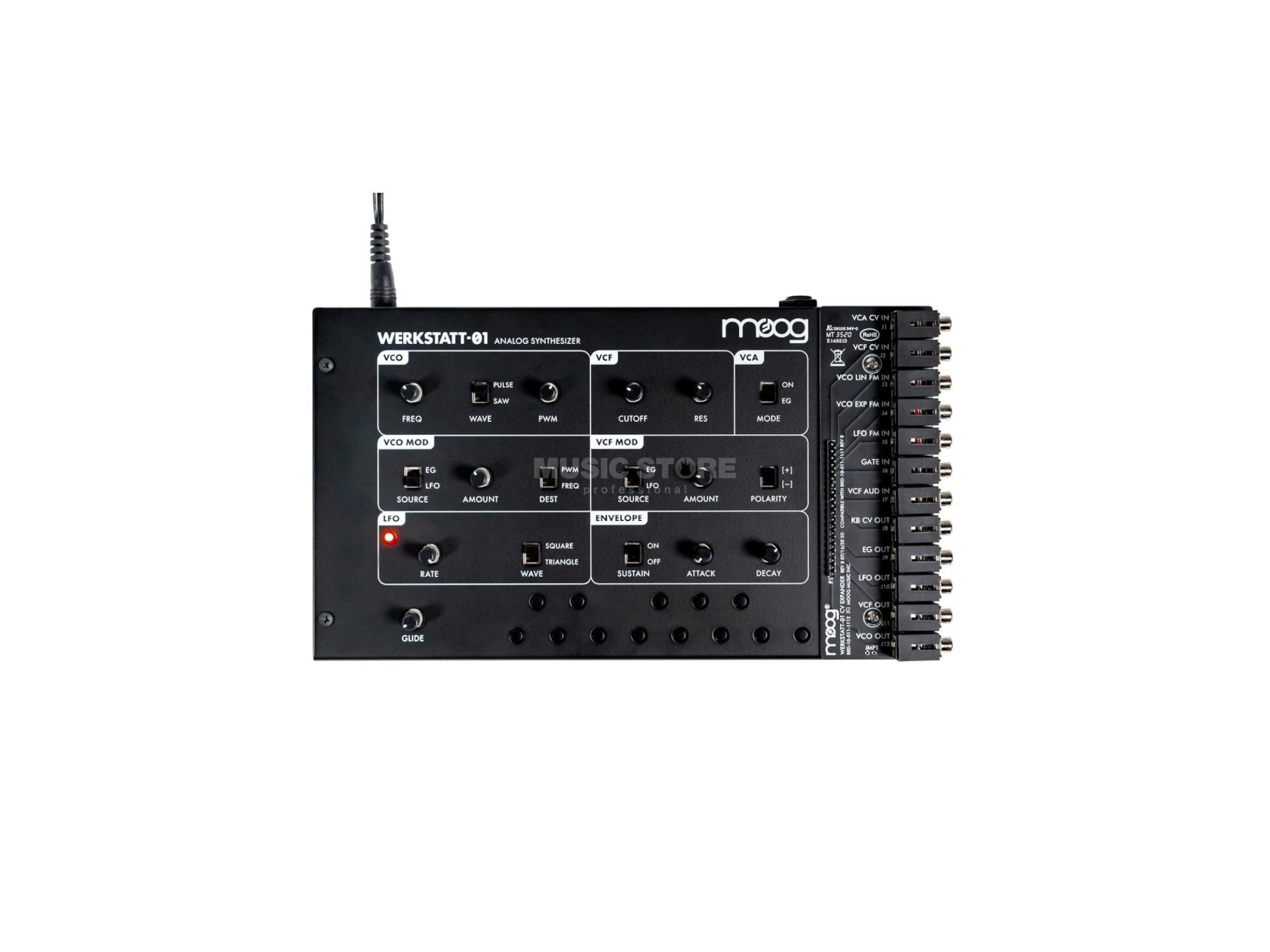 Anyone can build this fat-sounding analog synth
One of Sweetwater's synth fanatics built a Moog Werkstatt-01 at the MoogFest '14 synth-building workshop, a 6-hour process that required soldering close to 200 solder points. Luckily, you won't need to solder a thing — this Werkstatt-01 analog synth is a snap-together kit that doesn't require an electronics background to build. If you are into electronics though, you're in luck — the Werkstatt-01 is designed so you can easily customize your own circuits to break out signals and add additional inputs.
Classic Moog mojo from the 4-pole ladder filter
We have to thank the classic 4-pole filter design for the iconic Moog sound. You'll be glad to know you get that same filter design in the Werkstatt-01 analog synth kit. It has resonance, and you can modulate it with either an envelope or LFO. Even the most progressive sound designers at Sweetwater will tell you that sometimes all you need for an awesome lead or bass sound is a sawtooth wave through a Moog filter.
Ready to play with built-in button keyboard
The Moog Werkstatt-01 analog synth sports a 13-note button keyboard. You'll be surprised at how expressive you can get with this keypad. You can play legato with lowest-note priority, and a glide control lets you do everything from rounding off the edges to performing slow, expansive pitch sweeps.
Converting your Moog Werkstatt to CV
Interface your Moog Werkstatt with your other analog synths and CV controllers with the included Moog Werkstatt CV Expansion Board. Synth geeks at Sweetwater couldn't wait to patch their Werkstatts into their larger synth rigs to fully harness the sonic potential of the Werkstatt semi-modular synth. The Werkstatt CV Expansion Board takes seconds to install, and lets you use standard 3.5mm TS cables to connect to the CV inputs and outputs on your other gear.
A build-it-yourself Moog synthesizer with VCO, VCA, and LFO
Updated design features dedicated Gate In jack
Authentic Moog sound at an affordable price
100% analog circuit — no A/D conversion
3.5mm Expander included for connection to other synths/samplers
Simple, logical front-panel layout for immediate use
Semi-modular design with patchable I/O header
Circuit board designed for maximum hackability and modding
Ships with 4 mini patch cords for patch panel
Easy for anyone to build thanks to its snap-together design (no soldering required)
Packs the legendary 4-pole ladder filter for the classic Moog sound
Wide-ranging oscillator pitch, from 8Hz to 16kHz
Flexible filter effects with modulation via envelope or LFO
Oscillator can follow the envelope or can be set to drone
Ready to play with a built-in 13-note button keyboard
Included CV Expansion Board converts Werkstatt's patch points into CV connections, letting you interface your Werkstatt with other analog synthesizers
and CV controllers
Sample and create unique "analog" instruments in your DAW
More Info: Werkstatt-01 & CV Expander