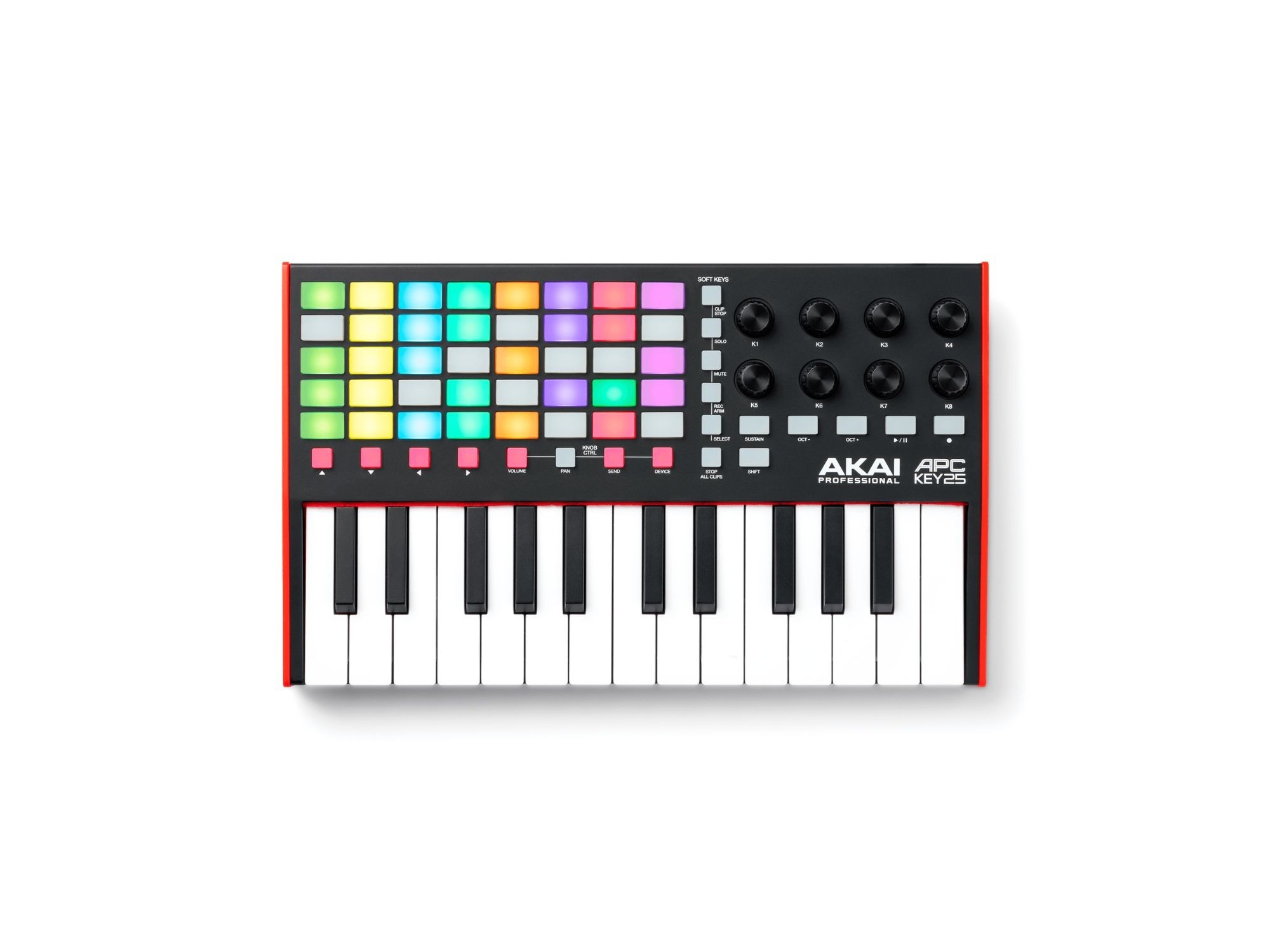 The APC Key 25 MKII is a powerful, compact, high-quality MIDI keyboard controller that offers Ableton Live users a comprehensive solution for advanced music production. The controller features a 25-Key Gen 2 dynamic keybed, 40 RGB-backlit pads, eight assignable endless 360 rotary knobs and dedicated scene launch buttons.
The 40 RGB-backlit pads accurately and authentically represent all Ableton Live session clips. They allow you to activate individual loops, melodies, samples, instruments, vocals or whole scenes to create inspiring performances. The pads are customisable and readily available at your fingertips. The APC Key 25 MK2 compliments Ableton Live perfectly and allow original creativity to flow; by combining the unit with Ableton's sounds, instruments and workflow.
You can start creating music straight from the box, as the Key 25 MKII comes with Ableton Live Lite software. The software includes a range of instruments, effects, and samples where you can play around with mixing, MIDI and recording. Additionally, you get an included virtual instrument pack from AIR Music Technology which includes world-class plugin instruments such as Hybrid 3 (powerful polyphonic analogue synth), Mini Grand (acoustic piano instrument) and Velvet (vintage electric piano instrument).
5×8 Pad Grid Matrix Featuring 40 RGB-backlit Pads
25-Key Gen 2 Dynamic Keybed
8 Assignable Endless 360 Rotary Knobs
Dedicated Scene Launch Buttons
4 Directional Arrows to Navigate Clip Matrix
Includes Ableton Live Lite Music Production Software (Mac/PC)
Note Keys: 25 velocity-sensitive keys; 10-octave range with octaveup/down buttons
Clip Buttons: 40 RGB backlit clip-launch buttons in 8×5 matrix Knobs 8 360º knobswith 4 modes
Inputs / Outputs: 1 USB port
Power: USB-bus-powered
Dimensions (width x depth x height): 12.4" x 7.6" x 1.9" / 315 x 193 x 47 mm
Weight: 2.1 lbs. / 0.9 kg
More information – AKAI