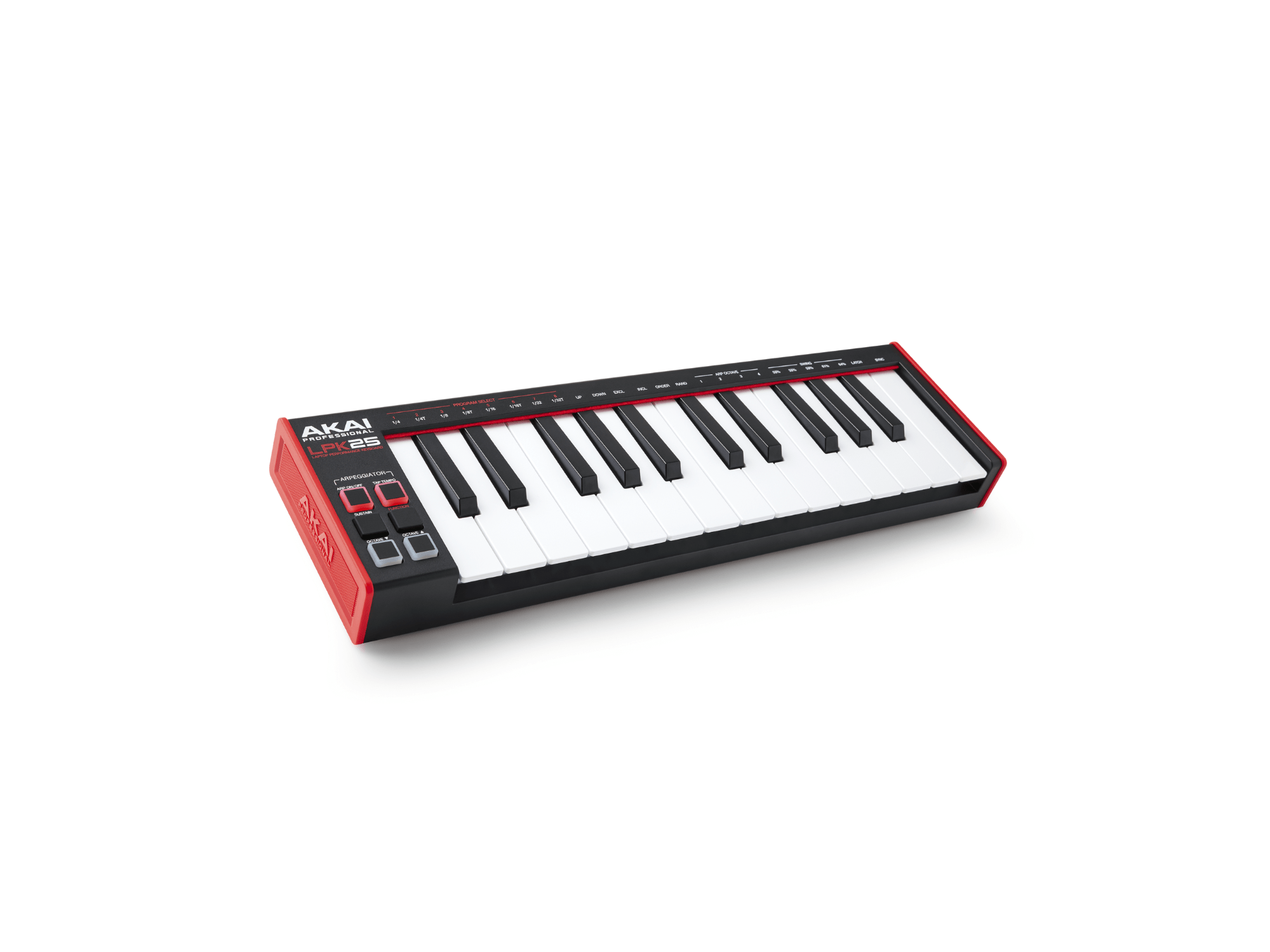 The LPK25 is the perfect companion for piano and keyboard-playing musicians everywhere. When inspiration calls, this sleek 2-octave MIDI controller makes for easy composing and creating in even the tightest spaces while still delivering an incredibly responsive experience.
A space-efficient and easy-to-use keyboard controller for your virtual instruments, effects, drumbeats, and all your creative ideas is imperative — enter the LPK25 mk2 Mini USB Keyboard Controller from Akai! This keyboard makes it fun, easy, and straightforward to record your sampled projects right into your DAW via simple USB connection. And for the price, it really can't be beat! Producers around Sweetwater love the workability of the 25-key MIDI keybed and its accompanying controls, affording you two different octaves on the surface with eight more behind the scenes for tracking your favorite VIs to the exact vibe of your project. Additionally, an onboard 7-mode arpeggiator, 30–240 bpm tap tempo function, and sustain control wait at the ready for total production freedom. The full-size USB port connects right to your laptop or desktop workstation, making it a breeze to access and interact with the thousands of samples from the included software bundles! Finally, the LPK25 mk2's thin, compact chassis is also perfectly portable, helping you track your inspirations wherever and whenever you need to.
Thousands of included samples
The Akai LPK25 mk2 isn't just a functionally and aesthetically pleasing package — it comes with some seriously sweet software! From old-school sound samples to in-your-face beatmaking and pro-grade composing, to the editing software that makes all the magic happen, the included sounds and software will satisfy studio producers and set builders alike. Here's what you'll get:
AIR Hybrid plug-in
AIR MiniGrand plug-in
AIR Velvet plug-in
MPC Beats software
Editor program


MPC Sound Packs:

F9 Beats Instrument Collection
Producer Kits
Soulful Drums
LoFi Producer Collection
Trap Soul & LoFi Beats
Akai LPK25 mk2 Mini USB Keyboard Controller Features:
Extremely workable 2-octave 25-key MIDI mini keybed
8 additional octaves available for a total of 127 MIDI notes
7-mode arpeggiator supplies impressive fluttering sequences
Tap tempo function includes a huge 30–240 bpm range
Onboard sustain control for realistic command
Full-size USB port connects easily to your computer workstation or interface
10 software packs with thousands of samples, production, and editing kits
Compact, intuitive design allows for easy producing on the go
Professional-grade engineering at an attainable price point!
More information – AKAI