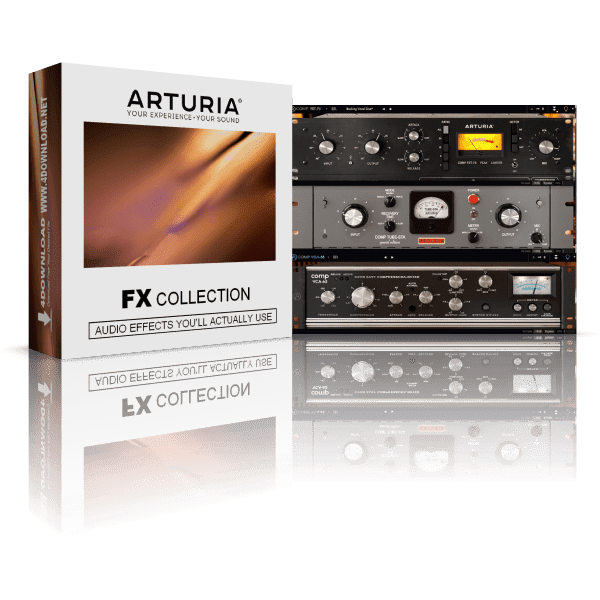 Everything You Need
The FX Collection puts 15 totally unique, incredibly usable effects at your command. Each one has been carefully chosen for this anthology for its distinctive tone and sound-shaping abilities.
The Perfect Choice: Arturia have researched the most influential, iconic gear, and painstakingly recreated their unique sound to the finest detail.
Arturia Originals: Arturia have also developed some totally original, creative effects that offer a fresh, new approach and sound.
Exciting New Abilities: They breathed new life into timeless classics, adding optional parameters and functions to suit the modern studio.
User-friendly Features: Hundreds of presets, notes from the engineers, and useful in-app tutorials let you hit the ground running with each effect.
Thanks to their exclusive modelling technologies, Arturia have not only brought these classics to life but also given them contemporary "must-have" features that make them the perfect choice for today's producer. Arturia have also included some totally original Arturia designs, letting you process things creatively in a way that would be simply impossible with vintage hardware.
Compressors: Control your dynamics with iconic FET, VCA, and vacuum tube outboard.
Comp VCA-65 (DELUXE DRUM TREATMENT)
Comp TUBE-STA (FAT BROADCAST SOUND)
Comp FET-76 (MAKE EVERYTHING BETTER)
Delays: Get creative with saturated tape, lo-fi BBD, and futuristic digital echo.
Delay TAPE-201 (SATURATED ANALOG ECHO)
Delay MEMORY-BRIGADE (FILTERED ANALOG BBD ECHO)
Delay ETERNITY (ENDLESSLY CREATIVE ECHO)
Reverbs: Create and experiment with smooth plate, vibrant spring, and digital reverbs.
Rev PLATE-140 (VINTAGE STUDIO REVERB)
Rev INTENSITY (FUTURISTIC DIGITAL REVERB)
Rev SPRING-636 (SNAPPY PHYSICAL REVERB)
Preamps: The "secret weapon" sound of countless pro studios, now in your DAW.
Pre 1973 (BRITISH ICONIC SOUND OF THE 70'S)
Pre TridA (PRIZED AND RARE MUSICAL EQ)
Pre V76 (FINEST VINTAGE TUBE PREAMP)
Filters: Use the defining tone-shaping control of the greatest synths on any sound source.
Filter MINI (PHILOSOPHER'S LOW PASS FILTER)
Filter M12 (THE MULTI-MODE MONSTER, REBORN)
Filter SEM (A FILTER LEGEND WITH A MODERN TWIST)
System Requirements
Mac
10.10+: 4 GB RAM; 2 GHz CPU.
1GB free hard disk space
OpenGL 2.0 compatible GPU
64-bit only
Windows
Win 7+ PC: 4 GB RAM; 2 GHz CPU.
1GB free hard disk space
OpenGL 2.0 compatible GPU
64-bit only
Formats
VST 2.4 (64-bit)
VST 3 (64-bit)
AAX (64 bits with Pro Tools 11)
Audio Unit (64-bit)