If you want definitive 1960s sound, the Arturia V76-Pre plug-in will help get you there. Based on the tube-driven German broadcast preamplifiers in the REDD consoles used at EMI Studios London through 1968, the V76-Pre delivers the sound of the '60s. Why do you need virtual preamps when your interface already has them? Because modern preamps are transparent and neutral-sounding; the sweet-sounding tonal flavor and nuance added by a vintage preamp can have a dramatic overall effect on the sound of your music. Sweetwater engineers — and indeed, audio professionals worldwide — perk up when conversation turns to these vintage Telefunken preamps. After all, they defined the sound of every Beatles record through the White Album. Based on this legendary preamp circuit, the Arturia V76-Pre delivers the fat, harmonically rich tube sound that defined the '60s.
A legendary tube preamp
In the 1960s — the decade when multitrack recording took its first baby steps — studios had bespoke consoles designed by in-house engineers. Desks like EMI London's REDD were pioneering technology. Recording engineers found that, due to their unique components and circuitry, the preamps in these boards would lend a particular character to the audio — which gave each console (and therefore each studio) a unique "sound." As engineers got to know their consoles, gainstaging the preamps became part of the creative process; hitting them hard, for instance, to generate richly harmonic analog distortion.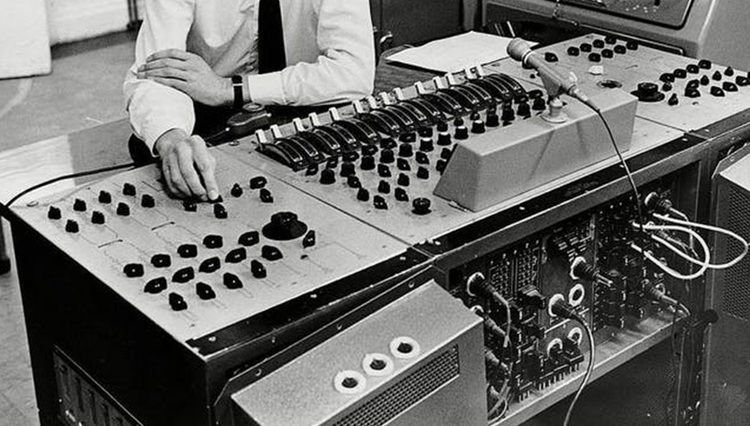 Analog warmth and punch in a digital world
The Arturia V76-Pre gives you the sound of an iconic vintage tube console, along with the advantages and convenience of a DAW-based workflow, all wrapped up in a state-of-the-art plug-in with a gorgeous, intuitive GUI. Use your audio interface's preamps to boost signals up to nominal operating level, then use the V76-Pre to enhance your tracks with its unmistakable, eminently musical tone and germanium EQ.
Masterful, component-level TAE modeling
The software engineers at Arturia have taken a legendary vintage preamp and reincarnated it as turbo-charged modern software with an intuitive interface and budget-friendly price tag. Arturia's V76-Pre is underpinned by the company's proprietary TAE (True Analog Emulation) modeling technology, which enables them to emulate the sound and behavior of electronic instruments, right down to the component level, to create accurate software manifestations of these groundbreaking devices. As their modeling techniques delve into core components, they are also able to isolate specific features, giving you a level of automatable control unimaginable back in the day.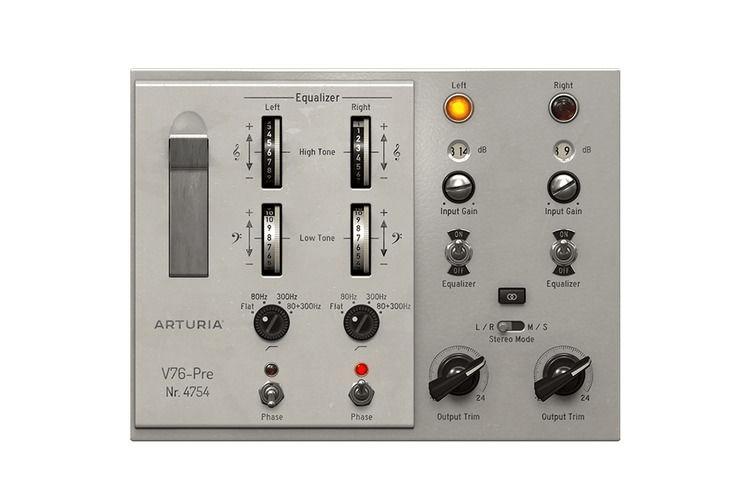 Arturia V76-Pre Plug-in Features:
Software re-creation of a coveted vintage German valve preamp
Arturia's state-of-the-art TAE analog modeling
73dB virtual continuous input gain
±24dB output trim level
Germanium EQ and filter section emulation
Bypass and polarity inversion switch
High Tone filter (shelving), 5kHz fixed frequency, ±10dB gain
Low Tone filter (shelving), 100Hz fixed frequency, ±10dB gain
Highpass filter, selectable at 80Hz, 300Hz, and 80+300Hz for a steeper slope
1- and 2-channel plug-in versions
3 stereo modes
Stereo linking
Dual-mono mode
Mid-side encoding/decoding for advanced stereo processing
Self-contained mid-side mode, with no additional converters required, ensures your audio will sound great in both mono and stereo
Analog output VU meter
3 calibration modes (-18dBFs, -12dBS, -8 dBFs)
LED analog clipping indicator
Comprehensive library of professional presets