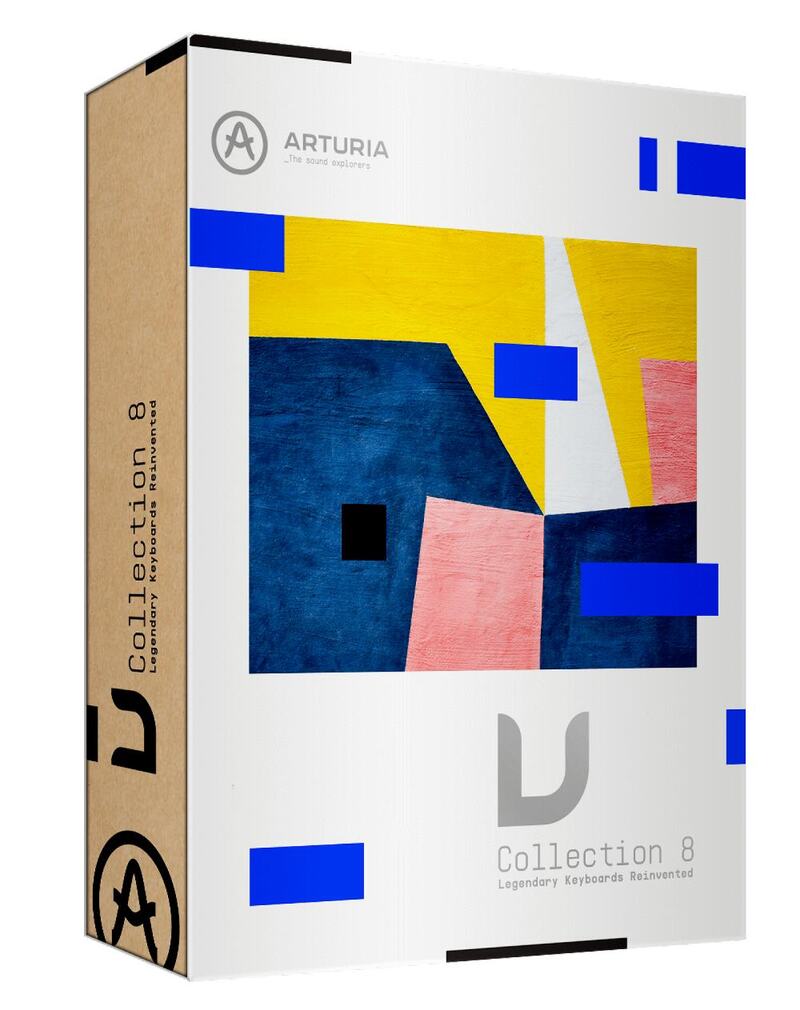 50% Discount for students! 
Write to us at info@tstudio.lv for further information about the discount.
Legendary Keyboards Reinvented
A quintessential anthology of the most evocative synthesizers and keyboards ever made, meticulously modelled, lovingly recreated and expertly enhanced to inspire.
This is V Collection 8
A suite of 28 software instruments spanning analogue synths, digital synths, organs, acoustic pianos, electric pianos, and string machines – recreations of the most iconic instruments of all time.
They're faithfully emulated using exclusive analogue and physical modelling technology for unparalleled realism, and enhanced to allow in-depth sound exploration that goes far beyond their ancestors. These virtual instruments can be used standalone or in your DAW of choice, and are designed to work seamlessly with your favourite MIDI controllers.
V Collection 8 gives you the iconic, professional, and inspiring sounds you need for performance, production, and sound design.
Features
Includes 28 software titles:

Emulator II V – New
Vocoder V – New
Jun-6 V – New
Analog Lab V – Updated
Stage-73 V – Updated
Jup-8 V – Updated
OB-Xa V
Mellotron V
Synthi V
CZ V
Clavinet V
CMI V
DX7 V
Buchla Easel V
Synclavier V
B-3 V
Mini V
Piano V
Matrix-12 V
Farfisa V
Solina V
SEM V
Wurli V
ARP 2600 V
CS-80 V
Prophet V
VOX Continental V
Modular V
More than 10000 high-quality and innovative sound presets.
Analog Lab V – all presets of the V Collection 8 can be browsed and edited from a single interface
All instruments share a common interface for browsing, editing (save, import, export, …)
New In-app tutorials allowing to quickly understand the instruments.
High-resolution graphic interfaces, compatible with very large displays
Easy MIDI mapping to any keyboard controller.
Arturia's proprietary technologies, TAE® and Phi®, ensure that each instrument sounds and behaves exactly like the original.
Easy install and license manager: Arturia Software Center.
The Sounds You've Been Looking For
Whether you're looking for a musical starting point or the missing ingredient in your mix, V Collection 8 delivers instant sonic results.
Want the instant analogue fatness of Jun-6 V? The irresistible retro flutters of Mellotron V? The glassy digital harmonics of DX7 V? Immerse yourself in every chapter of synth history with one state-of-the-art collection.
The Greatest Ensemble
Think of a famous synth sound or an iconic keyboard's tone, and you can create it with V Collection.
A million-dollar collection of the finest pianos, synthesizers, samplers, and esoteric keyboard instruments all in one place, geared for modern music makers, and at your command.
Awesome Analogue Synths
The sound of voltage itself. Component-level modelling, authentic controls, and modern enhancements that offer an unrivalled analogue sound.
Powerful Digital Instruments
Retro charm from the pioneering days of digital technology, combined with modern algorithmic precision, remastered for your virtual studio.
Iconic Pianos & Keyboards
Steel, wood, reeds, motors, and magnetic tape, meticulously modelled and modernized in software form, faithful and inspiring.
Your Dream Workflow
V Collection 8 is designed to not just cover all of your synth & keyboard sound requirements. It's built to be intuitive, accessible, and enjoyable too, devised by passionate musicians, producers, and engineers who understand the importance of a fluid music-making process.
In-app Tutorials Make it Easy
Take time to get familiar with each instrument with newly-integrated & easy-to-follow tutorials, covering every component and top-tip in detail.
Hands-on Control Macros
Every instrument has 4 macros for fast & intelligent sound tweaking, so you can explore its sonic potential instantly without extensive patching.
Streamlined Sound Browsing
Filtering, finding, and organizing your perfect sounds is easier than ever; the browsing interface lets you fully customize your tonal palette.
Stay In Control
Nothing beats the feeling of getting hands-on with a classic instrument. That's why V Collection 8 is built to play nice with your favourite MIDI controllers – experience the thrill of classic sound at your fingertips.
Not only does it integrate seamlessly with the KeyLab Essential, KeyLab MkII, and MiniLab ranges; it'll work with any controller, keyboard, or DAW that you decide to use. Input notes and tweak parameters with your computer keyboard, USB MIDI device, note sequencer – and anything in between.
The next chapter in the music history books hasn't been written yet, but V Collection puts the pen in your hand.

Loved Around the World
V Collection 8 is Arturia's flagship title and has become the absolute reference point for software synth and keyboard emulations.
The biggest artists of our time, their producers, their engineers, and their studios love the sound of our software instruments, and their vibrant sounds are found in countless chart-toppers and hit film scores.
System Requirements
Windows
Win 8.1+ (64bit)
4 GB RAM
2.5 GHz CPU
20GB free hard disk space
OpenGL 2.0 compatible GPU
Works in Standalone, VST, AAX, Audio Unit, NKS* (64-bit DAWs only).
Mac
macOS 10.13+
4 GB RAM
2.5 GHz CPU.
20GB free hard disk space
OpenGL 2.0 compatible GPU
Works in Standalone, VST, AAX, Audio Unit, NKS* (64-bit DAWs only).
Note: NKS compatibility currently unavailable for Analog Lab V, Vocoder V, Emulator II V, Jun-6 V, Jup-8 V4 and Stage-73 V2.
More information, V Collection 8 | Arturia