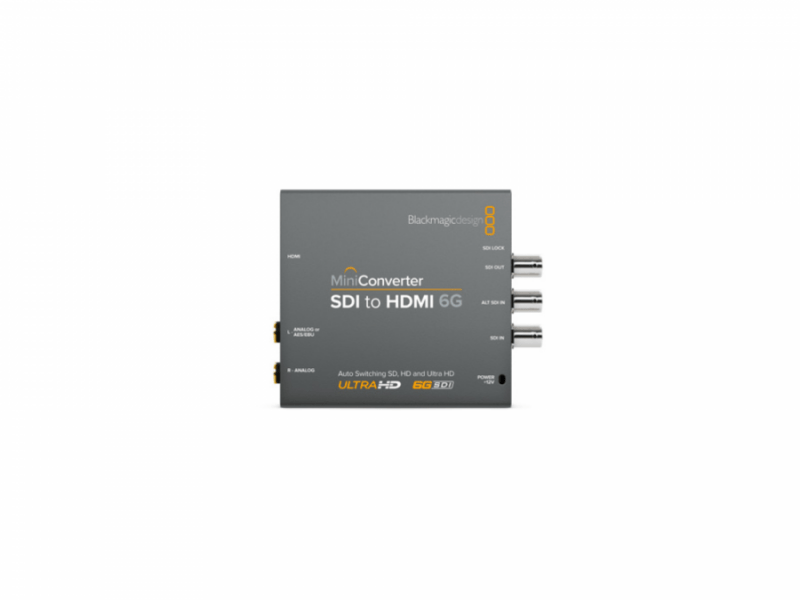 Description
 
Mini Converter SDI to HDMI 6G lets you convert from SDI to HDMI in SD, HD, and Ultra HD formats while de-embeding audio to HDMI, AES/EBU or balanced analog audio. You also get advanced features such as down conversion for monitoring Ultra HD on HD HDMI monitors as well as built in 3D LUTs plus HDMI instant lock for instant video display when an SDI input is connected!
 
Connections
 
SDI Video Inputs
1 x SD, HD or 6G‑SDI. 1 x ALT SDI Input for automatic switch over if main input fails.
SDI Video Outputs
1 x SDI Video Loop Output.
HDMI Video Outputs
HDMI type A out.
Analog Audio Outputs
2 channels of balanced analog audio.
Digital Audio Outputs
4 channels of AES/EBU digital audio
SDI Redundant Input
Automatically switches over if main SDI input is lost.
Multi Rate Support
Auto detection of SD, HD or 6G‑SDI.
Updates and Configuration
USB
Reclocking
Yes
 
 
Physical Specifications
 
 
 
 
More info, https://www.blackmagicdesign.com/products/miniconverters