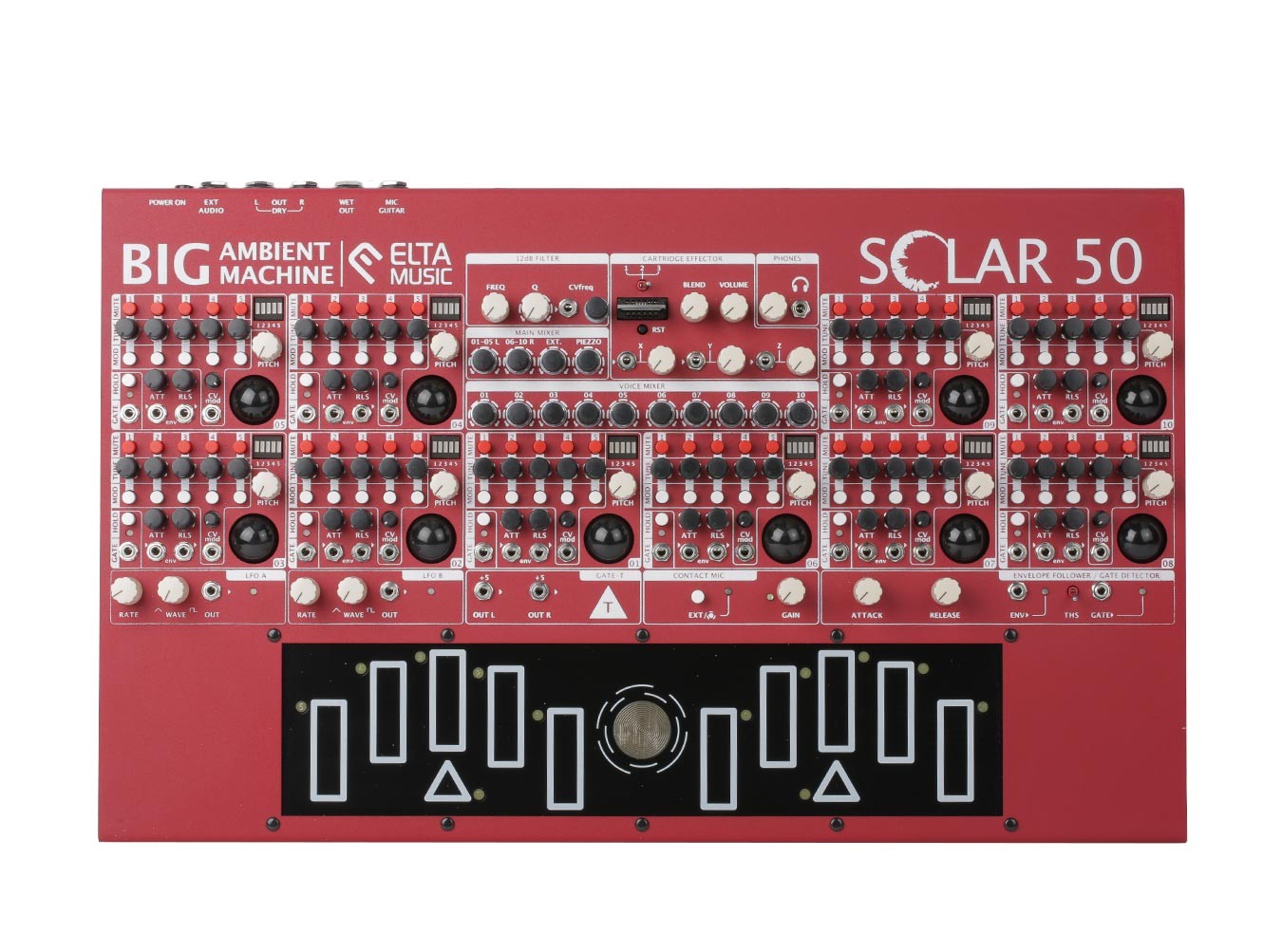 Another exclusive T Studio product over here!
Only 1 unit available and this is the last one from warehouse.
Comes with original bag and all effects cards, cables.
Brand new, with 2 years warranty!

Soar to the upper echelons of reality with the 10-voice, 50-oscillator Solar 50, the Big Ambient Machine from Elta Music. Each voice is triggered via a touch plate, of which there are ten, and is routed through a 12dB analog filter, then to a cartridge-powered effects section. Each voice has its own independent volume control, letting you dial in the right amount of texture. Visceral and warm, this all-analog instrument is free from presets, MIDI, and 1V/Oct control—it's a living being that needs your attention and ears to manicure the tuning to your heart's content.
Each of the five sawtooth oscillators per voice are fixed to a particular frequency range: 30-100 Hz, 80-245 Hz, 140-435 Hz, 315-990 Hz, and 975-3075 Hz spanning a range from about B0 – G7. There is also an overall Pitch knob in each voice that transposes all five oscillators and past a certain point they all start to influence each other for FM-like sounds. In the middle of the ten touch sensors is a circle containing a piezo element, serving as a point of interaction by generating a Gate and triggering an Envelope; it's also a sound source with a dedicated volume control in the mixer section. Two triangular-shaped touch pads serve as +5v gate outputs perfect for external effects or self patching.
An External Input and Mic/Guitar input are present and can be adjusted with the Mixer section. The Mic/Guitar input overrides the piezo element and both inputs go through the filter and effects. With a packet of 12 different effect cartridges from reverbs and delays, to noise generators and modulation effects, there is no shortage of strange and delightful sounds that can be conjured.
Indeed, this is a deep device that requires patience and time, but will be a source of inspiration from the first touch. Dive deep into the vicious waters of the Solar 50 and enjoy the meditative expanse of eternity.
SOLAR 50 BIG AMBIENT MACHINE FEATURES
10-voice analog synthesizer sporting a total of 50 sawtooth oscillators
10 touch plates
External audio input
Hi-Z input
Circular piezo element in between two touch plate groups
2 Triangular touch plate gate outputs
Each voice has a globular photoresistor that modulates the pitch
AR envelope generator per voice, with CV input and output
2x LFOs
Each voice has an overall pitch detuner that introduces FM between the 5 oscillators
Each oscillator has its own tuning knob
12dB analog filter inspired by Polivoks synthesizers
Cartridge-based effects section (12 included)
3 effects parameters open to control voltage manipulation
2 Dry outputs, Left and Right, are for the respective touch plates allowing for stereo operation
Independent Wet output
Headphone output
Built-in envelope follower for piezo, external input, or Hi-Z input
Available in Sky Blue or Ruby Red