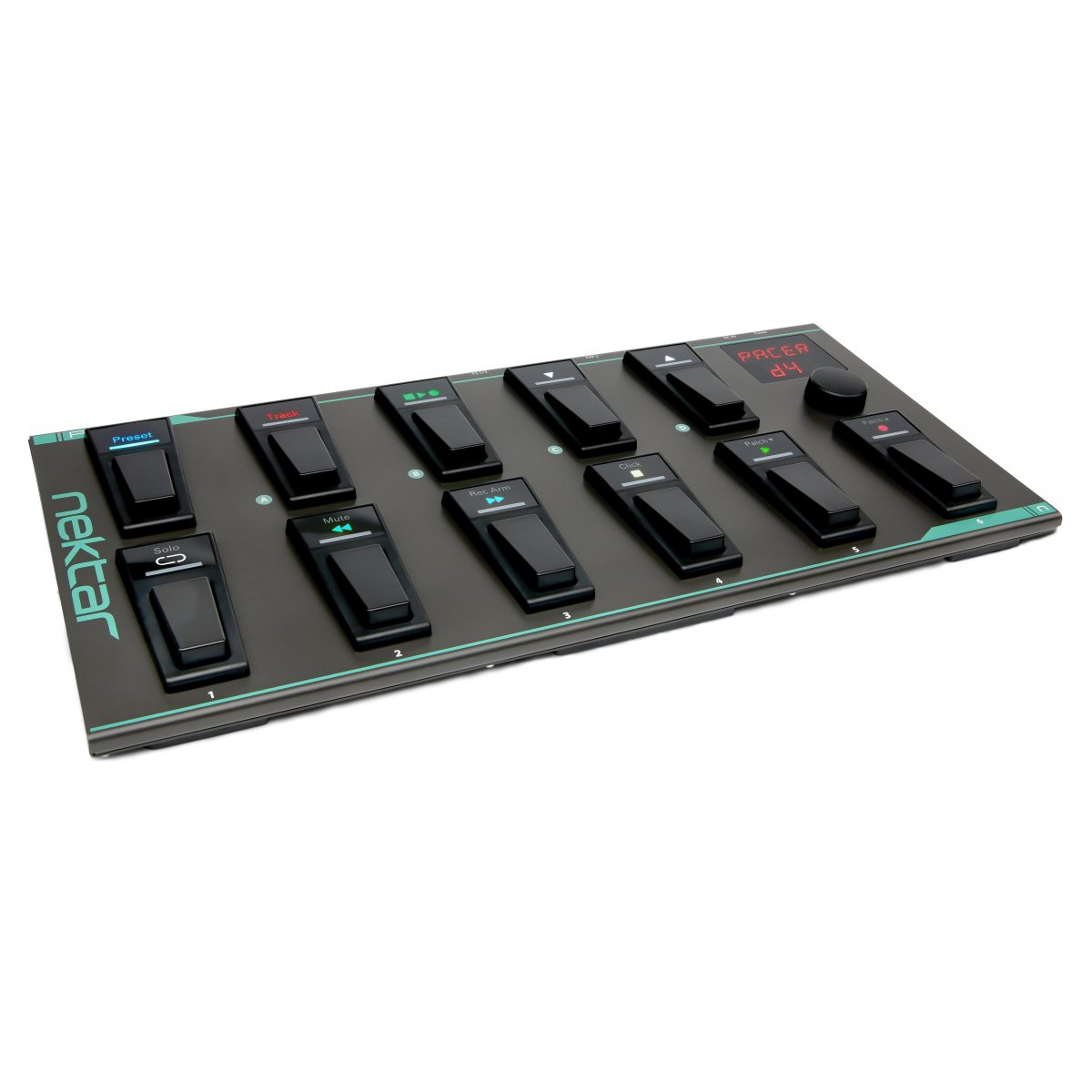 Comprehensive Foot Control for Your DAW or Guitar Rig
Take control of your DAW or guitar rig with the Nektar Pacer MIDI Foot Controller. Featuring dedicated color LEDs to show control assignments, Pacer gives you hands-free control over software like Ableton Live, Steinberg Cubase, Bitwig Studio, Apple Logic and GarageBand, Avid Pro Tools, and of course, Nektar. And it doesn't stop at your DAW — Pacer supports external foot switches and expression pedals, and you can even connect it to your guitar amplifier for channel switching and effects/reverb switching. Guitarists at Sweetwater appreciate its presets for popular guitar devices like the Line 6 Helix, Avid Eleven Rack, Kemper Profiler, and many more. All this packed into a rugged, solid steel casing to make the Nektar Pacer MIDI Foot Controller ideal for any studio or stage application.
Hands-free control for your DAW software
When you're trying to create music, keeping your hands on your instrument helps keep you in the creative zone. With Nektar Pacer you'll be able to control playback, enable recording, change tracks, and much more, with practically any DAW software out there. It's fully integrated with Nektar DAW software, and supports the MCU protocol for other DAWs — it's even supported by Avid Pro Tools.
Versatile MIDI solution for hardware-based processors
Looking for a customizable way to interact with your Line 6 Helix, Kemper Profiler, Avid Eleven Rack, AxeFX, or other guitar processor? The Nektar Pacer foot controller features MIDI presets for all of these, giving you more flexible control options than you may have with these devices on their own. And because Pacer can send up to 16 MIDI messages when you change presets, you can completely reconfigure your guitar rig at the press of a button.
Nektar Pacer DAW Foot Controller Features:
MIDI foot controller for DAWs and guitar processors
10 programmable buttons, with LED indicators for control assignments
24 available presets (Banks A–D, 6 presets each)
Support for 4 programmable external footswitches
Support for 2 programmable external expression pedals
4 programmable relays for switching channels or effects on amplifiers
1 programmable encoder
Footswitches can send up to 6 messages when activated
MIDI Out port for external hardware control
USB class compliant, powered via USB or USB power supply (not included)
Tech Specs
Type:

Nektar MIDI Foot Controller

Pedal Inputs:

2 x 1/4″ TRS (expression), 2 x 1/4″ TRS (switching pedals 1-4), 2 x 1/4″ TRS (relays/momentary 1-4)

MIDI I/O:

Out

USB:

1 x Type B

Compatibility:

Nektar DAW, Standard DAW's, Line 6, Kemper, Fractal, Avid Eleven Rack

Requirements – Mac:

OS X 10.8 or later

Requirements – PC:

Windows 7 SP1 or later

Power Source:

9V DC power supply

Height:

1.85″

Width:

19.6″

Depth:

9.0″

Weight:

7.7 lbs.

Manufacturer Part Number:

Pacer
More info, https://nektartech.com/pacer-midi-daw-footswitch-controller/