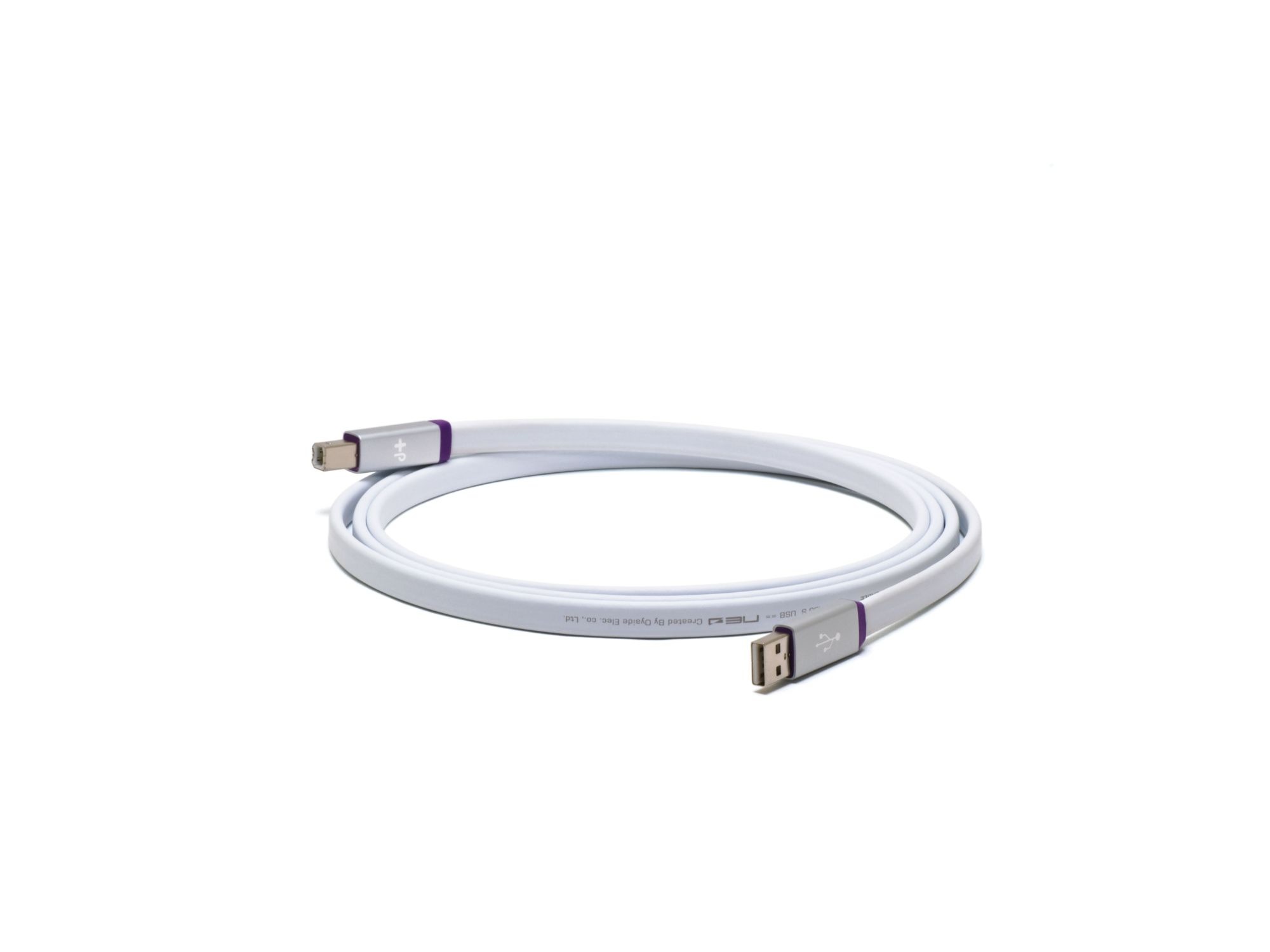 The Masterpiece of USB Cables for Sound Systems
The "d+USB series" is a next-gen cable designed for smooth and lossless data transmission in both of the software and hardware system structure.
Now a number of club DJs are performing with their laptop computers using such as Serato Scratch Live or Native Instruments Traktor. For live performance, needless to say, the stability and sound quality is very important. And a poor-quality cable causes some fatal trouble such as the sound interruption or even the complete sound stop.
Even though there might be perception that there is no sound difference by cable change under data transmission, we present there is definite difference by hi-quality cable and connector with "d+ USB".
Especially, when an interface is driven by bus-powered, the significance of USB cable affects the stability of power supply and the accuracy of the audio clock.
Impedance matching
We carefully made an adjustment impedance matching by advanced technology by considering pitch, diameter, and strand of conductors. Consequently, we achieved accurate data transmission and excellent stability with attenuation of terminal reflection wave.
Selected materials
For class B, in order to transmit serial bus at hi-speed, we applied the silver coated OFC which resistance is 5% lower than copper conductor. The class A and class S conductors are made of Oyaide's precision conductor 102 SSC, which achieves 102.3% IACS through advanced manufacturing technology and management. These excellent conductors ensure reliable data transmission and a stable power supply. In addition, the diameter of the class S conductor is set to AWG22/AWG18, which is twice the normal diameter. This further reduces the electrical resistance and ensures powerful transmission.
Flat design architecture
The flat designed cable prevents the signal loss caused by cable bend, change of impedance and electrostatic capacitance. And it protect signal from external/internal noise and electro-magnetic wave by combination of TPE outer sheath and double-shielding.
Connector
The contacts of the USB connectors are made of bronze alloy with selected combination plating for each class. For class S, it is a combination of platinum and rhodium. For class A and for class B, it is gold plating. Each plating enhances durability and stability of the connectors.
| | |
| --- | --- |
| CABLE | USB2.0 cable (HI-SPEED) |
| TRANSFER SPEED | Maximum 480Mbps |
| CONDUCTOR | 102 SSC / power : AWG18 / signal : AWG22 |
| STRUCTURE | Flat (Inverted concentric structure) |
| SHIELD | Double shielding w/individually shielded pairs |
| INSULATOR | Polyolefin |
| OUTER | Thermoplastic Elastomers |
| CONNECTORS | USB Type A – USB Type B |
| TERMINALS | Platinum + Rhodium plated bronze alloy |
| BODY | PBT+Glass Fiber 30% with aluminum cover |
More information – Oyaide