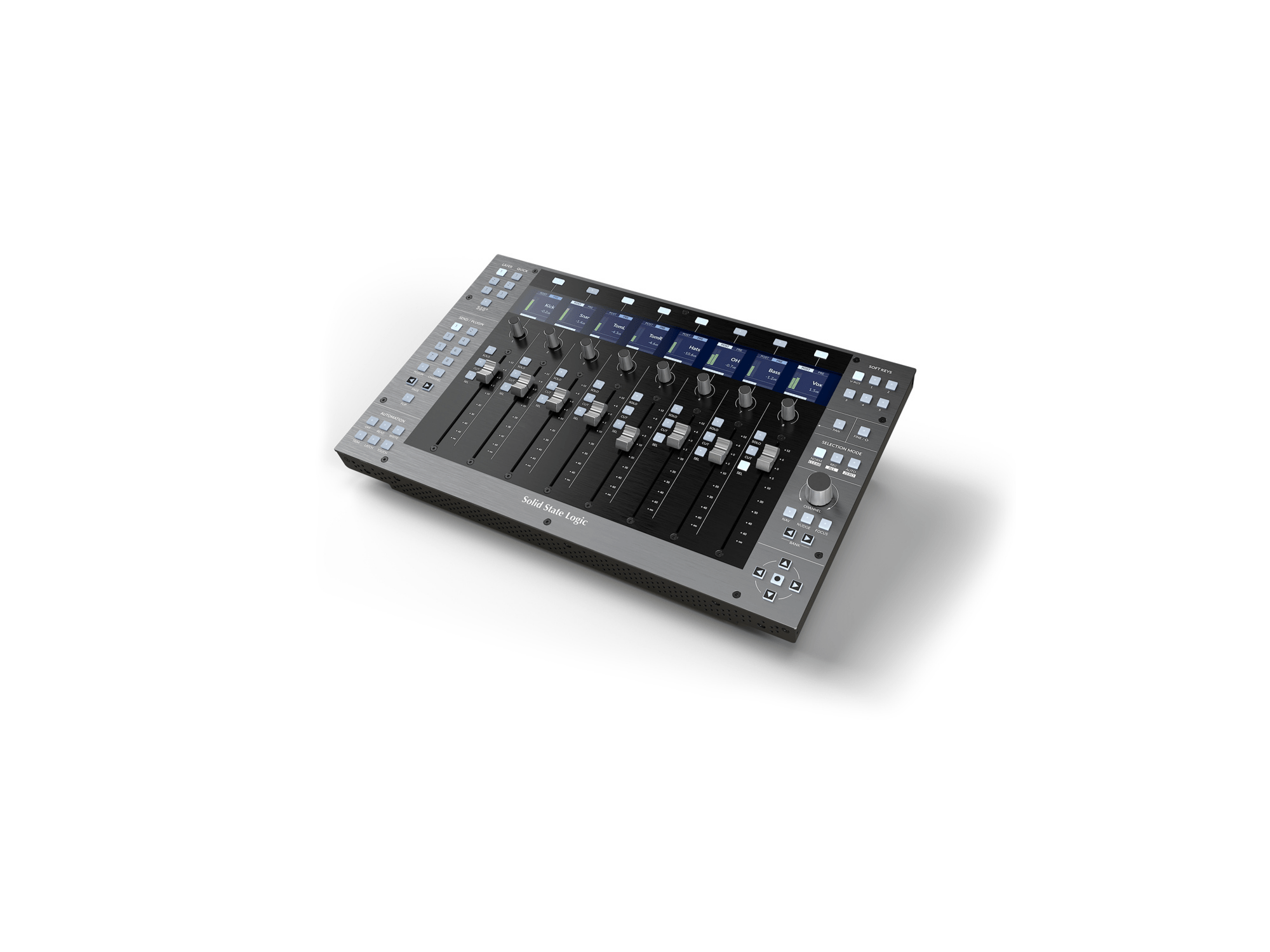 The Solid State Logic UF8 is an advanced DAW control surface with eight motorized, touch-sensitive faders; nine push/push rotary encoders; and eight high-resolution LCD TFT displays. SSL has been making world-class recording consoles for decades, and their extensive expertise is evident in the meticulous design of the UF8. Its professional pedigree is manifest throughout the design — from the just-right feel of its soft-touch rubber RGB backlit buttons to the robustness of its sleek, all-metal chassis. The system is expandable with up to four UF8s for 32 channels of DAW control. Connecting via high-speed USB and powered by SSL's dedicated 360° software, the UF8 offers easy, streamlined operation along with powerful functionality.
SSL 360° software: the brains of the operation
Operationally, the UF8 works seamlessly with major DAWs — Pro Tools, Logic Pro X, Cubase, Nuendo, Studio One, and Ableton Live — three of which can be be connected concurrently. SSL's dedicated 360° software for macOS and Windows handles configuration with your DAW(s). You can drag and drop to reorder UF8s in a multi-surface configuration and customize the user keys on the control surface with your choice of DAW commands or keyboard shortcuts. You'll never lose any brilliant moves, because SSL 360° automatically saves any changes you make in the background (and of course, you can always undo). It also manages software and firmware updates automatically.
Solid State Logic UF8 Advanced DAW Control Surface Features:
8 motorized, touch-sensitive faders
8+1 push/push rotary encoders
8 hi-res LCD TFT displays
RGB backlit soft-touch rubber buttons
Robust all-metal enclosure with brushed, anodized top plate
Expandable: connect up to 4 UF8s to create a 32-channel DAW controller
Works with major DAWs: Pro Tools, Logic Pro X, Cubase, Nuendo, Studio One, and Ableton Live
Up to 3 different DAWs may be connected simultaneously
Pro Tools communication via HUI; Logic, Cubase, Studio One, and Live communication via MCU
SSL software provides workflow enhancements with features such as Channel and Plug-in mode
Large multi-purpose notched encoder allows for DAW timeline navigation, track banking, and mouse wheel emulation for enhanced hands-on control
Customizable keys for assigning your favorite keyboard shortcuts/macros
Assignable footswitches
Included stands allow for adjustable elevation angle on your desktop
Compatible with SSL Origin modular center section
19-inch 6U rackmount kit available separately
Connects to your computer via high-speed USB
Powered by SSL 360° software for macOS/Windows, providing quick multi-session configuration, drag-and-drop reorder, customizable user keys, assignable layers, update management, and more
More info, https://www.solidstatelogic.com/products/uf8