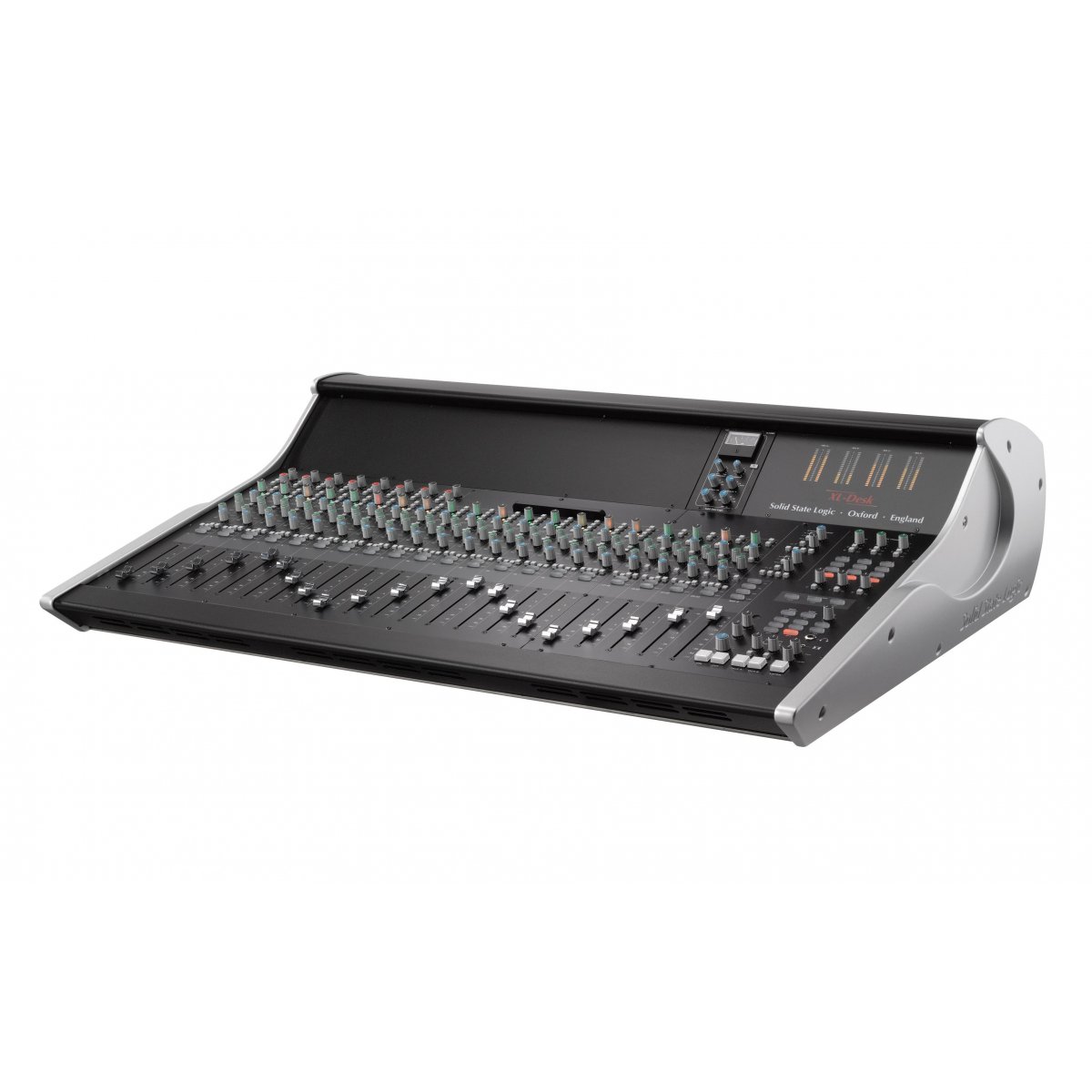 The SSL XL-Desk returns consoles to their former non-automated glory of yesteryear, but comes packed some of the best audio features of today. The console features 20 channel strips and four stereo channels, with the first eight being compromised of SSL's signature Variable Harmonic Drive (VHD) mic pres. Using a 100% analog signal path, these channels can offer a wide range of sounds from glowing warmth to grungy distortion.
When it comes to creating unique sounds, the Solid State Logic XL-Desk goes one step beyond by incorporating 500 Series technology in a different way. By creating an in-console 18-slot 500 Series rack (accepts both single and doublewide modules), Solid State Logic has made it extremely easier to bring new sonic characteristics to your sound. In addition, the 500 rack is built with a different power supply than the console, allowing it to be run completely separate from the rest of the desk.
One of the defining elements of any Solid State Logic desk is its delivery of clarity, punch and separation with every recording. Giving users the ability to create dynamic mixes with their signature Mix Bus, the XL Desk features four mix busses, which can all be summed into the console's Master Bus, Mix A. The other three mix bus, Mix B, C and D, can be independently controlled of the main bus.
Another essential part of any studio experience is the monitoring system, and the XL Desk is packed with a beautiful SuperAnalogue monitoring section. With three sets of stereo connects, a sub connection, impressive bass management and in-studio mic monitoring, you'll always be able to know exactly what sounds you are getting with the greatest of ease.
While many sound and mix engineers love having a fully-integrated system at their disposal, Solid State Logic's XL Desk dumbs down the former for those who just want something simple. Based on the classic analog console, but packed with sonic innovations from Solid State Logic, this console truly is the best of both sides of the recording industry.
FEATURES:
20 + 1 fader, over 40 input SuperAnalogue SSL console
8-built in Variable Harmonic Drive (VHD) preamps
16 dual input mono channels (switchable between main input or DAW return)
4 stereo channels (switchable to mono for tracking)
The legendary Stereo Bus Compressor, with new high-pass filter sidechain
18-slot 500 Series rack built-in, accessible from channels or mix busses
In addition to a 500-series rack built-in that accepts both single and doublewide modules, accessible from channels or mix busses
4 stereo Mix Buses with their own insert points and access to the 500 rack
One stereo and 2 mono aux sends. Two dedicated stereo return inputs
Direct outputs on every channel, stereo return and mix bus for stem printing
Fully-featured monitoring section with bass management
Foldback A and B with individual talkbacks for headphone mixes
Built in Listen Mic input + classic compressor circuit, with its own direct output
AFL and Solo-In-Place solo modes, with Solo Clear and Solo Safe (Protect) modes
Balanced D-Sub rear panel inputs/outputs & Front panel headphones & iJack sockets
High quality internal PSU
PRODUCT SPECIFICATIONS
| | |
| --- | --- |
| CONDITION | New |
| CHANNELS | 24-Channel |
| NUMBER OF BUSES | 4 |
| NUMBER OF AUX SENDS | 3 |
| DIRECT OUTPUTS | Yes |