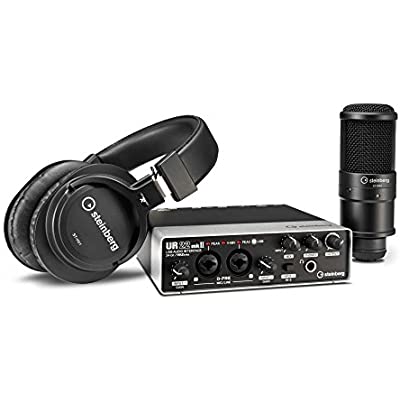 UR22MKII RECORDING PACK
The all-inclusive, full-on production toolkit to get you producing your first songs on your computer or iPad! The UR22mkII Recording Pack combines a dual-channel audio interface, studio condenser microphone and monitor headphones, including cables, with a full software package — offering a complete, studio-grade quality music production set at an entry – level price.
The ST-M01 studio condenser microphone
Rivaling high-quality studio mics with its clean, smooth response, the ST-M01 studio condenser microphone provides high sensitivity and a wide frequency response range ideal for recording every nuance of your desired audio source. Be it vocals, acoustic guitar or any other instrument, the ST-M01 captures every aspect of the signal in excellent quality. Also included is a low-noise microphone cable to connect the ST- M01 to the UR22mkII.
The ST-H01 studio monitor headphones
The ST-H01 studio monitor headphones provide an accurate, sonically true and neutral signal listening experience, making them the ideal companion for monitoring during recording and accurately reproduce your signals when putting together your final mix. The close-backed design means low bleed levels into the microphone during vocal recording, ideal for singers recording their own vocals.
Reliable recording wherever you are
Thanks to its solidly dependable performance and outstanding sound quality, the versatile UR22mkII lets you make the best recordings anywhere. Whatever your style of sound, whether you want to record your live gigs, rehearsals, make location recordings or podcasts, the D-PRE mic preamps deliver sumptuous audio quality far beyond what is expected of compact interfaces in this price class. With switchable phantom power, the highest quality components and its rugged, easily portable construction, with the UR22mkII you always get a transparent, detailed sound that does full justice to the original source – wherever you are.
Entertain an audience anywhere
If your motto is 'have guitar, will travel', then the UR22mkII is your perfect travelling companion. Its compact, rugged but lightweight enclosure, professional quality D-PRE preamps and seamless connection with iOS devices via USB 2.0 means that you can play high quality backing tracks, while using the two inputs for your instrument and vocals to entertain audiences anywhere. By using USB battery packs, you can play for as long as the applause continues, knowing that there is no compromise in any part of your performance.
Unbeatable for beats
Are you a producer of electronic or beat-based music looking for your ideal mobile interface? Look no further! The rock-solid drivers of the UR22mkII let you run VSTis at very low latencies, while the onboard MIDI I/O means you can connect synths, vintage drum machines, MIDI controllers or any other MIDI gear to create the freshest sounds. You can plug in a microphone or electric guitar to record vocals or guitar parts, all in perfect sync with the MIDI data. And the outstanding sound quality of components like the D-PRE preamps mean everything you record is at studio quality.
| | |
| --- | --- |
| Connection Type | USB 2.0 |
| Design | Desktop (1/3 19", 1HU) |
| Casing | Full-metal casing |
| | |
| --- | --- |
| AD/DA | 24 bit |
| Maximum sample rate | 192 kHz |
| Dynamic range input | 101 [dB] |