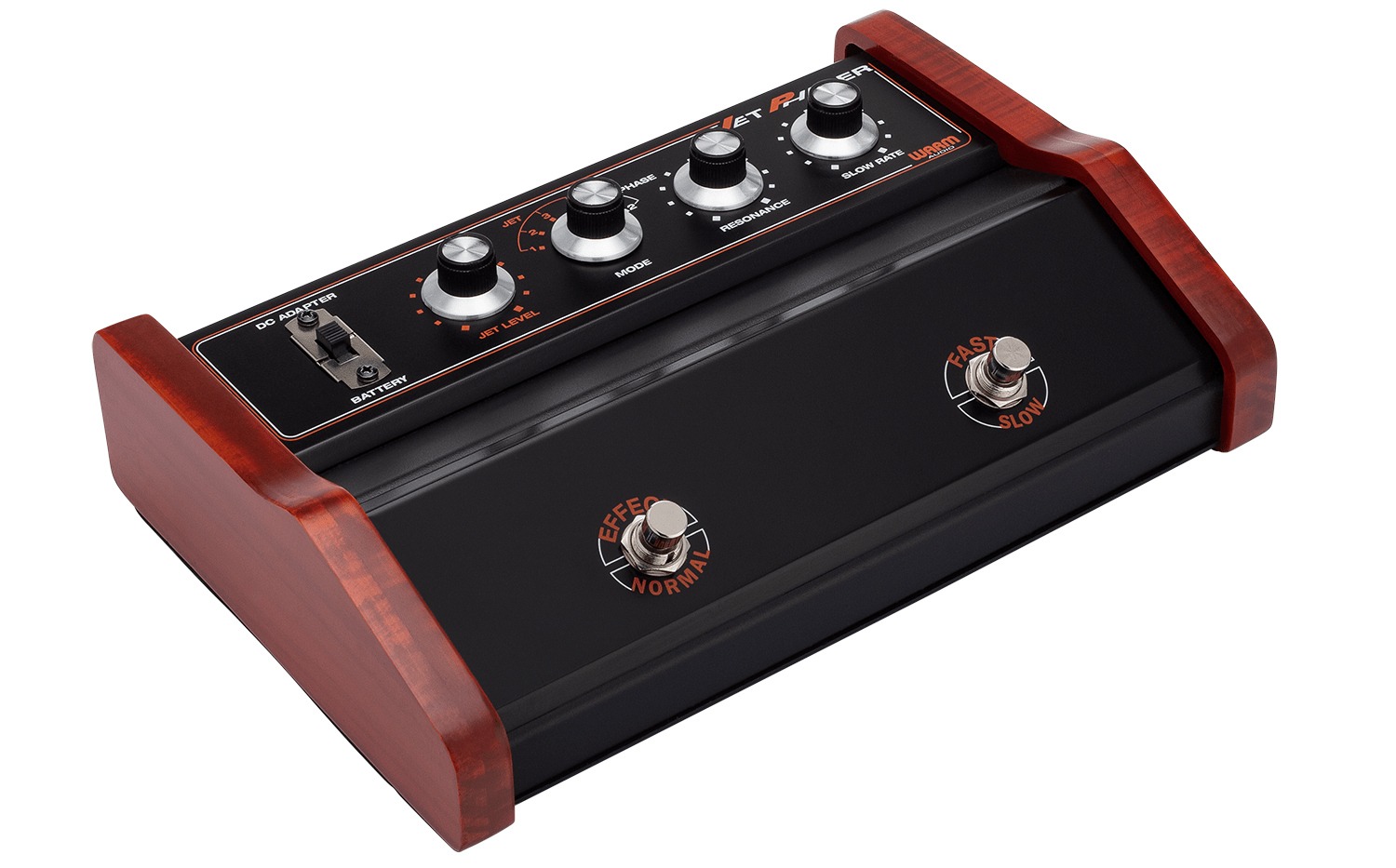 The Warm Audio Jet Phaser is an authentic re-creation of a popular, similarly named guitar effect pedal from the 1970s. Not sure which stompbox we're talking about? Remember the funk-infused modulated bass sound that Larry Graham used with Sly and the Family Stone? Yeah, it's that sound. Fire it up, and you'll experience a gooey swirling sound that no other device can replicate, thanks to the inclusion of a one-of-a-kind fuzz circuit. The Jet Phaser boasts the same set of controls as the original, with knobs for Jet Level, Mode, Resonance, and Slow Rate, plus Effect/Normal and Fast/Slow footswitches.
Authentic 1970s-era phase effect
Phasers were ubiquitous in the 1970s. From Eddie Van Halen's swirling guitar textures to Herbie Hancock's trailblazing keyboard stylings, phasers were everywhere. And who could forget Sly and the Family Stone's Larry Graham? His pioneering "thumpin' and pluckin'" bass techniques have influenced entire generations of slap-pop electric bass stylists, including a bevy of us here at Sweetwater. Warm Audio's Jet Phaser is a spot-on reincarnation of the device Larry used to achieve his attention-grabbing modulated bass tones, both with Sly and the Family Stone and later with Graham Central Station.
Standard phase-shifting to fuzz-soaked modulation
The Warm Audio Jet Phaser contains six modes, with two labeled Phase and four labeled Jet. The two Phase modes produce standard phase effects, with the first giving you subtle modulation and the second serving up a pronounced phase-shifting sound. The four Jet modes are where things begin to heat up, however. These modes infuse the phase effect with delicious fuzz textures, thereby unleashing an electrifying array of dirty modulated sounds:
Bright Fuzz/Shallow Phase
Bright Fuzz/Deep Phase
Dark Fuzz/Shallow Phase
Dark Fuzz/Deep Phase
And since you can control your output with the Jet Level knob in the Jet modes, the Jet Phaser makes a great dirty boost!
Tech Specs
Pedal Type: 

Phaser

Analog/Digital: 

Analog

Effects: 

Phaser, Jet Fuzz Phase

Inputs: 

1 x 1/4″

Outputs: 

1 x 1/4″

True Bypass: 

Yes

Power Source: 

18V DC power supply (included)

Power Usage: 

9mA

Batteries: 

2 x 9V

Height: 

2.25″

Width: 

10.25″

Depth: 

6.5″

Weight: 

4.6 lbs.

Manufacturer Part Number: 

WA-JP