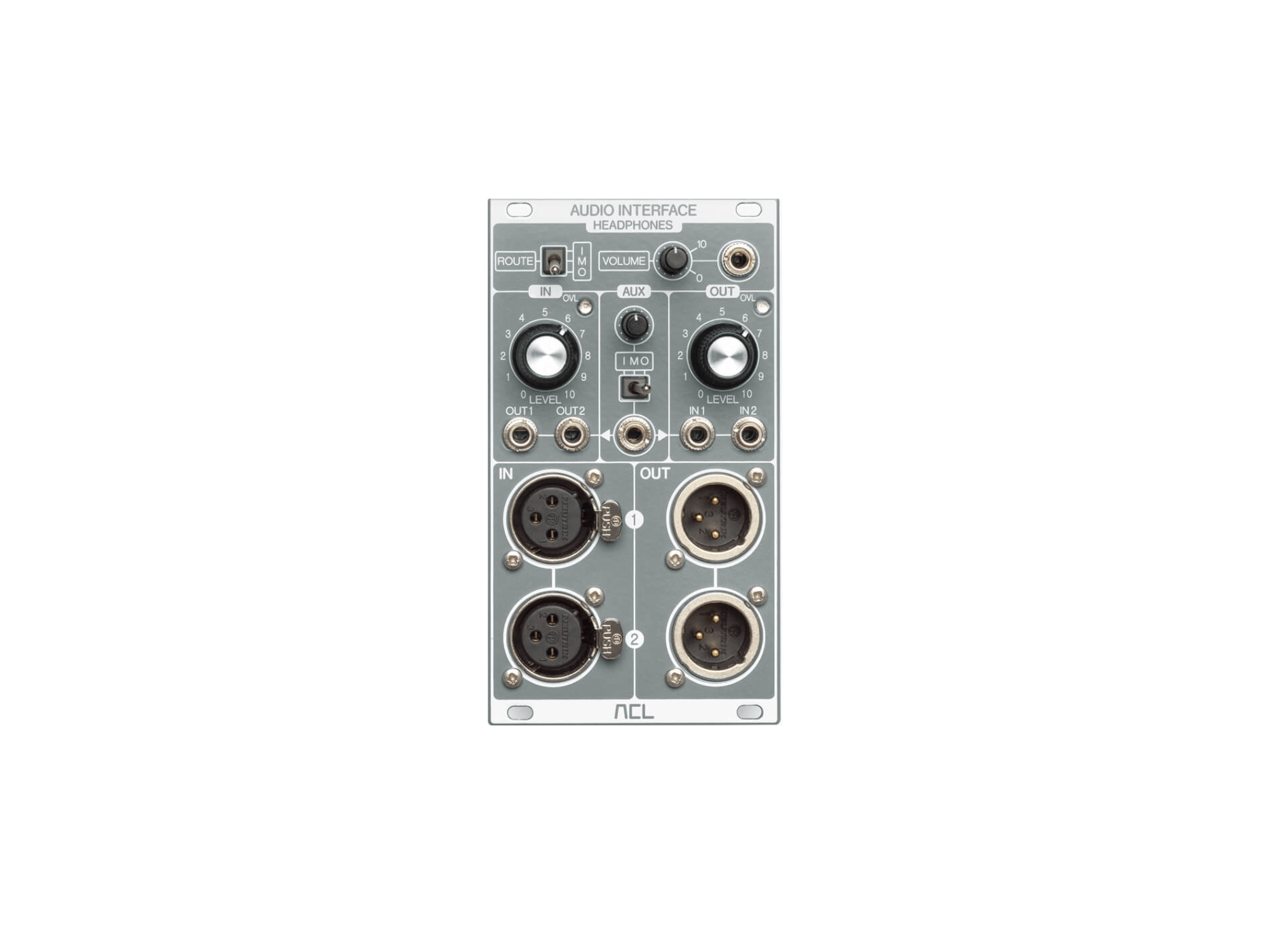 The purpose of the ACL Audio Interface module is to interconnect modular synthesizer systems with both professional studio and stage equipment.
It allows external stereo audio signals to be routed in and out of the modular system, using XLR inputs and outputs, whilst – thanks to comprehensive headphone monitoring – also serving as an effective live mixer for combining audio from an external setup with audio from your modular system.
The combination of a studio quality signal path, flexible routing possibilities, and a headphone amplifier – capable of driving both high and low impedance headphones, with low distortion – makes the connection between these different environments effortless and sonically transparent.
To ensure the highest possible signal quality and flexibility, the ACL Audio Interface offers balanced-to-unbalanced and unbalanced-to-balanced stereo lines throughout, with level controls. Additionally, the stereo signal from the auxiliary input features its own level and mute controls, and thus can be mixed together with the signals of both stereo lines (using AUX you could connect devices such as an external DJ mixer, laptop, or even a phone), allowing even more live performance possibilities.
The headphone amplifier can also get its signal from both lines, after the level control and mixing stage, or can be muted, effectively turning the interface into a functional live mixer (for when a larger mixer is not wanted or needed), further enhancing the Audio Interface's live credentials.
Moreover, since the headphone amplifier is only AC-coupled at the input, not at the output, there is on-board DC protection circuit included. This results in truer bass response in the headphones, and also offers the maximum possible protection against damage to your headphones. Unlike many such headphone amplifiers on the market, our module also has a 'soft start' function, preventing painful and damaging (to both headphones and ears!) clicks in the headphones when powering on the system. There is also an overload indicator for both lines.
Whether you want a peerless signal path from your studio to your modular system (and back), or to take your system on stage and combine it with other equipment – with or without an additional mixer – we believe our Audio Interface is an outstanding choice.
110 mA +12V
120 mA -12V
0 mA 5V
40 mm deep
Width 14 HP
More information – ACL