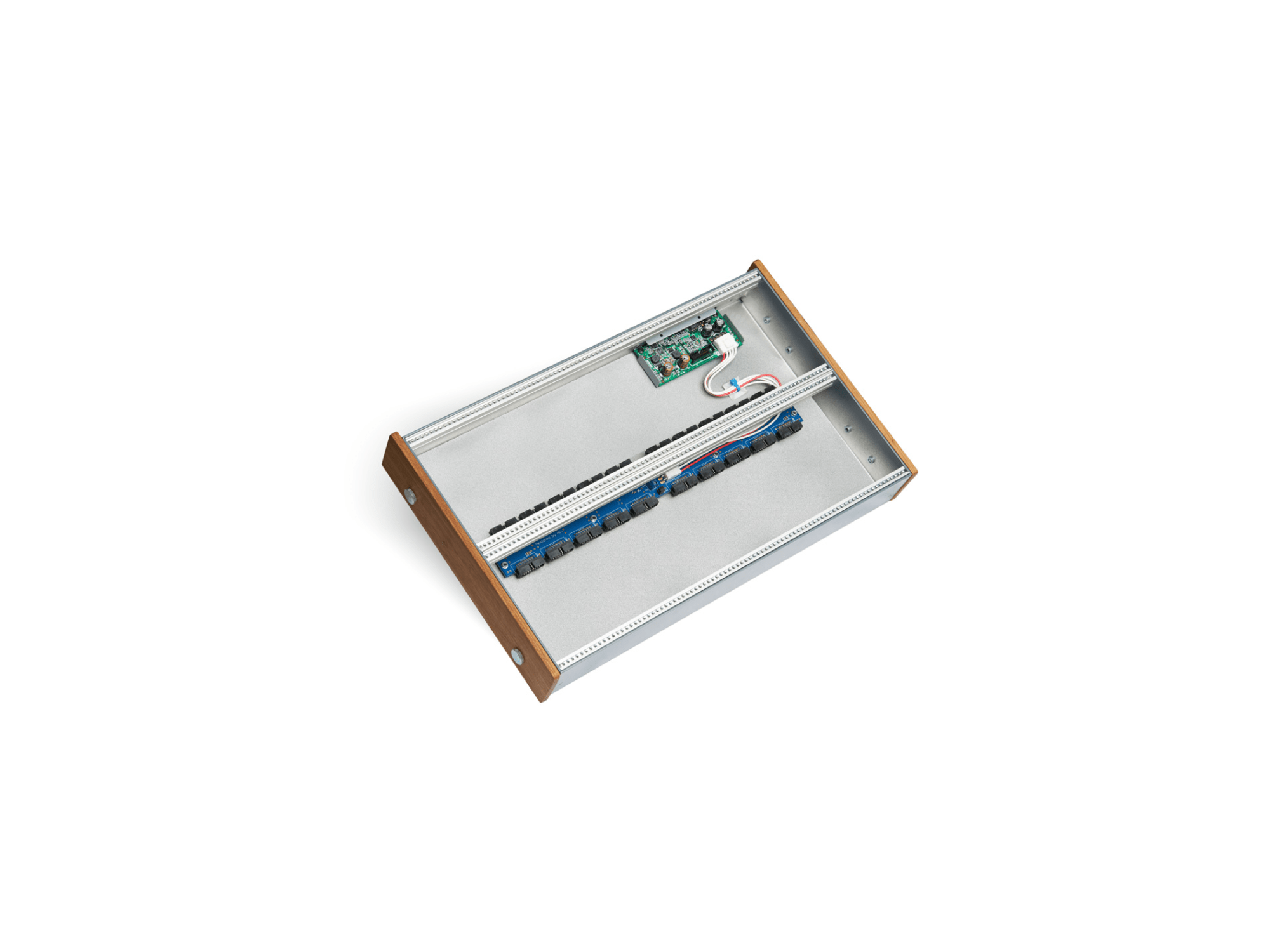 We′d been planning to create our own cabinet for ages, but as with all of our designs, it needed to solve a problem. In the end, the problem was pretty straight forward: How will we house the components of our complete System 1? But, obviously, there was more to it than that!
It had to be strong but lightweight, so we chose sturdy 2mm powder-coated aluminium. Pure metal can feel a little sterile, though, so to inject a bit of noble vintage vibe into long sessions, and to look great on stage (never let anybody tell you that those things don′t matter!), we attached red oak side panels. And these aren′t just for show – they provide extra rigidity, and just enough weight to help keep the unit balanced and steady on a desk or stand.
A wide choice
There are two sizes, both 6U, with two rows of 84HP or 104HP. We chose a flat design as we find it more versatile and it sits more comfortably on a desk. And if you want it at an angle, it′s more effective and stable to angle a flat cabinet forward than to raise up the front of an angled one to flatten it (try it if you don′t believe us!).
The integrated power comes from our 4HP KAZU switching PSU. This is rear panel-mounted, freeing up space on the top for more interesting modules, and is wired to one of our EVE-1 busboards, for connection of up to 20 modules (plus one more directly from the KAZU itself).
Clean, integrated power
We′re really quite proud of both KAZU and EVE-1, and recommend checkout out their individual pages for more details, but to summarise. KAZU offers super-clean power, for safe, consistent operating voltages of +12 V, -12 V and +5 V, ensuring the most consistent sound performance, minimal interference, and ultimate module protection.
KAZU offers the following performance data:
– 12 V: Regulated, filtered.
– 12 V: Regulated, filtered.
– 5 V: Not regulated, filtered.
Installation depth:
normal – 5.6cm
over bus – 4.1cm
over power supply – 3.5cm
Maximum current output:
– 1000 mA to +12 V
– 1000 mA to -12 V
– 500 mA to +5 V
An external power supply (15 V DC, tip positive, ring negative) is included in delivery.
More information – ACL