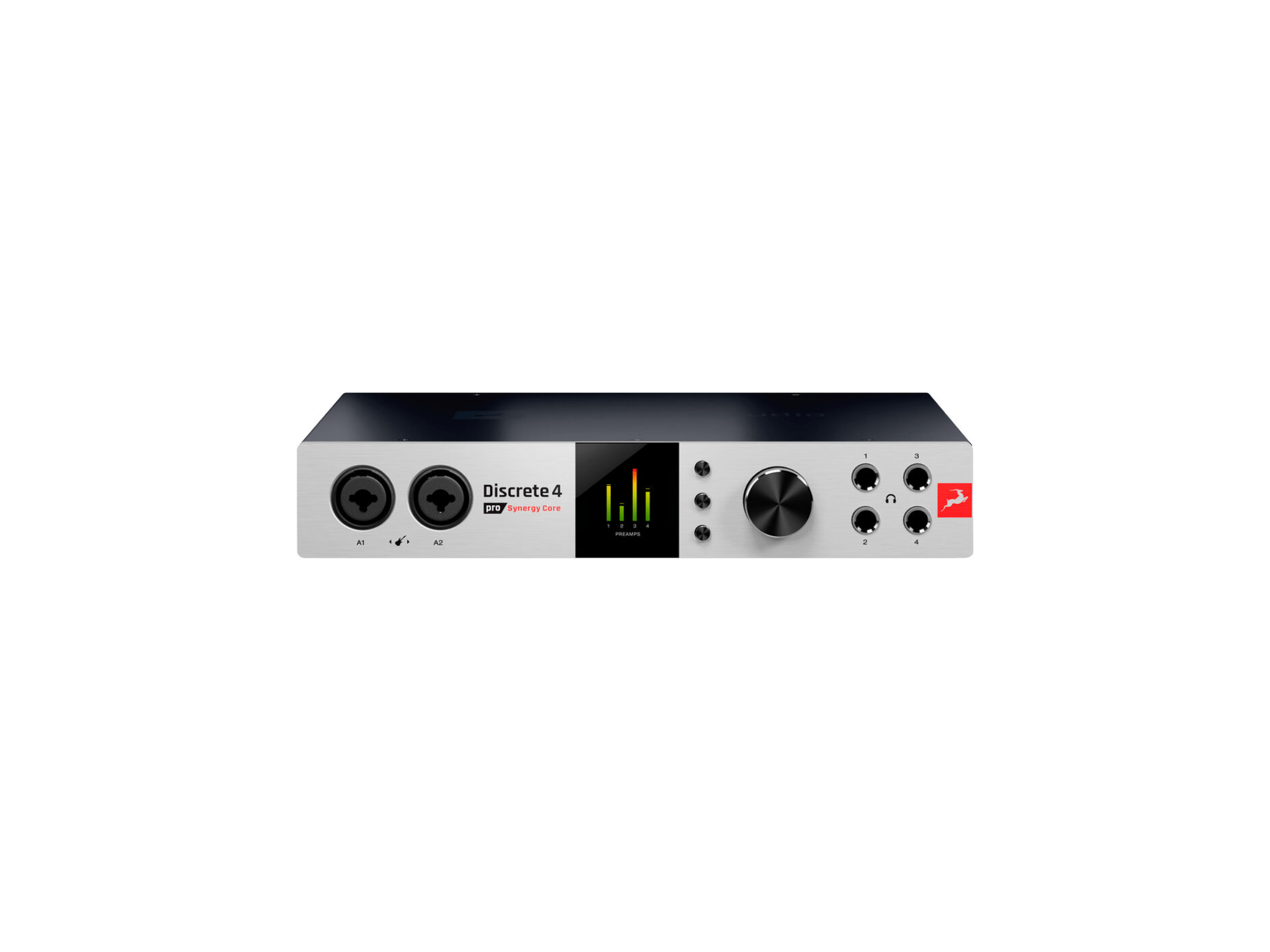 The Discrete 4 Pro Synergy Core is designed for stellar recordings at home and in the studio. It features industry-leading sound quality made possible by our latest generation AD/DA converters and transparent preamps.
Updates to the Pro Model
Compared to the Discrete 4 Synergy Core, the Discrete 4 Pro Synergy Core delivers improved performance with greater dynamic range, less total harmonic distortion and noise, and quadruple the available channel strips for effects processing. Also, it replaces Thunderbolt 2 connectivity with Thunderbolt 3 (in addition to USB 2.0) and offers adaptive on-screen metering plus extended routing capabilities.
High-Fidelity Conversion and Clocking
The Discrete 4 Pro has been upgraded with studio-ready 192 kHz converters (up to 130 dB of headroom) and Antelope Audio's proprietary 64-bit AFC clocking. With the interface in your rack, you can experience a new level of detail in your recordings, and enjoy a wider soundstage for an exceptional stereo image in audio playback.
Transparent Preamps
Antelope Audio's discrete preamp topology is a descendant of the great console preamps of the time. Designed using a combination of transistors, the Discrete 6-transistor preamps result in high gain (up to 65 dB), minimal noise, and precise sound capture for pristine, transparent recordings.
Producers and Self-Recording Artists
Thunderbolt 3 and USB 2.0 Connectivity
4 Mic/Line Preamps, 2 with Hi-Z Option
Outs: 4 Headphone, 2 Monitor, 4 Line
Up to 24-Bit / 192 kHz Resolution
External Power Supply / Mac and Windows
ADAT & S/PDIF I/O for Digital Expansion
Onboard DSP/FPGA Chips
64-Bit AFC Wordclock I/O
Includes 37 Real-Time Effects
More information – Antelope