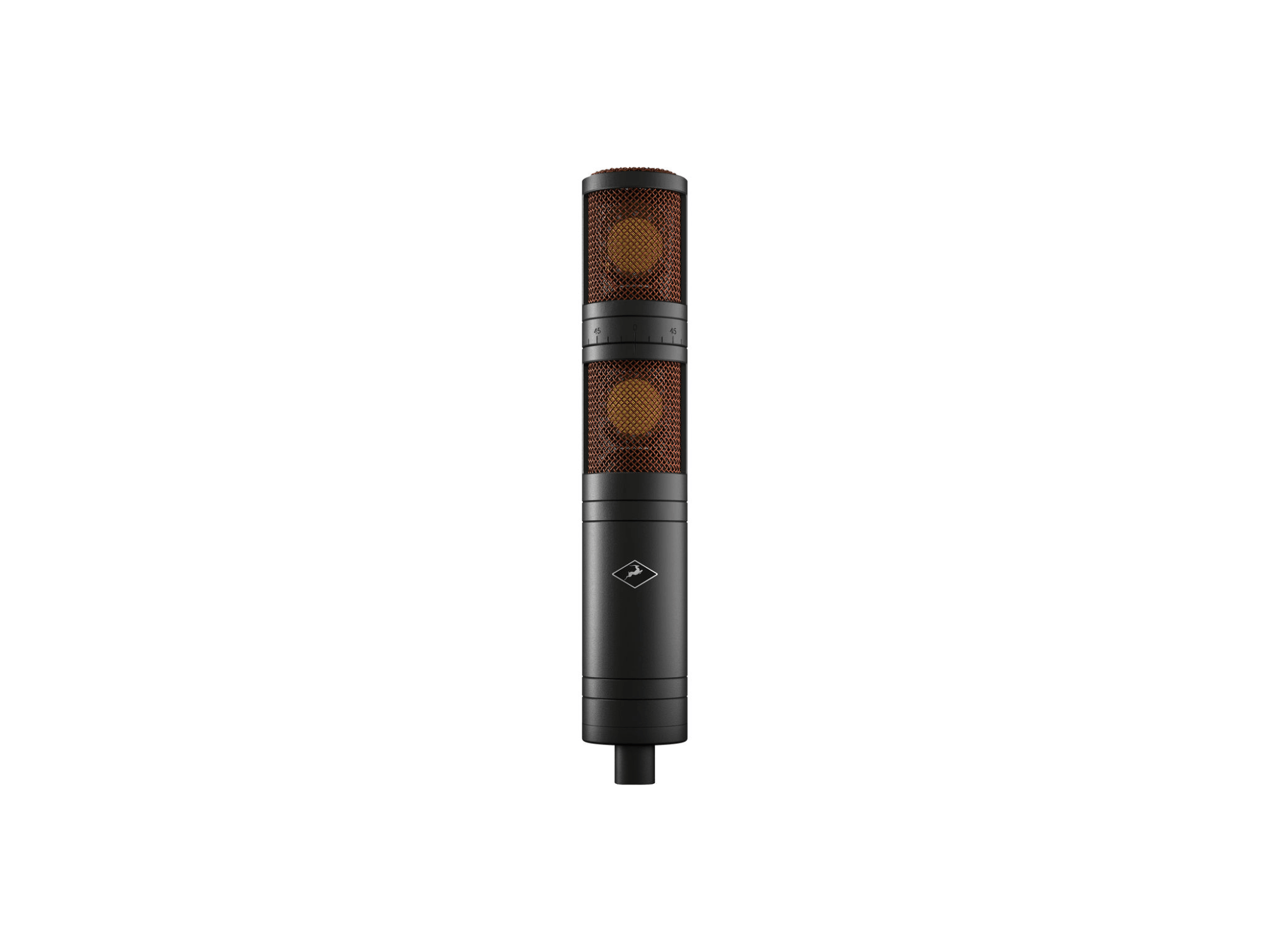 The Antelope Edge Quadro is a stereo large-diaphragm condenser microphone offering versatile configurability and flexible software processing for accurate sonic reproduction of vocals and instruments. With two 1.3″ dual-membrane capsules—each capable of cardioid, figure-8, omnidirectional, or variant polar patterns—in a stacked setup, it can be used for mono or multiple stereo configurations. Thanks to a rotatable top head with degree marks, X/Y and Mid-Side positioning are easily and precisely achieved.
Dual XLR 5-pin outputs split to four independent XLR 3-pin channels via the supplied 16.4′ oxygen-free copper XLR Y-cables, allowing independent level adjustment and effects processing for each membrane. Using Antelope's AFX plug-ins or their FPGA-equipped audio interfaces, per-head microphone emulation and polar pattern manipulation are provided along with a straightforward and informative GUI.
The extensive library of mic emulations boasts models of sought-after tube and solid-state condensers, as well as popular ribbon mics. All models are optimized for the Edge Quadro's low resonance and full 20 Hz to 20 kHz frequency response. The capsules are operated via 48 VDC phantom power; no bulky external power supply is required. The Edge Quadro includes a custom shockmount and a custom wooden case.
Large-diaphragm condenser capsules
Double-sided, 6-micron, gold-sputtered 34mm membranes
Audio signal splits into four independent XLR output channels for optimum control and re-miking
Switchable cardioid, figure-8, and omnidirectional polar patterns
Individual mic emulation and polar pattern selection for each head
Infinite top head rotation for maximum flexibility
Low-reflection, symmetrical top and bottom heads
Includes a custom shockmount, two oxygen-free copper Y-cables, and a custom handmade wooden case
More information – Antelope