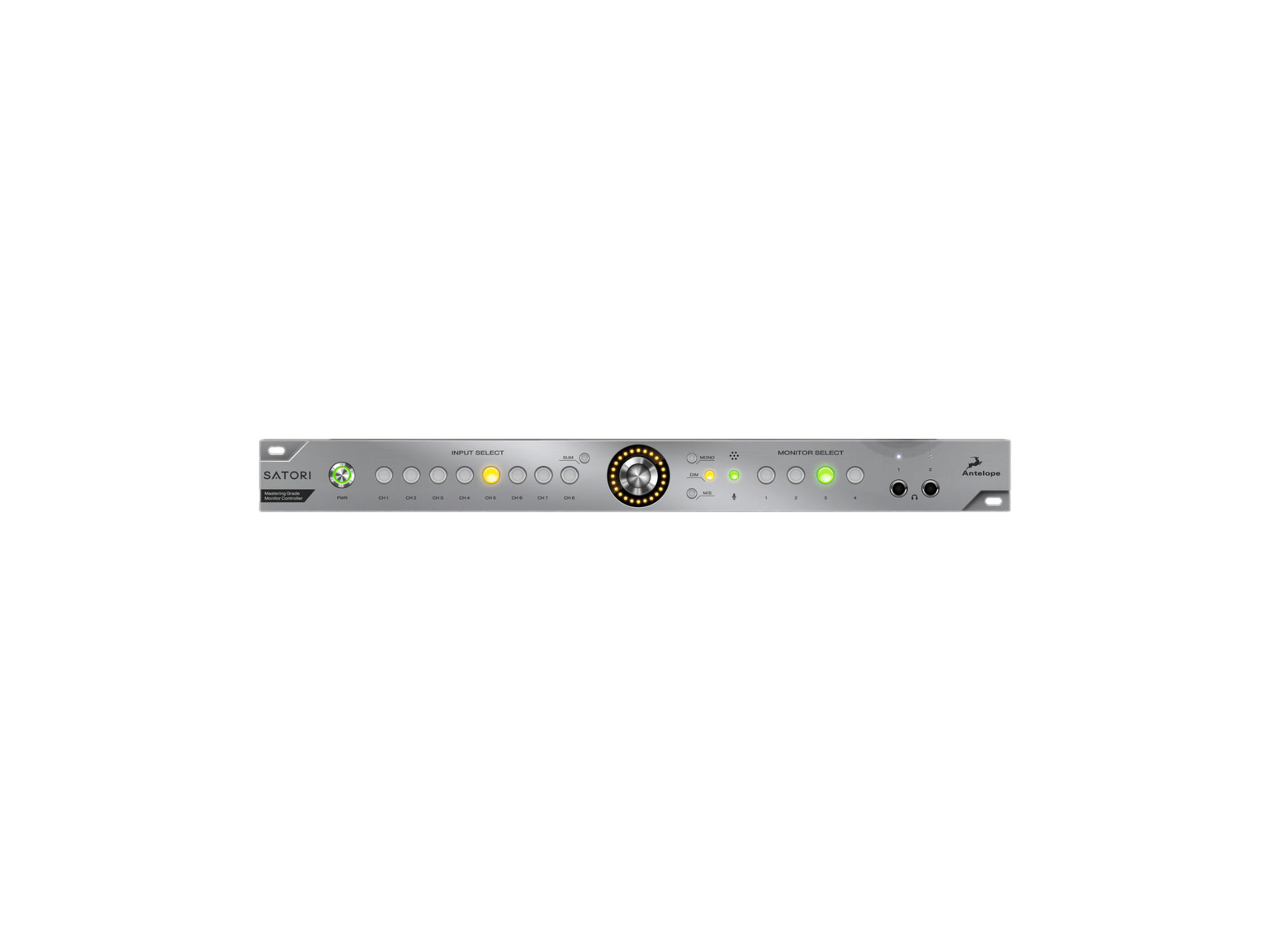 The Antelope Satori is an analog monitoring and summing solution that features relay-controlled stepped attenuation for recalling analog settings, versatile connectivity options, and mastering-grade features such as mid-side monitoring. The piece features eight stereo inputs and four stereo outputs, and is equally suited to both commercial and project studios.
Satori's 0.05 dB platinum relays are designed to provide accurate volume control and L/R balance, even at the lowest listening levels. Its four independent headphone outputs allow individual source selection and volume control, enabling separate feeds for musicians or vocalists. The headphone drivers on Satori employ the same audiophile-grade circuitry found in Antelope's line of premium home audio products, and are able to drive both low and high impedance loads.
Satori offers a plethora of functionality such as talkback and level trims, as well as mute, mono, dim and mid-side. Gain offset is available for any input and output, making A/B testing extremely easy and efficient. In addition to providing monitoring capabilities, Satori includes a fully analog 8-channel summing mixer, allowing engineers who work completely "in-the-box" to mix signals in the analog domain for a more natural blending of instruments.
The R4S from Antelope is a dedicated, tabletop remote control designed to completely replicate the front-panel functionality of the Satori analog monitoring system. Centered around an ergonomic and intuitive design, it allows engineers to select their monitoring options, directly from their listening sweet spot.
Connected and powered via USB, the R4S gives you instant visual feedback of all your settings, while the large, stepped volume knob controls the relay attenuator in the main unit.
Analog Sound with Digital Control
Satori Monitoring and Summing System
R4S Remote Control
8 x Stereo Inputs
4 x Stereo Monitor Outputs
4 x Headphone Outs with Volume Controls
1 x Stereo Out for Analog Summing
Mono, Dim, Mute, Trim, M/S, Sub
Talkback Function
Mac OX S, Windows
More information – Antelope