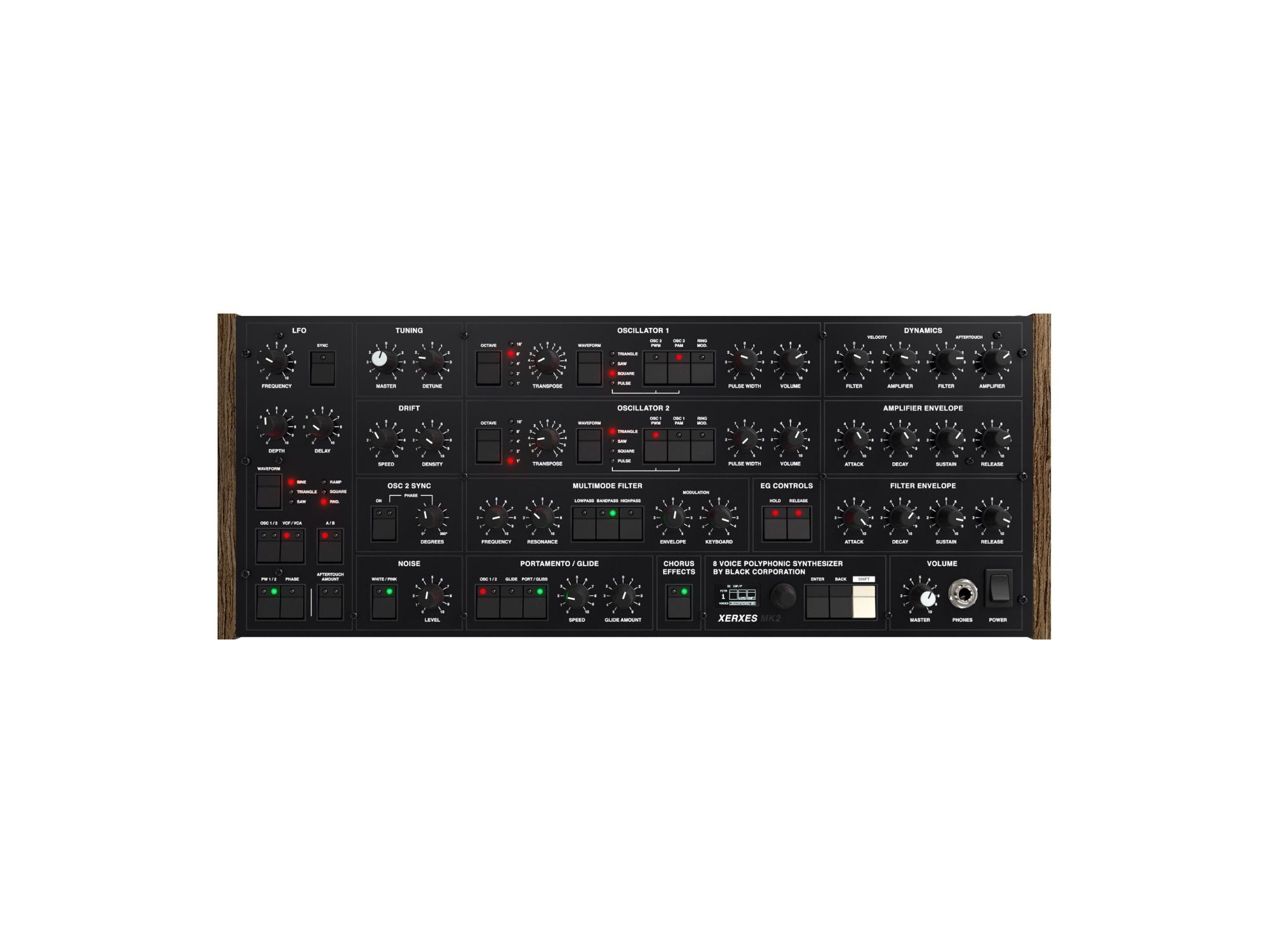 8-voice desktop clone of the Elka Synthex
With Xerxes MkII, Black Corporation helps the eight-voice analog synthesizer Elka Synthex, built in Italy from 1981-1985, to a rebirth. Thanks to modern technology, the massive polyphonic keyboard synthesizer of yesteryear has been successfully housed in a compact desktop enclosure that, with the included rack ears, can fit 4 HU in a 19″ rack. The MkII version has been redesigned circuit-wise, special attention was given to the VCA. In addition, there are now balanced stereo outputs with large jack and the audio signal is output via high-quality converters via USB to a DAW. The front panel and almost all controls are now in black.
Sound generation
The two oscillators are very homogeneous and powerful sounding DCOs, each have the waveforms triangle, sawtooth, square and pulse, handle PWM and are individually switchable into the ring modulator. The third sound source in the Xerxes is the noise generator, which produces white or pink noise. The fine tuning of the good basic sound is done by the multimode filter. It handles lowpass, two bandpass, highpass and is resonant. The last link in the signal path is the switchable chorus effect, which adds width and liveliness to the sound.
Analog Synthesizer
Clone of the Elka Synthex (1981-1985)
Fully analog signal path
Eight-voice polyphonic
Two oscillators (DCOs) with PWM
Ring modulator
Noise generator
Multimode filter
Two ADSR envelopes
Two LFOs with sync and fade-in
Polyphonic aftertouch
Chorus effect
1408 presets (11 banks x 128 presets)
Clear layout
Parameters correspond to the original
Desktop case respectively 19″ 4U
Features:
Manufacturer: Black Corporation
Construction / Number of Keys: Desktop without keyboard
Velocity sensitive: Yes
Aftertouch: Yes
Sound Generation: Analog
Polyphony: 8
Number of Sounds: 1280
Integrated Effects Processor: Yes
Number of Knobs: 35
Number of Keys: 32
Display: Yes
MIDI Interface: Yes
USB MIDI Interface: Yes
LINE OUT: Yes
Sym. Connections: Yes
Headphone Connection: Yes
Power Supply: Adapter, external
incl. Power Adapter: Yes
More information – Black Corporation