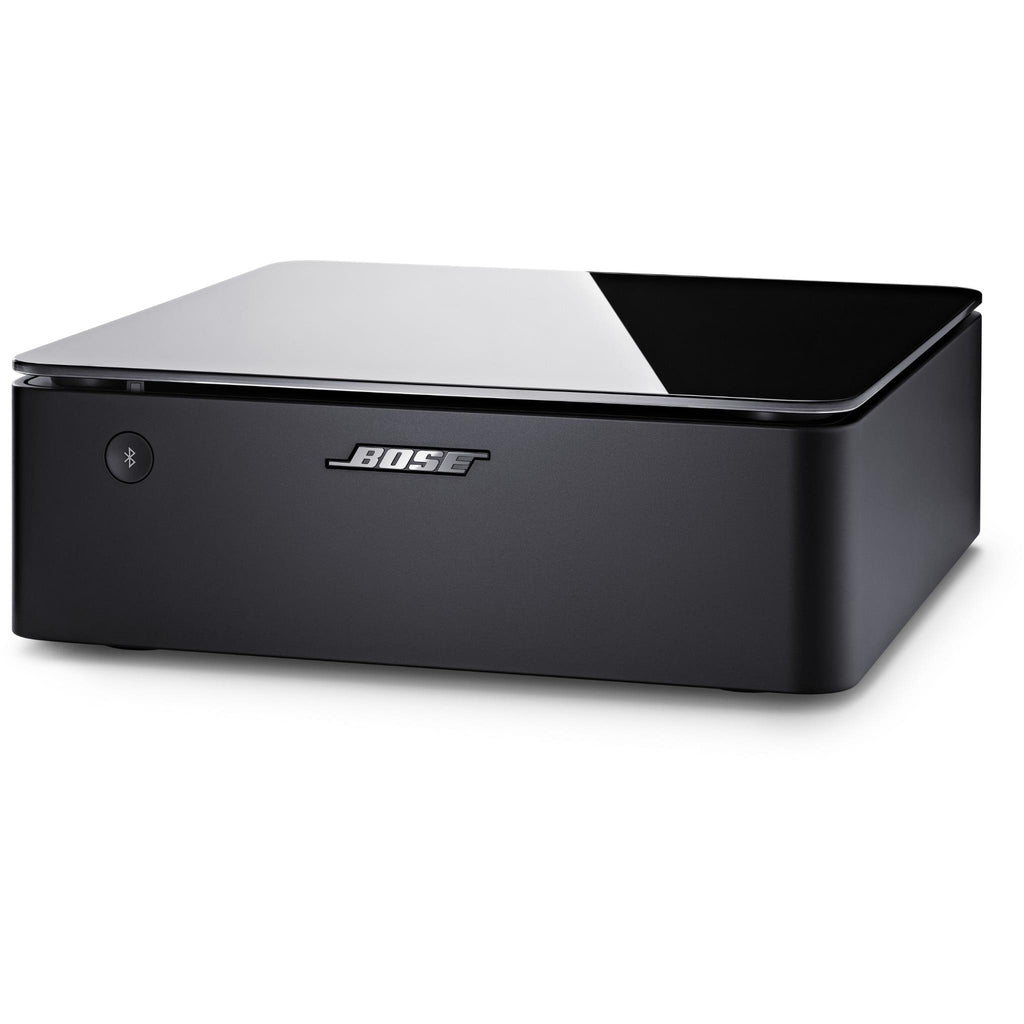 Give your home's soundtrack a boost. The Bose Music Amplifier powers passive speakers with 125 watts per channel and connects over Wi-Fi® so you can stream all your favourites – from playlists to podcasts – easily from your phone. Connecting via Bluetooth® is also an option as long as the device is within 30 ft. of the amplifier. Group with other Bose Wi-Fi®-enabled speakers for a whole-home listening experience controlled through the Bose Music app. Pair yours with Bose in-ceiling or outdoor speakers that deliver clear, well-balanced sound.
The soundtrack to your life.
Is your home really 'home' without music? The Bose Music Amplifier powers up to two pairs of passive speakers for synchronised sound in each room. More amps mean more speakers, so you can designate one for the main room and another for the garden for a multi-room listening experience.
Making connections.
The easy-to-use Bose Music app helps you get started, giving you instant access to audio settings, software updates, and control of your music – all in one place. When your guests want to take over the vibe, use Bluetooth® to pair a new device. Analogue and Optical inputs bring your CD player and vinyl record player to centre stage.
Amped-up streaming apps.
Stream your music any way you want. Access the Bose Music app's integrated music services and internet radio stations over Wi-Fi®. Or connect to your phone with Bluetooth®, Apple AirPlay 2, Spotify® Connect, or Chromecast built-in.
Our secret ingredient.
This amp was built with Bose proprietary signal processing technology that automatically adjusts tonal balance with changes in volume. You get lifelike sound with rich lows at almost all listening levels while vocals maintain clarity.
Sounds good, right?
For an optimal sound experience, pair the Bose Music Amplifier with passive speakers from Bose. The custom EQ delivers clear, well-balanced sound for the Bose Virtually Invisible 791 in-ceiling speakers and the Bose 251 environmental speakers. You can further adjust the sound to your liking using the audio controls in the Bose Music app.
Want more punch? Add more power.
Maximise your music's potential. With a 3.5 mm wired connection, you can add a bass module to the amp for even more depth. Consider the Bose Bass Module 500 or 700.
Even better all together.
Imagine music filling your home. Start with the amp and a set of speakers, then add more Bose Wi-Fi®-enabled speakers or soundbars over time. Control them all with the Bose Music app to play the same music throughout, or create a different vibe in each room.
Private – or party – listening.
Connect the amp to select Bose Bluetooth speakers and headphones with Bose SimpleSync™. * Want to listen to your favourite vinyl records without disturbing others? Pair the amp with Bose QuietComfort® 45 headphones for a private listening session. Or for even more sound, pair with select Bose Bluetooth speakers.
Home improvement.
Built with premium materials, the Bose Music Amplifier has a sleek, elegant design with a tempered-glass top that complements any décor. Display it in your living room on a bookshelf or tuck it away in a cabinet. The amp is also designed for rack mount installation, so two can easily be placed side by side or stacked – your choice.
Just say it.
Connect your amplifier to a voice-enabled device so you can play, pause, and adjust music volume with simple commands. The amp works with Amazon Alexa and Google Assistant devices.
Key Features
Power up to two pairs of passive speakers
125 watts per channel
Set up and control with Bose Music app
Stream over Wi-Fi® or Bluetooth®
Apple AirPlay 2, Spotify® Connect, and Chromecast built-in
Custom EQ for Bose 251 and Virtually Invisible 791 speakers
Analogue and optical inputs
Ethernet port
Optional Bose bass modules available
Part of the Bose family of Wi-Fi®-enabled products
Pair with select Bose headphones and Bluetooth® speakers using SimpleSync™
Elegant design
Compatible with rack mount installation
Connect a voice-enabled device for hands-free control
More info: Bose Music Amplifier