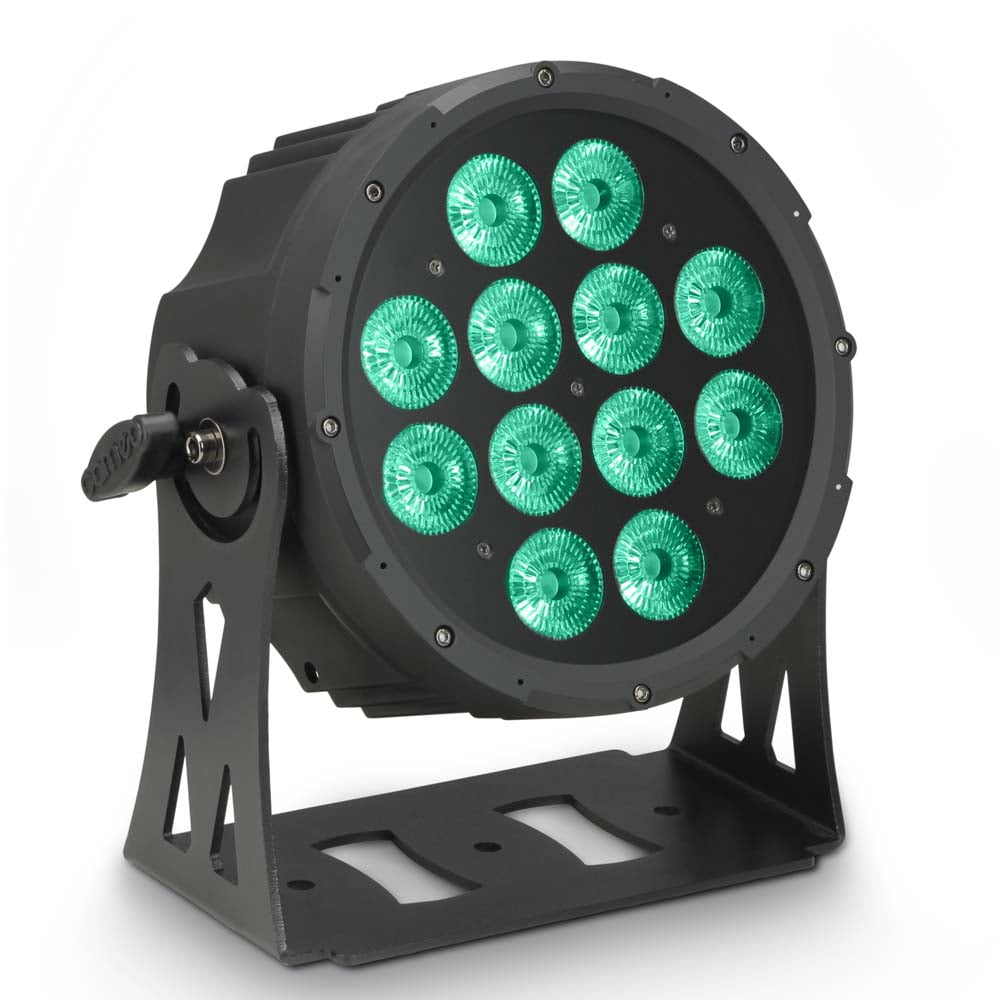 The Cameo CLPFLATPRO12 professional PAR light's super slim design thanks to its convection cooling construction makes it most suitable where space is limited and silent operation is required. 12 high performance 10 watt LEDs produce impressive RGBWA colour mixes from soft pastel hues to rich, warm tints with 16,000 lux and a 30° beam angle while the 3,000 Hz refresh rate eliminates flicker.
The CLPFLATPRO12 features 5 DMX modes with numerous functions, integrated programs and a built-in microphone for sound control. The illuminated LC display with 4 controls facilitates manual operation. The CLPFLATPRO12 also provides master, slave and standalone capability.
The Cameo CLPFLATPRO12 sports a black die-cast enclosure with both 3-pin and 5-pin XLR inputs and outputs for the DMX signal and Neutrik PowerCon sockets for mains supply and daisy-chaining. Its multifunctional bracket allows for a wide variety of mounting solutions.
| | |
| --- | --- |
| Product type | LED PAR Lighting |
| Type | Indoor |
| Colour spectrum | RGBWA |
| Number of LEDs | 12 |
| LED type | 10 W |
| Dispersion | 30 ° |
| DMX input | XLR 3-pin male, XLR 5-pin male |
| DMX output | XLR 3-pin female, XLR 5-pin female |
| DMX mode | 2-channel, 3-channel 1, 3-channel 2, 5-channel, 8-channel |
| DMX Functions | colour fade, colour jump, master dimmer, RGBWA, sound control, strobe |
| Standalone modes | colour fade, colour jump, colour macro, slave mode, sound control, static colour |
| Controls | Enter, Mode, Value Down, Value Up |
| Indicators | backlit LCD |
| Operating voltage | 110 V AC – 240 V AC / 50 – 60 Hz |
| Power consumption | 140 W |
| Power connector | Neutrik PowerCon |
| Housing material | metal |
| Cabinet colour | Black |
| Cooling | Convection |
| Illuminance | 16000lx @ 1m |
Dimensions without mounting bracket
| | |
| --- | --- |
| Width | 230 mm |
| Height | 230 mm |
| Length | 135 mm |
| Weight | 5,5 kg |