gaimekla-tips

Dūmu Mašīnas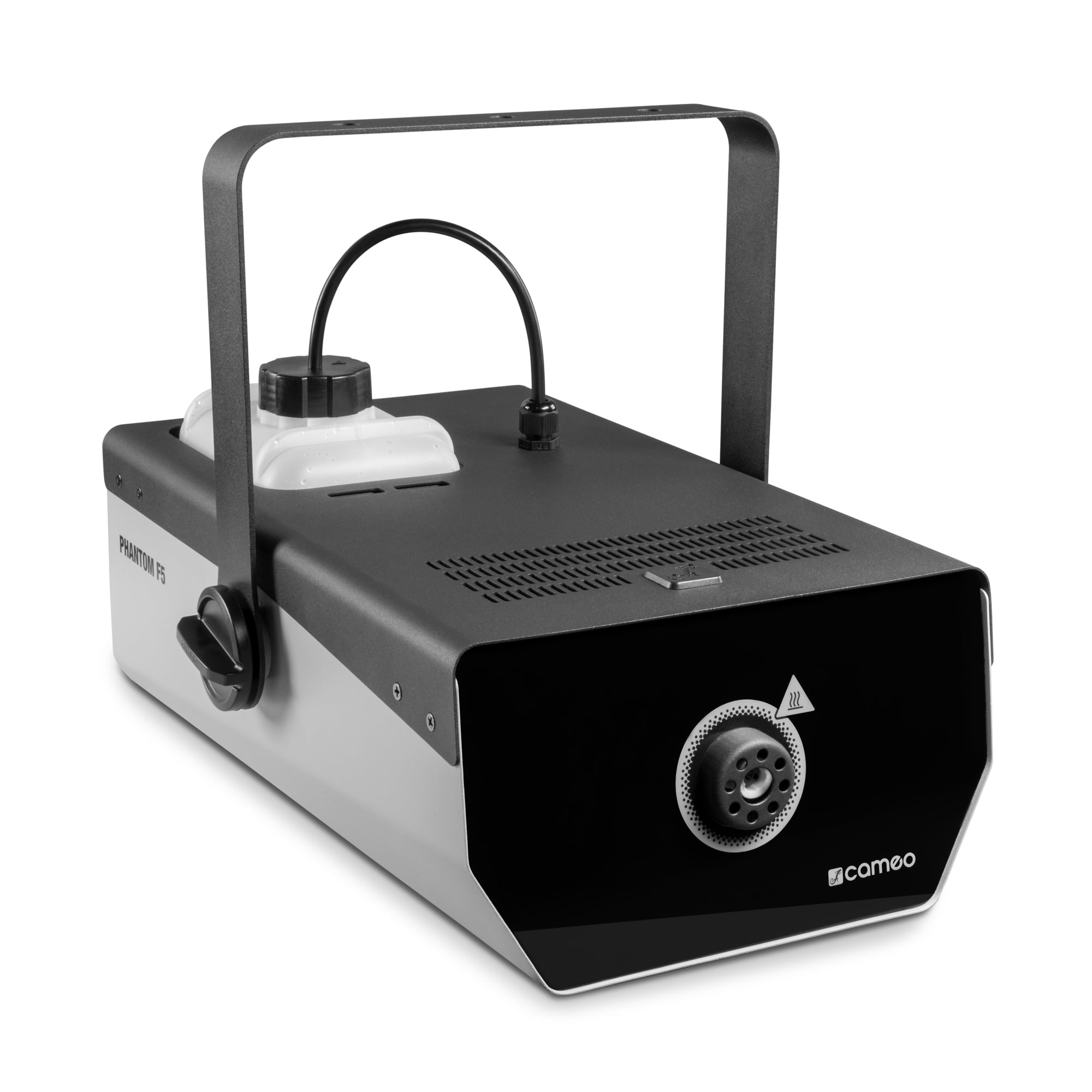 The quick reaction time of the Cameo PHANTOM 5 fog machine means that you are always ready onstage – perfect for small rental companies, DJs and musicians. With a 1,500 watt heating element and an output volume of 509 m3/min, it creates very uniform fog after a warm-up time of only 4 minutes. A fog range of around 7 meters means that the Cameo PHANTOM F5 is also suitable for medium-sized stages. It's the perfect basis for sophisticated and atmospheric light shows!
The quick reaction time is made possible by intelligent software and components that are optimally coordinated with one another. The pump and heating are coordinated so that fog can be emitted faster. The tank has a capacity of 1.8 litres and can be easily taken out of the housing for filling. Integrated two-coloured tank illumination means that it's always easy to see how much fluid is left in the device. Configuration takes place either via the LED display on the fog machine itself or using the included multi-function remote control. In addition to stand-alone operation, the Cameo PHANTOM F5 can also be controlled via DMX.
The two-coloured housing, in black and cool grey, makes the fog machine a real attention-grabber, and the included U-bracket makes hanging it on a stand or a truss easy.
| | |
| --- | --- |
| Product type | Fog Machine |
| Type | Fog Machine |
| Power | 1500 W |
| Output volume | ca. 509 m³/min |
| Range of fog output | approx. 7 m |
| Warm-up time | approx. 3 min |
| Fog duration | ca. 14 s |
| Reheating time | ca. 12 s |
| Fluid tank capacity | 1.8 l |
| Fluid Consumption | ca. 90 ml/min |
| Remote connection | DIN 5-Pol male |
| Remote cable length | 10 m |
| Remote functions | Continous output, Duration, Interval, manual, Time, volume |
| DMX input | XLR 3-pin male |
| DMX output | XLR 3-pin female |
| DMX mode | 1-channel, 3-channel |
| DMX Functions | Fog output on/off, Timer Duration, Timer Interval |
| Controls | Down, Enter, Mode, Up |
| Indicators | 4-digit LED display |
| Operating voltage | 230 V AC / 50-60 Hz |
| Fuse | F8AL / 250 V |
| Power consumption | 1450 W |
| Ambient temperature ( in operation ) | 5 – 40 °C |
| Relative Humidity | < 85 %, not condensing |
| Power connector | CEE 7/7, Fixed connection cable |
| Housing material | metal |
| Cabinet colour | Black, grey |
| Width | 250 mm |
| Height | 150 mm |
| Length | 420 mm |
| Accessories (included) | 4 rubber feet, Cable remote, canister |
| Weight | 6,75 kg |