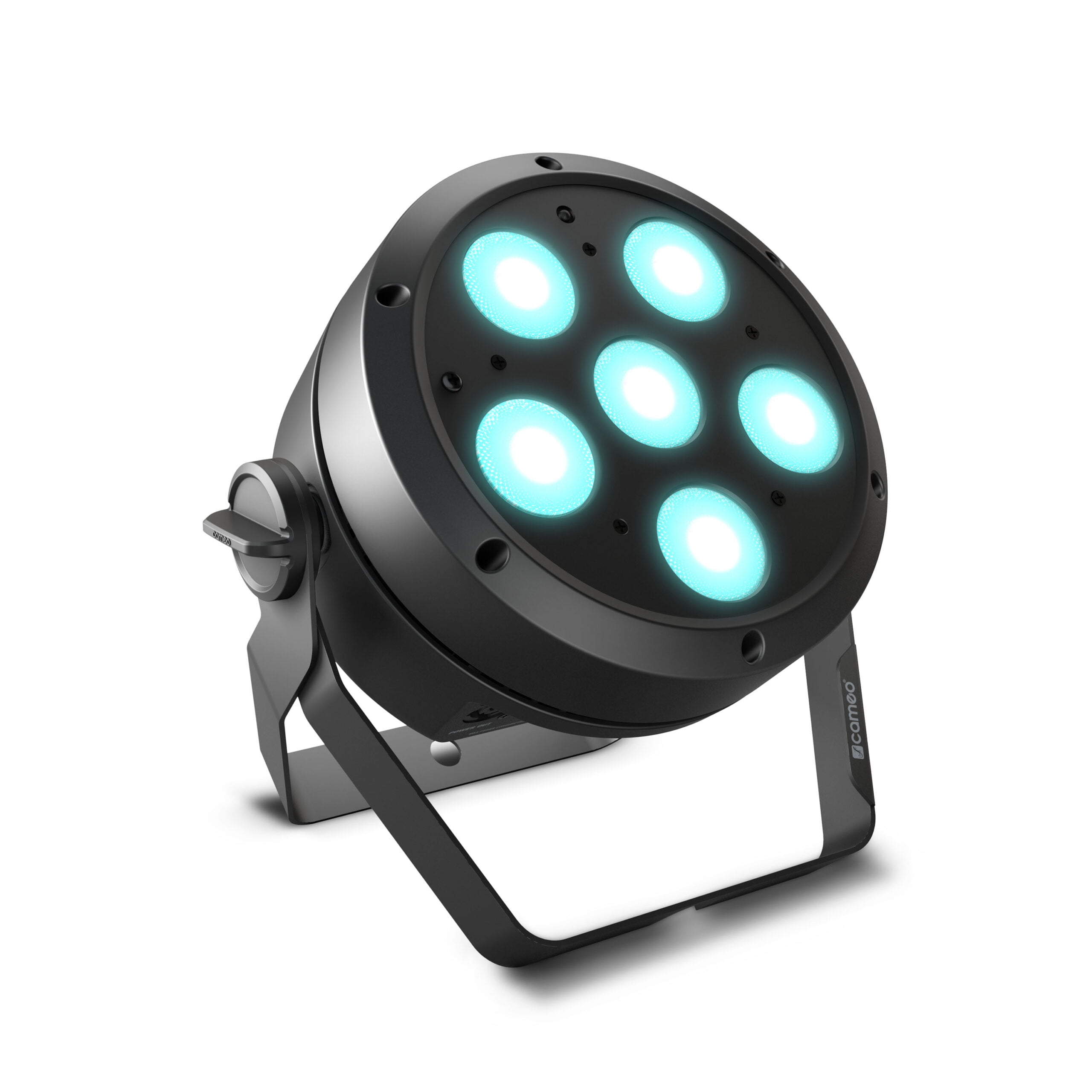 The optimal solution for sophisticated, professional lighting effects and also ideal for smaller event locations. This FLAT PAR boasts cool, intelligent features usually only found on high-end, professional devices. Unparalleled in its class, it sports premium features such as an OLED display, patented EZchase® DMX delay and powerCON-compatible power connections. It even supports W-DMX™ via an optional iDMX® stick.
Broad and vibrant light shows can be created by daisy-chaining several devices. Your creative possibilities are limitless. The DMX signal and power input/output are looped through each unit. This allows you to fully exploit the unique potential of the patented EZchase® DMX delay feature and create thrilling light patterns and colour changes with minimal programming.
A powerful light output of 1800 lm delivered by 6 x 12 W hex colour LED PAR cans is ready and available for musicians, DJs and rental companies. The Cameo ROOT PAR 6 not only creates superb RGBAW-UV colour mixing, it also demonstrates incredible flexibility for producing various white tones. Colours and settings are easily adjustable without the remote controller via four buttons and the OLED display. Controlling the unit via DMX in master-slave or standalone mode is possible. A built-in microphone for sound synchronisation is available. An IR remote control is also optionally available as an accessory (product no. CLPFLAT1REMOTE).
The package includes a mounting bracket and a tilt screw for using the LED FLAT PAR as an uplight without a bracket. Designed with sturdy, flat, compact housing and featuring a powerCON- compatible power connection, this device is made for touring, and is incredibly reliable thanks to it's fully passive convection cooling. Inserting an iDMX® stick into the USB port upgrades the LED spot to support wireless DMX connection via W-DMX™.
This expands its range of application like house parties and birthday celebrations, mood and ambience lighting, and portable dance floor setups. This compact LED FLAT PAR allows you to express your passion for using light and colours for creating incredible, fascinating moments.
| | |
| --- | --- |
| Product type | LED PAR Lighting |
| Colour spectrum | RGBWA + UV |
| Number of LEDs | 6 |
| LED type | 12 W |
| LED PWM Frequency | 650 Hz, 1530 Hz, 2150 Hz, 4000 Hz |
| Dispersion | 36 ° |
| DMX input | 3-pole male |
| DMX output | 3-pole female |
| DMX Functions | colour macro, Dimmer, Dimmer Fine, DMX Delay, RGBWA + UV, sound sensitivity, Speed Selection, strobe |
| Control | DMX512, IR Remote Control |
| Standalone modes | Auto programs, Colour presets, Loop, sound programs, Static, User Colours |
| Controls | Down, Enter, Mode, Up |
| Indicators | OLED Display |
| Operating voltage | 100 V AC – 240 V AC, 50 – 60 Hz |
| Power consumption | 58 W |
| Power connector | Blue Power Twist, White Power Twist |
| Housing material | ABS plastic |
| Cabinet colour | Black |
| Cooling | Convection |
| Illuminance | 10700 lx @ 1 m |
| Luminous flux | 1800 lm |
| Fuse | F3AL / 250 V |
| Operating Temperature | 0 – 40 °C |
| Width | 195 mm |
| Height | 133 mm |
| Length | 195 mm |
| Weight | 1,2 kg |
| Accessories (included) | Mounting bracket, Power cord |