gaimekla-tips

Citi Efekti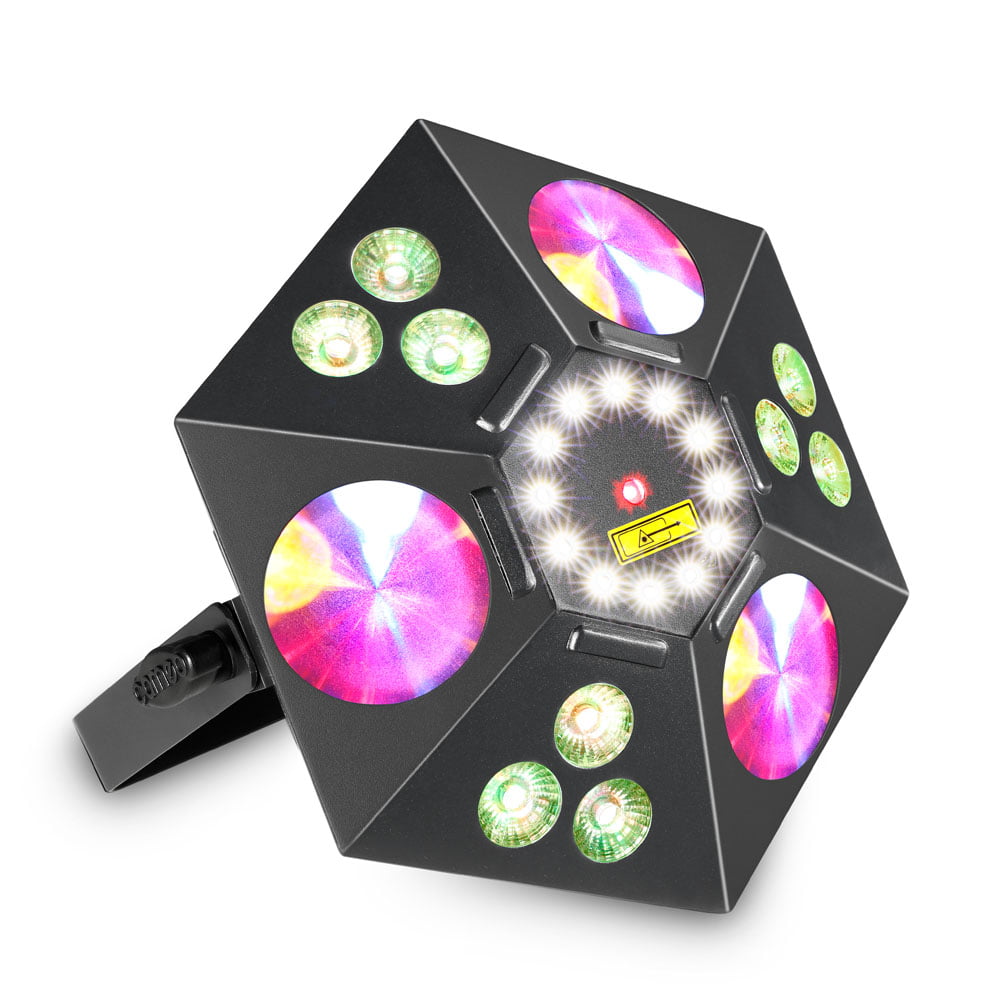 The Cameo UVO combines a wash light, UV light, flower effect, strobe and laser in a single fixture for impressive and multi-faceted lighting. It has 5 DMX modes and features attractive programmes for sound activation and automatic operation. The clear 4-button display facilitates configuration, and the UVO also comes with an infrared handheld for convenient remote control.
With 9 RGBW+UV LEDs, the 5-in-1 UVO enables both wash light and black light applications, and a total of 84 LEDs generate mesmerizing RGBA flower effects. The strobe features 12 powerful white LEDs producing ultra bright high-speed flashes while red and green diodes project razor-sharp laser beams. A key switch prevents unauthorised operation and there is an interlock connector for an optional emergency stop switch. The UVO is the perfect choice for versatile lighting and awesome effects at any event or venue.
The black metal housing integrates a low-noise fan, safety eye and multi-voltage power supply. 3-pin DMX and IEC connectors enable easy daisy chaining. The Cameo UVO comes with an adjustable bracket for flexible mounting options.
| | |
| --- | --- |
| Product type | LED Lighting Effects |
| Type | LED / Strobe / Laser Effects |
| Colour Spectrum Washlight | RGB+UV |
| Number of LEDs Washlight | 9 |
| LED Type Washlight | 4 W |
| Colour Spectrum Flower Effect | RGBA |
| Number of LEDs Flower Effect | 84 |
| Colour Spectrum Laser Effect | green LED (532 nm), red LED (650 nm) |
| Number of Diodes Laser Effect | 1 x green, 1 x red |
| Type of Diodes Laser Effect | red 100 mW, green 50 mW (DPSS laser) |
| Laser Class Laser Effect | 3R |
| Laser Shutdown (safety function) | connection for external emergency stop switch, Lock switch |
| Colour Spectrum Strobe | white |
| Number of LEDs Strobe | 12 |
| LED Type Strobe | 0.5 W |
| DMX input | XLR 3-pin male |
| DMX mode | 12-channel, 27-channel, 32-channel, 3-channel, 5-channel |
| DMX Functions | Auto programs, Flower, Laser, sound programs, strobe, Wash |
| DMX output | XLR 3-pin female |
| Standalone modes | Auto programs, slave mode, sound programs |
| Controls | Down, Enter, Mode, Up |
| Indicators | 4-digit LED display |
| Power connector | IEC power input and output |
| Operating voltage | 100 V AC – 240 V AC, 50 – 60 Hz |
| Power consumption | 70 W |
| Fuse | T1.6AL / 250 V |
| Temperature range | 0 – 40 °C |
| Housing material | metal |
| Cabinet colour | Black |
| Housing Cooling | low-noise fan |
| Width | 280 mm |
| Height | 230 mm |
| Depth | 170 mm |
| Weight | 2,6 kg |
| Other features | adjustable mounting bracket included, connection for external emergency stop switch, IR Remote Control, key switch with 2 keys |