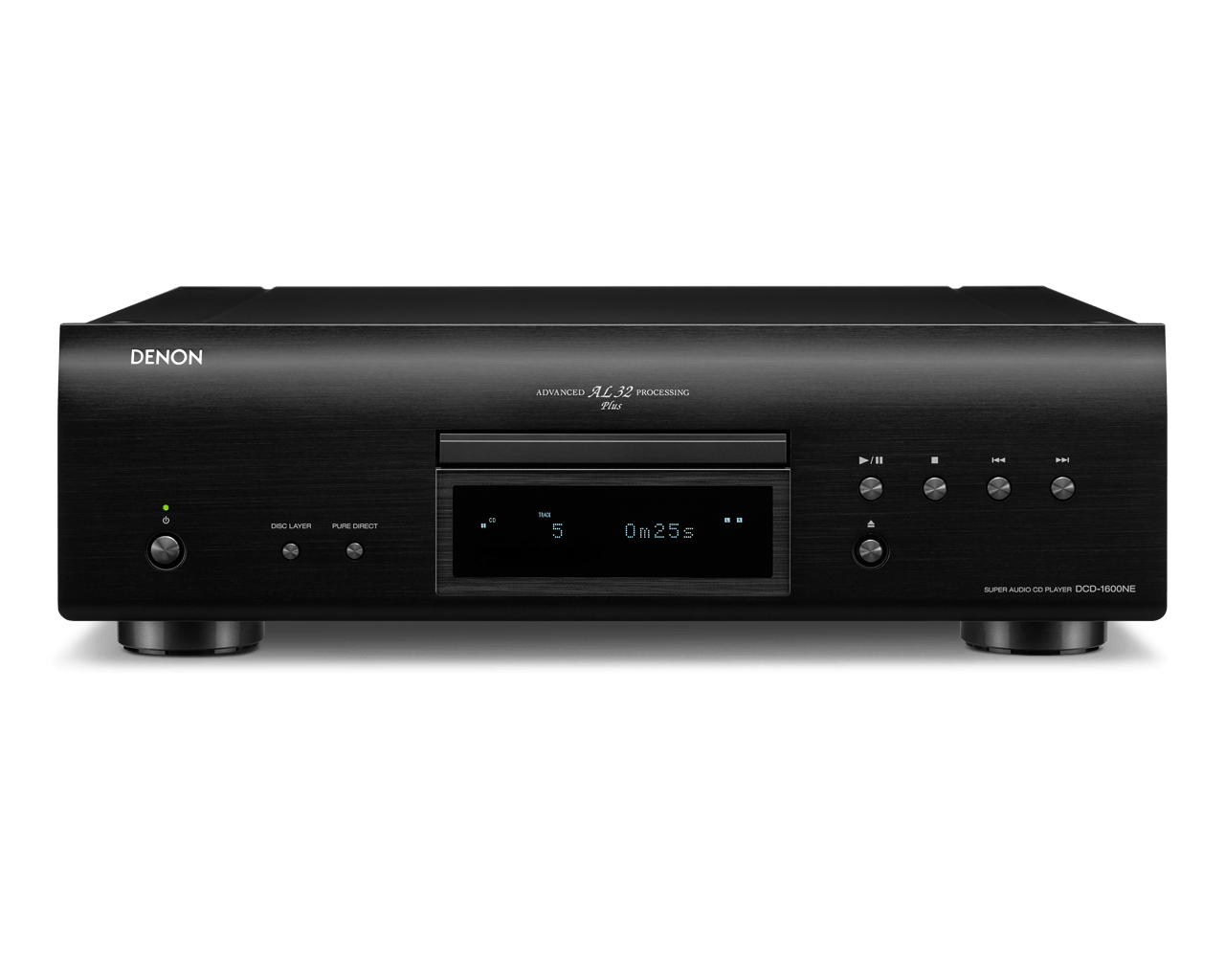 Denon is one of the rare audio brands that continued to actively develop Hi-Fi components and accumulate, refine, and pass down Hi-Fi audio technologies. The DCD-1600NE focuses on achieving the essence of a disc player: ultra-high precision in reading discs and supplying high-quality audio signals to the amp. To achieve this, the signal paths are as short as possible and the whole circuitry is minimized. The engineers also redesigned the disc drive mechanism brackets and the chassis to eliminate vibration, the great enemy of disc players, and achieve ultra-vibration-resistant performance. The information on the disc is now read with impeccable accuracy and a clean, high-grade signal is supplied to the DCD-1600NE's Advanced AL32 Processing Plus circuitry. Besides CD and Super Audio CD playback, the DCD features playback of audio recordings up to PCM192/24 or DSD5.6 recorded on a DVD R/RW for full flexibility and extended access to high resolution audio.
Advanced AL32 Processing Plus
The DCD-1600NE is equipped with Advanced AL32 Processing Plus, the latest version of Denon's analogue waveform reproduction technology which utilizes unique data interpolation algorithms and also supports high-resolution sound sources. These algorithms interpolate points that should exist before and after the points in large quantities of data to achieve a smooth waveform that is close to that of the original signal. By carefully restoring data that was lost during digital recording, the resulting playback sound is highly detailed, free of interference, accurately localized, richly expressive in the lower range, and beautifully faithful to the original sound.
New Denon original disc drive design
The DCD-1600NE's disc drive design contains high-class S.V.H. (Suppress Vibration Hybrid) Mechanism. The circuitry that controls the pickup and decodes the signals read from the disc has been newly developed. Signal paths have been shortened to an absolute minimum and circuits have been miniaturized to ensure that excess current or noise will not occur.An S.V.H. Loader of a hybrid construction combining different materials gives stability to the disc drive so that the disc can be read with utmost accuracy. In addition, the mechanism's low center of gravity suppresses any vibration occurring inside the mechanism due to disc rotation, and the mechanism structure also effectively suppresses external vibration. By eliminating unwanted vibration, servo-related operations are minimized, and by also minimizing unnecessary controls and current consumption, digital signals can be read from the disc with optimum accuracy under stable conditions.
DSD data disc playback support
In addition to CD and Super Audio CD, the DCD-1600NE can play DSD (2.8 Mhz / 5.6 MHz) files and high-resolution files up to 192 kHz / 24 bits recorded on DVD-R/RW and DVD+R/RW discs. Music files with sampling frequencies of up to 48 kHz recorded on CD-R/RW discs can also be played.More info: DCD-1600NE