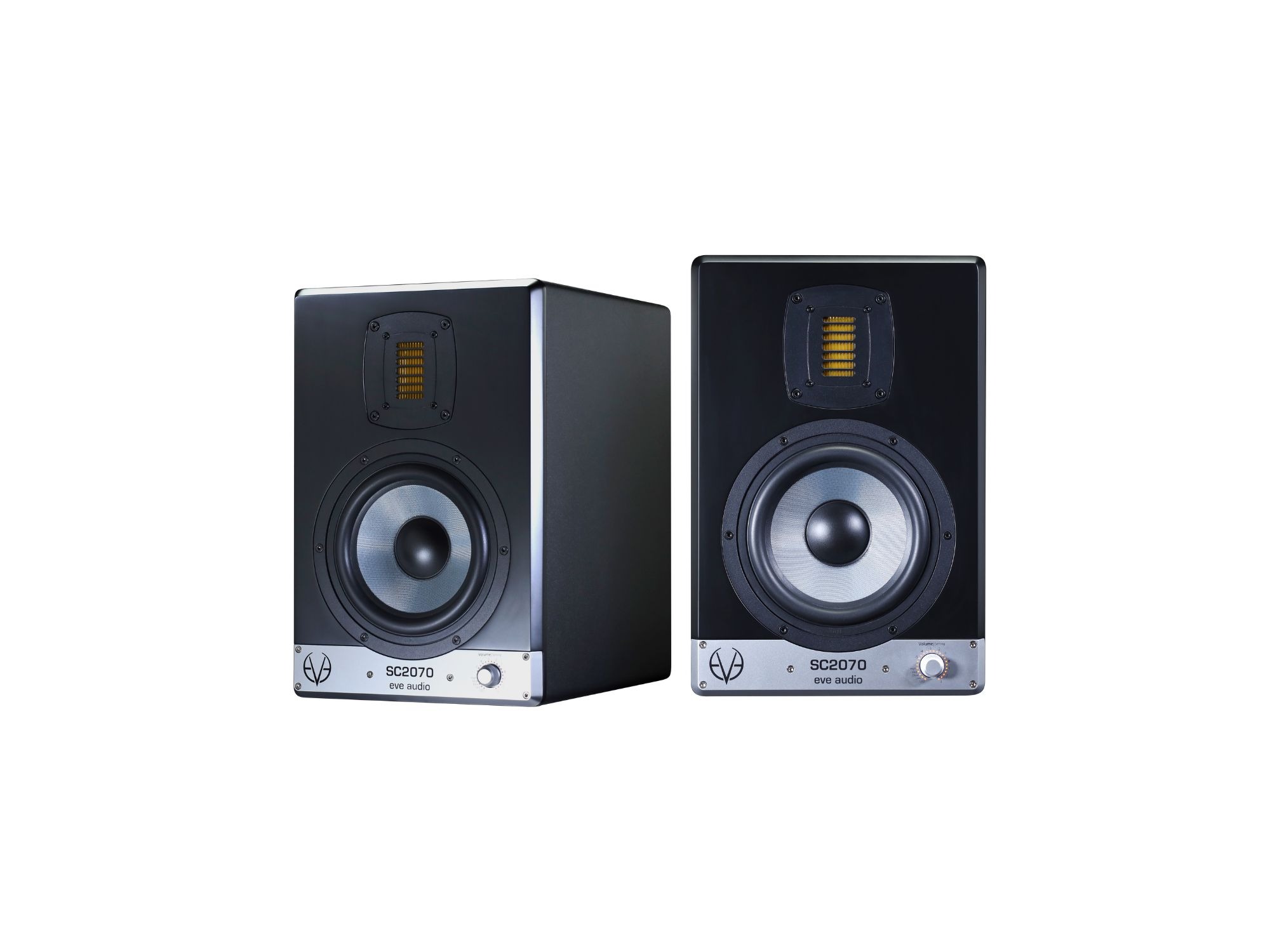 BERLIN, GERMANY — EVE Audio is proud to announce the debut of its newest monitoring solution, the SC2070, which is a 2-way monitor with an extra-large Air Motion Transformer and a perfect work piece for mid-size professional and home recording studios where quality is paramount.
With the development of SC2070, the studio monitor specialist displays its commitment to unstoppable innovation and ongoing development SC2070 is a high-resolution near-/midfield Monitor that combines the eminent technologies of SC3070 and TEC Award-winning SC4070 in a compact 2-way
monitor.
Most prominent feature of SC2070 is a newly developed Air Motion Transformer RS7 which is the largest AMT used in a 2-way monitor. The diaphragm area is 1.5 times larger in comparison to the tweeter used in the SC207. RS7 has been developed specifically for SC2070 to achieve a crossover frequency at 1800Hz that is astonishingly low for a 2-way monitor. High and upper midrange frequencies are reproduced with unparalleled precision and resolution, revealing smallest nuances. The midrange imaging is assured at levels like those normally found in 3-way systems. This all-new air Motion Transformer is coupled to a 6.5" SilverCone woofer driven by a sophisticated low distortion copper cap magnet system with a 1.5" voice coil.
Specifications
Dimensions (WxHxD) 230 x 345 x 304 mm User settings Connectors
Dimensions (WxHxD) 9.05" x 13.58" x 11.96" Volume -inf. – +6dB XLR in impedance 10kΩ
Free-field freq. range (-3dB) 38Hz – 25kHz High-shelf filter (-5dB – +3dB) > 3kHz RCA in impedance 10kΩ
Tweeter AMT RS7 Desk filter boost (0db – +3dB) 80Hz Power consumption
Mid-Woofer 165mm/6.5" Desk filter cut (-5db – 0dB) 170Hz Standby < 1W
Cross-over frequency 1800Hz Low-shelf filter (-5dB – +3dB) < 300Hz Full output 170VA
Maximum SPL @ 1m 106dB LED brightness setting Misc.
Number of amplifiers 2 Max. input dip switch Weight 9.4 kg / 20.7 lb
Output power (woofer) 150W Level lock dip switch
Output power (tweeter) 100W Filter lock dip switch
Protection Limiter
Specification Chart
Cardboard box dimensions (HxWxD):
450 x 330 x 400 mm / 17.72" x 13" x 15.75"
Total weight:
11 kg / 24.2 lb
More information – EVE AUDIO