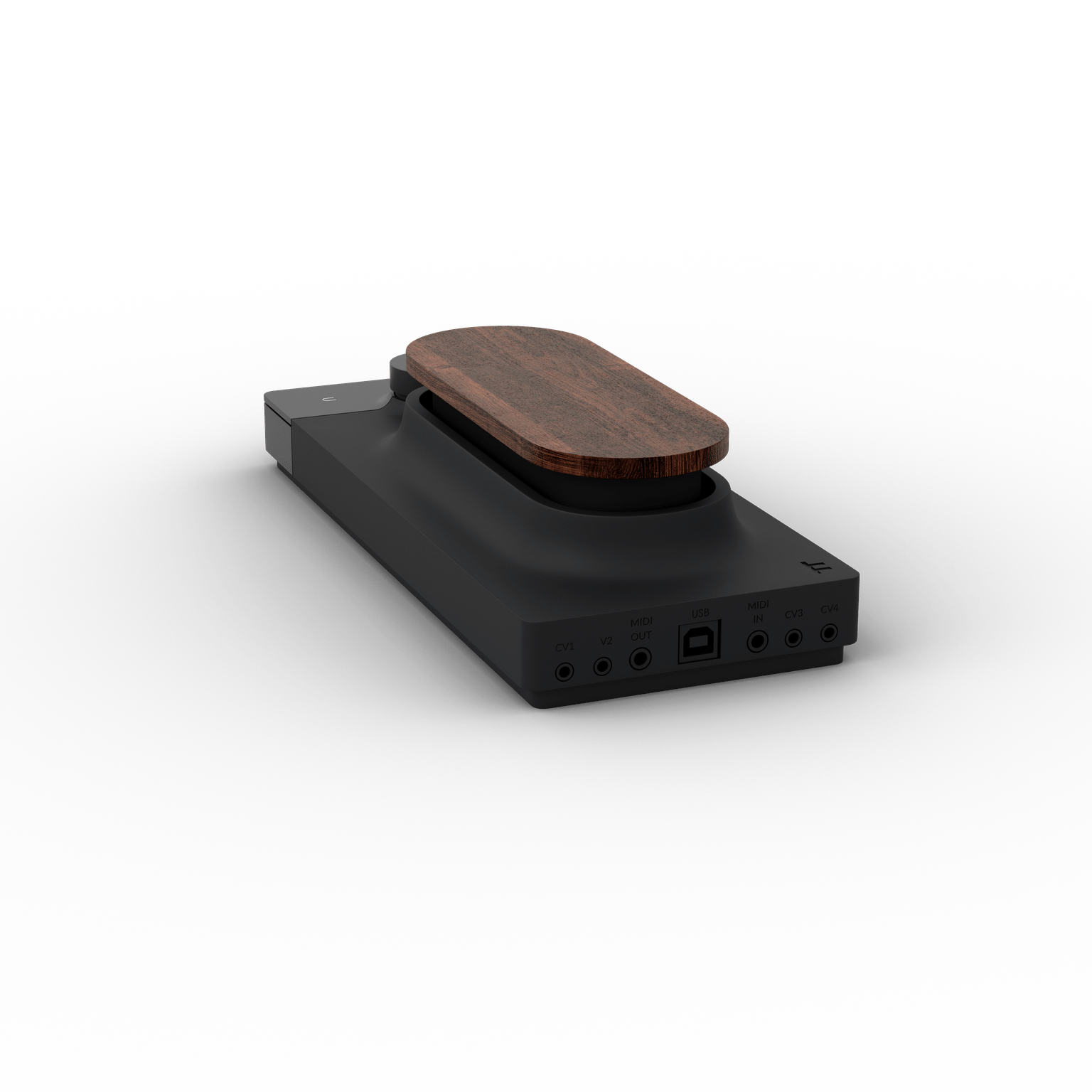 French manufacturer Expressive E debuted its first product, Touché, to bring the same emotive depth, playing sensation, and expression of acoustic instruments to the world of synthesizers and electronic music-making.
As with an acoustic instrument, the users' fingers tap, press, or trace across the wooden touch plate of the USB/CV controller to create new sounds with astonishing dimensions. Touché lets musicians discover the true potential of all their software and hardware synthesizers.

Touché lets you make incredible new sounds, using just simple gestures. Its beautifully engineered hardware can translate anything from the softest touch to the roughest rhythms, with pinpoint precision, thanks to Expressive E's patented mechanism.
Intuitively tap, push and slide your fingers across the wooden touch-plate to create extraordinary performances in seconds.

Start playing in minutes, with an amazing library of over 250 professional sounds each designed to take full advantage of the unique power of the hardware.

Unlock the true expressive power of all your favorite third-party VST instruments, mapping them with just a few clicks or using over 250 ready-made control mappings.

Use Touché with or without a computer and connect to any software or hardware synthesizer via built-in MIDI and CV connections, USB power, and internal memory. Paired with the extraordinary control possibilities of Touché, your instruments take on a whole new sonic dimension.

Get up and running in seconds with your hardware synths with over 250 presets and over 80 mapping templates for today's most successful synths.
Touché is bundled with Lié, its editing software. With Lié you can easily browse the included sound library, host third-party plug-ins, and use presets and templates… Or do it all yourself in just a few clicks, map software parameters to the controller, change MIDI CC and CV voltages, refine control ranges, and save your own presets.
Touché features
USB: USB bus powered, MIDI class compliant standalone device
Mechanism: 4 independent axes of movement with force feedback:
Push Top Down
Push Bottom Down
Shift Left
Shift Right
Touch Plate: Mahogany
Control elements: 2 preset buttons
1 encoder for changing the sensitivity and freezing the current values
Customization: Sensor sensitivity for top and bottom axis adjustable with Encoder.
Physical resistance of lateral axes adjustable with Slider.
Silicon Cylinder pair (responsible for pressure feedback)
interchangeable with a softer or harder pair.*
Touch Plate replaceable with alternative wood types.*
Connectivity: 1 x USB B Socket
4 x 1/8″ (3.5mm) CV/Gate outputs
1 x 1/8″ (3.5mm) MIDI Input (adapter included)
1 x 1/8″ (3.5mm) MIDI Output (adapter included)
MIDI Data sent: Up to 8 MIDI CCs & pitch bend at the same time,
fully customizable min/max values and response curves
Control Voltages: Up to -10V to 10V for each of the 4 CV outputs,
fully customizable min/max values and response curves
Internal memory: 24 Hardware Presets saveable into the device for standalone usage
Dimensions: 246 x 100 x 62 mm / 9,7" x 3,9" x 2,4"
Weight: 770g / 1,7 lbs
*: not included in the box, available as additional purchase in Expressive E's webshop.
Lié features
Supported formats: Lié is available as VST2, AU and Standalone application,
Lié hosts VST instrument plug-ins exclusively.
Software Presets: > 250 Factory Presets that work out of the box
with the provided free UVI Workstation VST
> 250 Presets for 3rd party soft synths available as free download
(Massive, Monark, Razor, Prism, Diva, Sylenth, Serum, Arturia V Collection… )
Hardware Presets: > 250 Presets that match the factory sounds of popular synths
(Moog, Dave Smith, Korg, Elektron, Nord, Novation, Roland…)
> 80 Templates for popular synths,
that remame MIDI CCs with the actual parameter name,
helping you to create your own Hardware Presets.
Supported OS: macOS 10.11 until macOS 10.15
Windows 10
For detailed information on compatibility, see:
Lié: System Requirements and Supported Digital Audio Workstations
Box contents
Touché

1 x Nylon braided, branded USB Cable

2 x Break-out MIDI adapters (⅛" TRS jack to 5-pin DIN)

1 x Anti Ground Loop Y Adapter (separating data and power on USB lane)

Quick Start Guide

Technical Guide

50€/$ off coupon for UVI Falcon