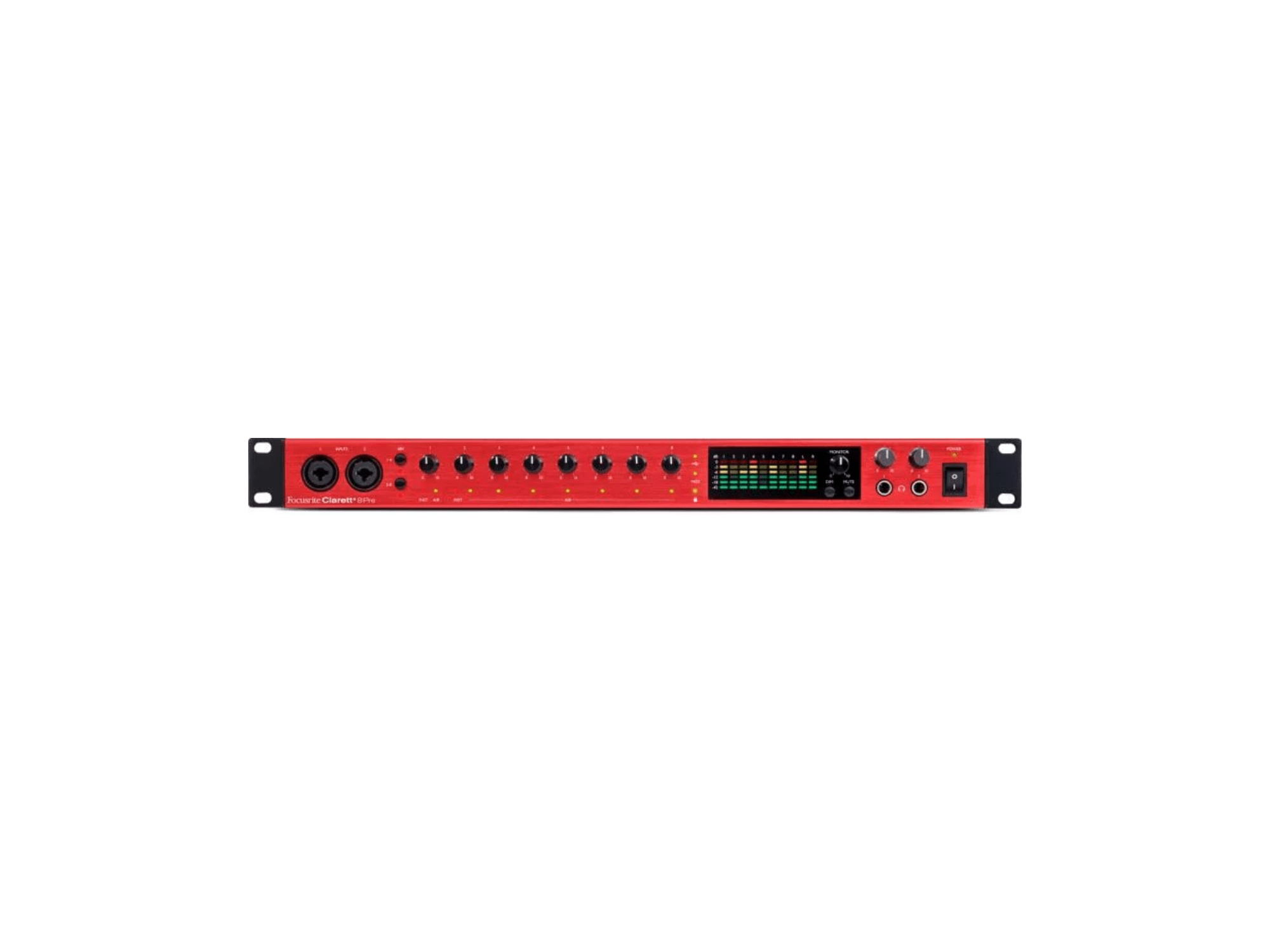 The Core of Your Studio or Mobile Recording Rig
Focusrite's Clarett+ 8Pre 18-in/20-out audio interface is a powerful foundation for your studio or mobile recording rig. It sports eight great-sounding Clarett+ microphone preamplifiers, an outstanding dynamic range, and ultra-fast, low-latency performance enabled by Thunderbolt. The magic starts as soon as you plug your microphones in — the mic preamps feature Focusrite's switchable Air effect, which gives your microphones the air and clarity of an ISA transformer-based mic preamp. With comprehensive connectivity including analog I/O, S/PDIF, and ADAT I/O, the Focusrite Clarett+ 8Pre is ready to integrate into virtually any recording rig.
Focusrite Clarett+ 8Pre 18-in/20-out audio interfeiss ir spēcīgs pamats jūsu studijai vai mobilajai ierakstīšanas iekārtai. Tam ir astoņi lieliski skanīgi Clarett+ mikrofona priekšpastiprinātāji, izcils dinamiskais diapazons un īpaši ātra, zema latentuma veiktspēja, ko nodrošina Thunderbolt. Maģija sākas, tiklīdz pievienojat mikrofonus – mikrofona priekšpastiprinātāji ir aprīkoti ar Focusrite pārslēdzamo gaisa efektu, kas mikrofoniem piešķir gaismu un skaidrību, ko rada ISA transformatoru mikrofona priekšpastiprinātājs. Ar visaptverošu savienojamību, ieskaitot analogo I/O, S/PDIF un ADAT I/O, Focusrite Clarett+ 8Pre ir gatavs integrēties praktiski jebkurā ierakstīšanas ierīcē.
Focusrite Clarett+ 8Pre USB-C Audio Interface Features:
8 Clarett+ mic preamps with Focusrite's proprietary Air feature
Copious headroom, vanishingly low noise
Upgraded digital conversion and clocking
Generous I/O, enough for the whole band
8 analog inputs, 10 analog outputs
Stereo S/PDIF, 8 channels of ADAT I/O
2 front-panel mic/line/instrument inputs
Accessible metering and monitoring
Intuitive, easy-to-use software mixer makes short work of configuring your monitoring and routing; provides quick access to internal hardware functions
Record and monitor in real time with your favorite DAW plug-ins
Create custom monitor setups for both you and your artists
Focusrite's class-leading 24/192 conversion
Word clock output for slaving external digital devices
6-segment, multichannel LED meter
Monitor level control, plus dim and mute buttons
2 wide-dynamic-range front-panel headphone outs
Included software from Focusrite and Brainworx
Pairs perfectly with the Focusrite OctoPre
3-year warranty
More information found HERE