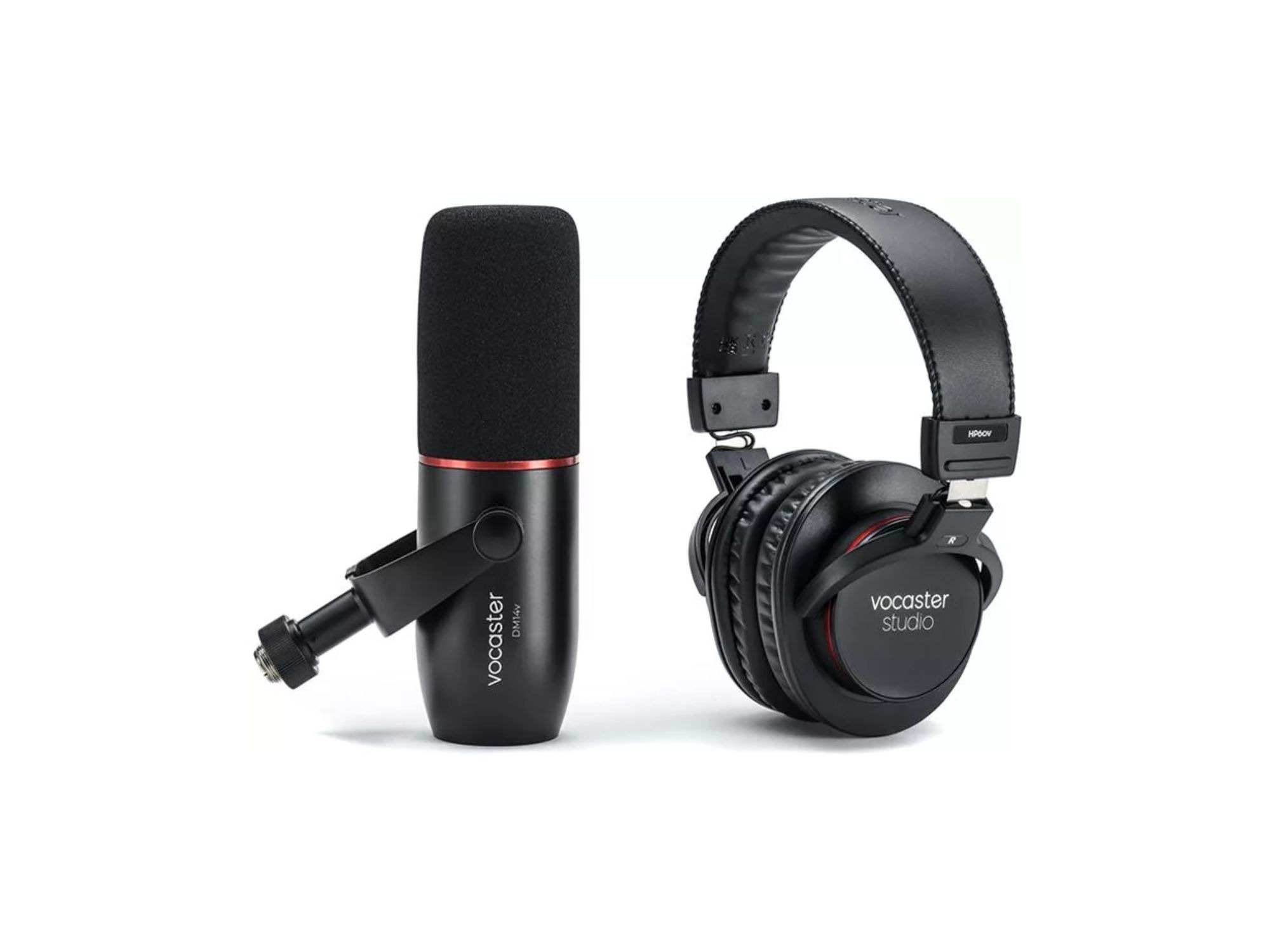 Keep your signal clear!
No matter what type of vocal-oriented content you're producing, background noise is an ever-present threat — especially if you're an aspiring creator starting off your career in a bedroom or an apartment. If you're anticipating a challenging recording environment, then Sweetwater's microphone masters strongly recommend you stick with a dynamic mic designed with a cardioid pattern. It's a combination that's not only sensitive enough to pick up your voice with broadcast-quality definition, but it's also exceptionally adept at rejecting offside sounds and unwanted background noise.
Broadcast-grade closed-back headphones
While having a mic that blocks out background noise is essential, it's just as important for your headphones. Focusrite's HP60v headphones boast a closed-back design that effectively blocks out the world around you, allowing you to concentrate on your podcast or stream without interruption. What's more, plush pads keep your ears comfortable during even the longest of marathon sessions. Most importantly, these impressive headphones deliver a crystal-clear representation of everything your DM14v microphone picks up — a must-have feature when optimizing audio for your audience's enjoyment.
Focusrite Vocaster Broadcast Kit Features:
Kit includes: HP60v closed-back headphones, DM14v dynamic mic, and 3m cable
Ideal for podcasting, livestreaming, content creation, and more
Industry-standard dynamic design, fine-tuned to excel at all vocal-oriented applications
Built-in windshield and internal shockmount to tame plosives and reduce unwanted noise
Cardioid pattern is ideal for rejecting background audio
Elegant looks are reminiscent of one of the most iconic broadcast mics in history
HP60v headphones deliver a faithful representation of what your audience will hear
Closed-back design blocks out background noise
Plush pads keep your ears comfortable during long sessions
Tech Specs
Microphone Type:

Dynamic

Polar Pattern:

Cardioid

Frequency Response:

50Hz-16kHz

Output Impedance:

200ohms

Sensitivity:

-57 dBV/Pa

Color:

Black

Connector:

XLR

Dimensions:

7.51″ x 2.36″

Weight:

1.44 lbs.
More information – Focusrite