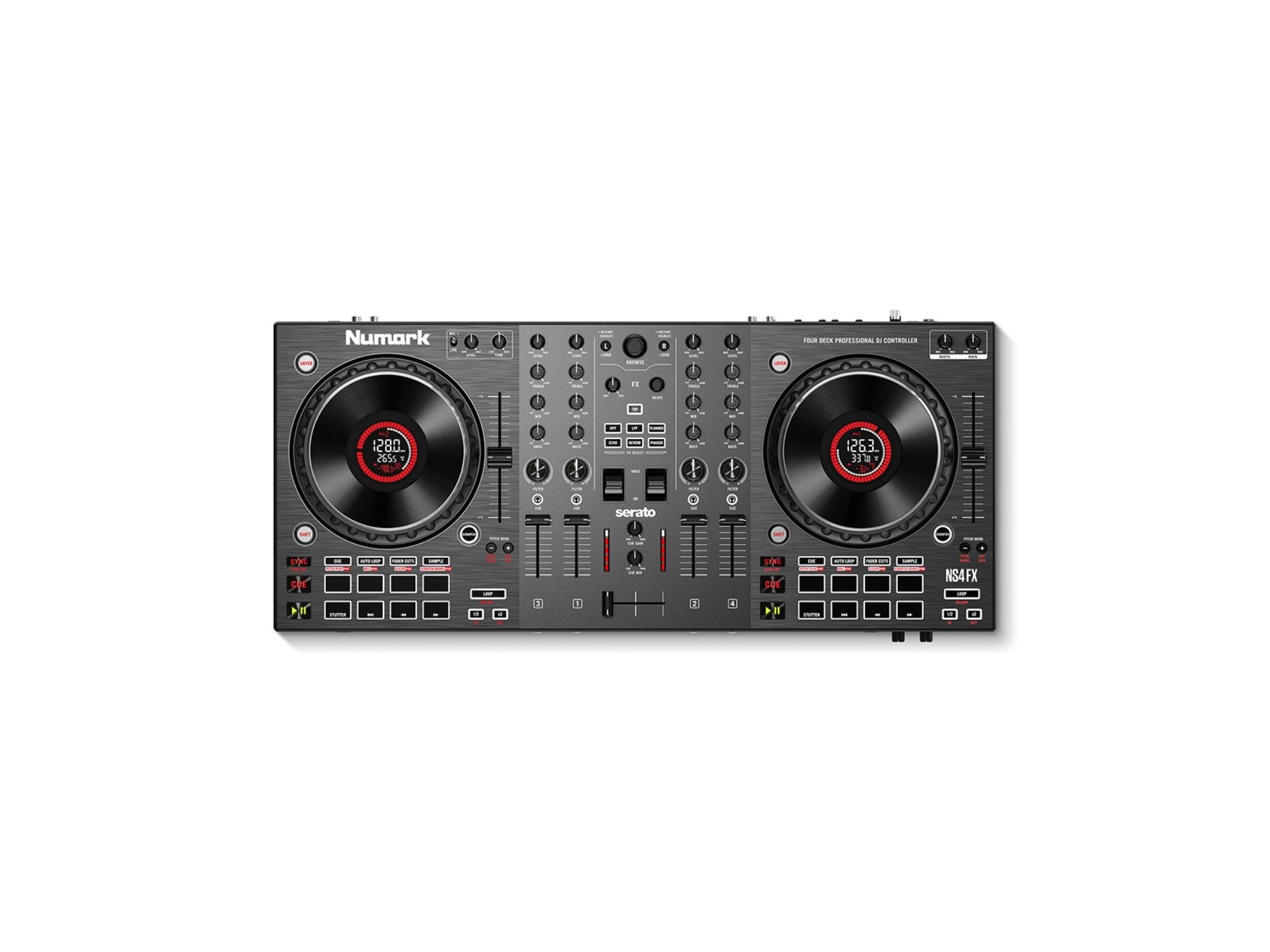 Professional 4-Deck DJ Controller
With full audio control over 4 independent channels, DJs can mix tracks, samples, loops, and more from up to 4 DJ software decks at once. The 4 channels of the NS4FX each feature dedicated premium-quality volume faders, 3-band EQ with full kill, and large high pass/low pass Filter knobs. Crossfader assignment switches on the front panel allow each channel to be assigned to side A or side B of the crossfader, or can be set to bypass the crossfader altogether. This ultimate flexibility is perfect for crafting artistic mixes on a livestream, creating exciting build-ups in the club, or preparing multiple songs in advance at events.
The NS4FX boasts an impressive array of connectivity options, making it the perfect solution for mobile and event DJs as well as club jocks and livestreaming mixmasters. The balanced XLR main outputs deliver high-quality 24-bit audio, ensuring that event guests are always treated to an incredible, immersive dancefloor experience. The additional RCA booth output with dedicated control is perfect for sending audio to a personal monitor speaker or to an additional zone or area of larger sound systems.
Professional DJ Looping and Effects Control
A dedicated loop section with multipliers on each deck grants quick access and control over seamless loops to extend mixes or craft custom transitions. To add additional flavor and creativity, the interactive FX section features 6 quick-launch software effects that are triggered by using the sturdy and fun paddle toggle switches. The FX area also provides full hardware control over the wet/dry mix and beat division to help DJs craft artistic and expressive performances.
Serato DJ Pro Upgrade Ready
The NS4FX ships with Serato DJ Lite software allowing DJs to start mixing with up to 4 channels right away. Since the NS4FX is fully mapped and ready for Serato DJ Pro, DJs can upgrade to a full-featured 4-channel mixing experience whenever they'd like! The NS4FX is also compatible with other leading DJ software programs like Virtual DJ and algorridim djay Pro AI.
4 channel DJ controller with dedicated volume faders
Large Filter knob on each channel
6" capacitive-touch jog wheels with multicolor display
Layer buttons on each hardware deck to control up to 4 software decks
FX section with 6 selection buttons, parameter controls and 2 toggle switches
Dedicated loop sections with multiplier controls
Crossfader assignment switches on each channel
8 performance pads on each deck with pad mode selection buttons
Long pitch faders with pitch bend buttons
Dedicated Sync, Cue/Stop, and Play/Pause buttons
3-band EQ on each deck
High-quality 24-bit audio
Balanced XLR Main output
RCA Booth output
Front ¼" microphone input with volume and tone controls
Additional rear ¼" microphone input with controls (switchable to Aux with RCA inputs)
¼" and1/8" headphone output jacks
Serato DJ Pro upgrade ready
More information – Numark