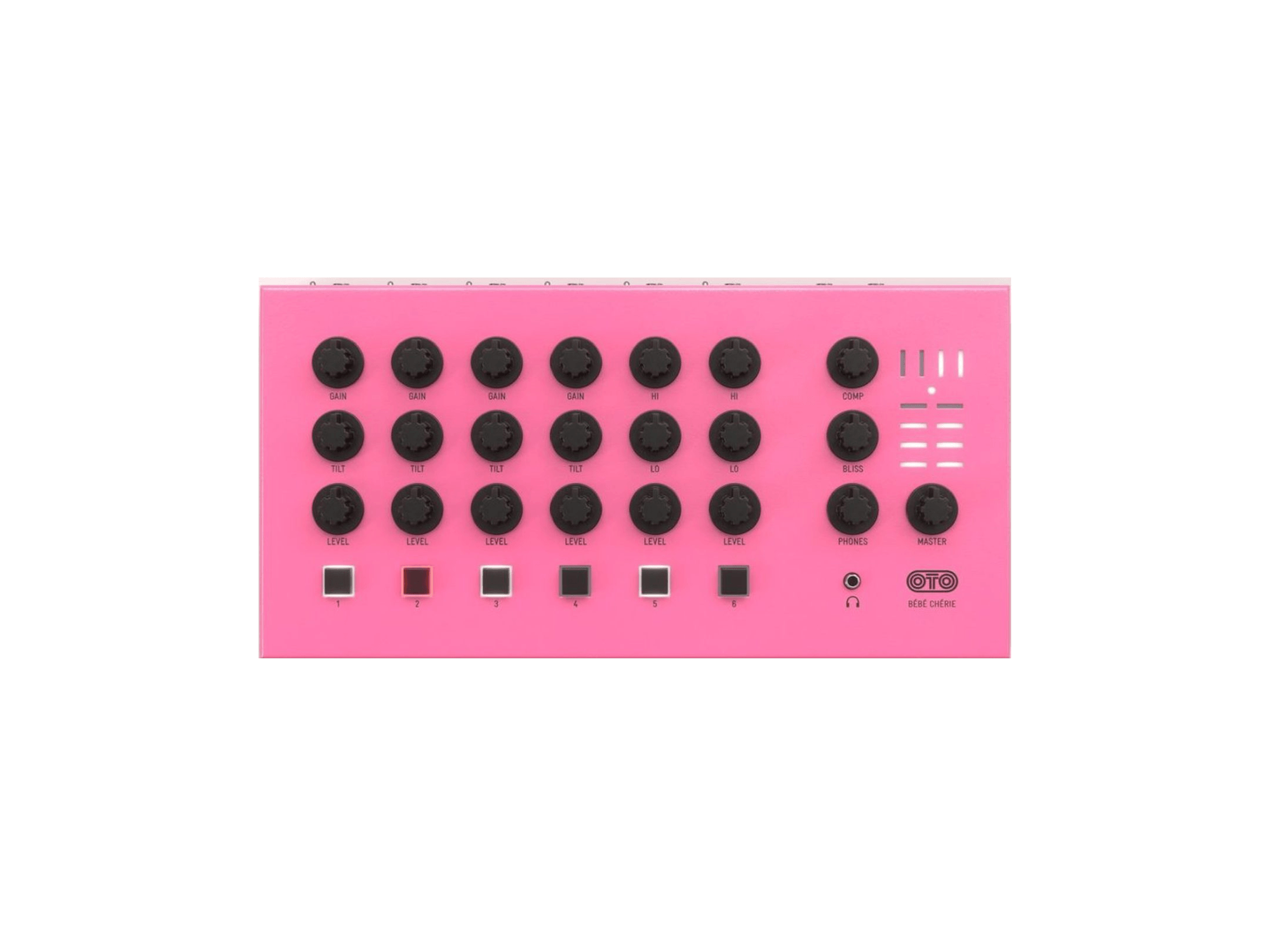 OTO Bébé Chérie is a new portable analog mixer created for dealing with electronic musicians' best friends, the mini-jack signals. 
Bébé Chérie is a new portable analog mixer with 6 channels. Unlike classic mixers, it comes with 6 stereo channels on mini jacks.
Four of them have variable gain up to +34dB with a built-in asymmetrical soft clipping and a tilt EQ. The other two channels have a Baxandall 2 band EQ and a 0/+10dB selectable input gain.
OTO Machines also have integrated into its colorful mixer a 3:1 ratio one-knob compressor and a bliss enhancer on the master bus. They promise a high sound quality thanks to audiophile film capacitors used in the eq circuitry, low noise, and low distortion op amp on the audio path, and THAT Corporation© VCAs.
Bébé Chérie uses the best quality parts : ALPS© pots, high-performance operational amplifiers, audiophile Panasonic© film capacitors, THAT Corporation© VCAs, Switchcraft© 3.5 mm connectors, metal enclosure.
The power supply is internally boosted to +/- 12 volts for pro audio headroom.
Features
• Full analog mixer
• 4 channels with variable gain up to +34 dB, asymmetrical soft clipping and a tilt eq
• 2 channels with Baxandall 2 bands eq and a 0/+10 dB selectable input gain
• 3:1 ratio one-knob compressor on the master bus
• Bliss hi frequency enhancer on the master bus
• Unity gain Hi Fidelity phones out. Can be used as a second master output
• Alternate output : whenever a channel is muted, it is routed to the Alt. Out
• 24 volts internal power supply for pro audio dynamic range
• Rugged Switchcraft© 3.5 mm stereo mini-jack connectors
• Audiophile film capacitors used in the eq circuitry, low noise and low distortion op amp on the audio path, THAT Corporation© VCAs, ALPS© pots
• Dimensions : 290 x 145 x 62 mm, Weight : 1338 g
• Power supply included
More information – OTO Machines