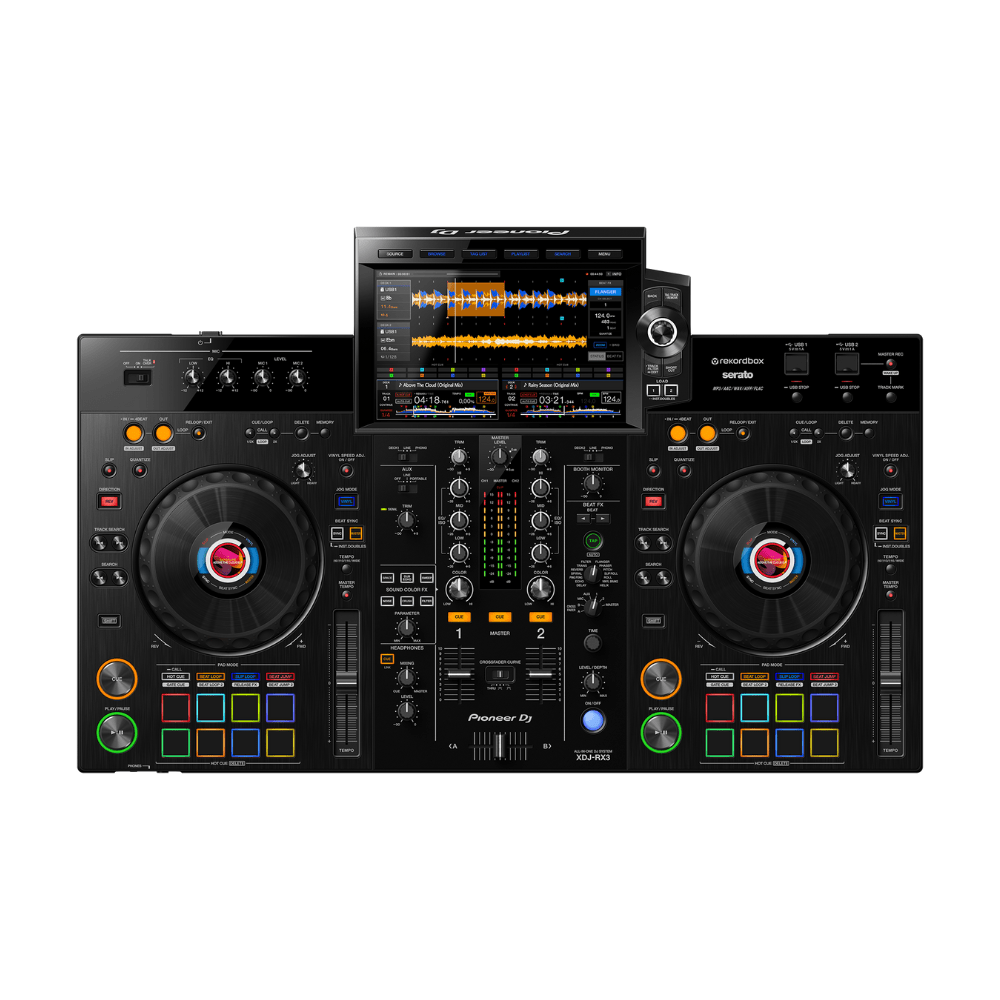 DJs and performers looking for the next evolution of a standalone controller will be impressed with the Pioneer DJ XDJ-RX3, an all-in-one DJ system compatible with the rekordbox and Serato DJ software and features two integrated USB-driven players and a 2-channel mixer with a control-panel layout borrowed from the CDJ-3000 and DJM-900NXS2 series.
The XDJ-RX3 features a 10.1″ touchscreen and delivers a high-resolution 1280:800 (WXGA), increased frame rate, fresh GUI design, and a host of new features for easy navigation, quick browsing, and accurate mixing. The system's new screen also shortens track scrolling time as the browse section features 12 tracks instead of 8. Each deck includes a touch-sensitive jog wheel with integrated graphic display, eight multicolor performance pads, four pad modes (Hot Cue, Beat Loop, Slip Loop, and Beat Jump), and a long form tempo slider capable of ±6, ±10, ±16, and wide range settings. Additionally, each deck offers a reverse direction button, vinyl jog mode with speed adjustment, auto beat loop, and loop slice functionality.
The mixer section features gain trim, a 3-band EQ/isolator, and dedicated sound color FX for each channel. Global beat effects include delay, echo, spiral, reverb, transformer, flanger, pitch, and roll, while dedicated navigation controls allow for browsing and track selection for each deck. Located across the top of the unit are controls for microphone levels and EQ, booth monitor, and master level controls. The system can also be used as a standalone mixer with connections for CDJs and/or turntables. The XDJ-RX3 ships with a power cord, USB cable, and a license for rekordbox dj software.
Based on CDJ-3000 and DJM-900NXS2
2-Deck, 2-Channel System
10.1″ Touchscreen
Eight Multicolored Performance Pads
Hot Cue, Beat Loop/Jump and Slip Loop
Sound Color FX for Each Channel
Global Beat Effects, 3-Band EQ/Isolators
Two Microphone Inputs with EQ
USB Link Export
Includes rekordbox DJ Software
Vairāk informācijas – Pioneer XDJ-RX3