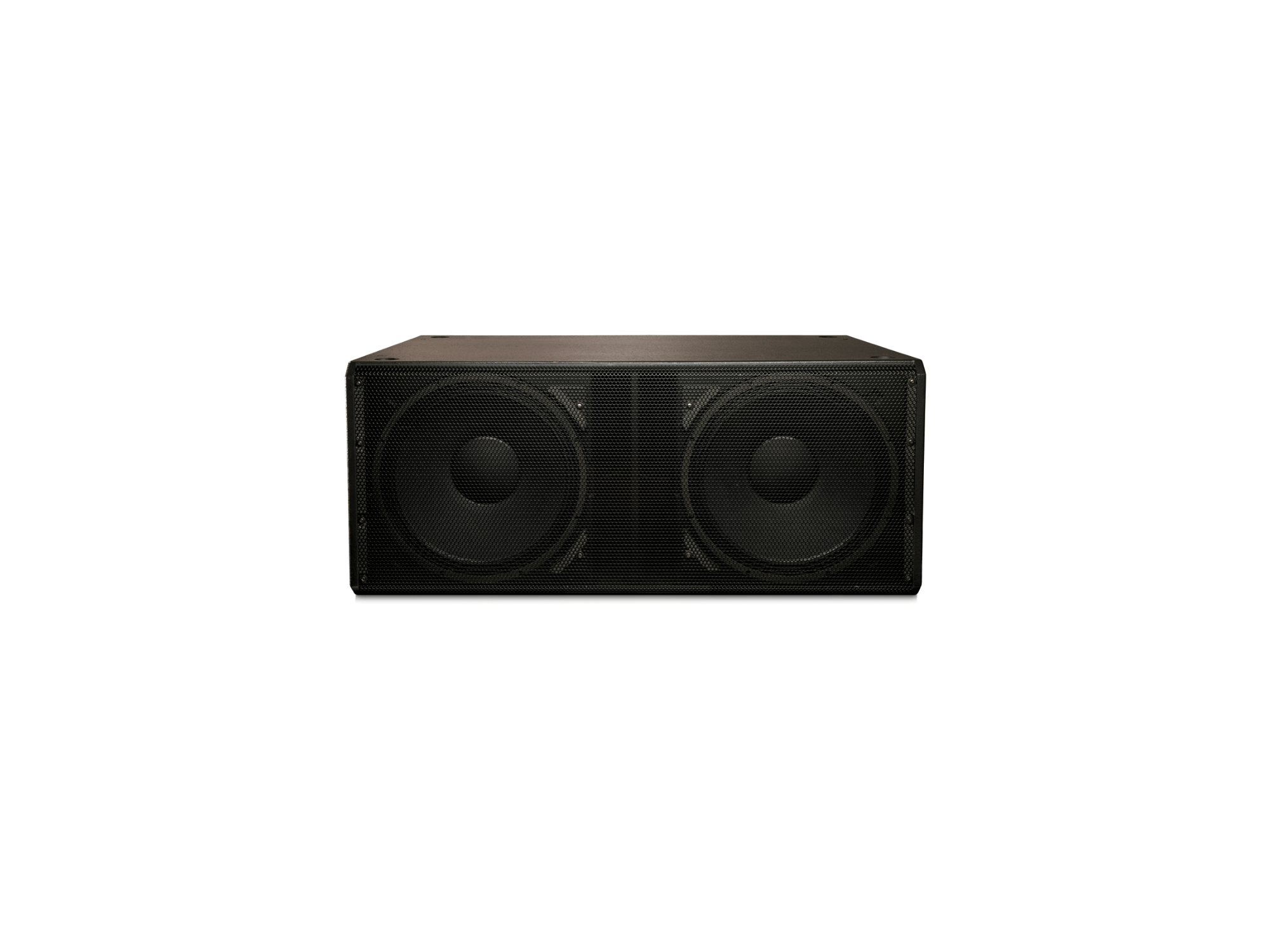 The GP218-sw is a premium, high-performance, rectangular dual 18″ subwoofer designed for ground stacked use in the most demanding touring or installed concert applications. With an impressive combination of punch, low-frequency extension and musical accuracy, the QSC GP218-SW-BK is an ideal companion for the acclaimed QSC WideLine series as well as other professional sound reinforcement systems. For suspension in permanent installations each GP218-sw QSC passive subwoofer comes with a total of sixteen (16) threaded M10 inserts (four per side).
For ground-supported applications, the subwoofers may be stacked horizontally using their interlocking feet and recess features machined into the enclosure's top panel.
The 18″ woofers incorporate a double layer spider and triple roll surround for extended and controlled excursion at extreme power. The 4″ voice coil is wound on a fiberglass former to prevent deformation at high operating temperatures and is extensively vented to reduce power compression. An aluminum demodulating ring is employed for low distortion.
The extremely musical yet powerful performance of the QSC passive subwoofer is the result of carefully balancing the transducer selection, cabinet volume and port tuning. The resulting system offers plenty of "punch" while maintaining ample extension so the musically important and satisfying fundamentals are solidly and accurately reproduced.
The enclosure of the QSC GP218-SW-BK is constructed of premium quality birch plywood finished in an environmentally friendly, waterborne, polymer finish that stands up to life on the road while also being field repairable. Extensive internal bracing is employed to eliminate acoustic losses due to panel resonance. Further contributions to cabinet rigidity come from vent walls constructed of the same plywood as the enclosure. Woofers are protected by a heavy-duty, 14 gauge, powder coated steel grille and housed in separate chambers to prevent failure of one driver from causing damage to the other.
Despite the extremely large amount of air moving in the ports, careful attention to detail has resulted in a system that is free of port distortion "chuffing". Ample port area allows massive amounts of air to move freely with minimal turbulence and the ports are arranged so as to eliminate asymmetrical loading of the woofers, which can result in distortion and voice coil failure related to rocking-modes.
Like its "flyable" brother, the WL218-sw, the GP218-sw subwoofer's sonic performance and output capacity are second to none. But for those who only need the exceptional sonic performance, without the need for expensive rigging and flying capability – the GP218-sw gives the exact same sonic impact, but for a more economical price tag.
Features:
Very high acoustic output capability – 140.5 dB SPL(1m) peak
Tight musical "punch" combined with low-frequency extension down to 27.4 Hz
Elegant transport and handling features including an optional transport dolly plus soft cover and four thoughtfully placed handles
Premium-grade, long-excursion, high-power woofers with 4″, fiberglass voice coils, double layer spiders and triple-roll surrounds
18 mm Birch ply enclosure with independent, dual chambers and extensive internal bracing for rigidity and solid, accurate reproduction
Specifications:
Configuration: 2 x 18″ vented subwoofer
Transducers: 8 ohm, 18″ woofer with a 4″ voice coil, ceramic magnet assembly
Frequency Response (±3 dB): 31.4 Hz – 240 Hz (without processing)
Frequency Range (-10 dB): 27.4 Hz – 1.2 kHz (without processing)
Nominal Impedance: 4 ohms
Continuous Power Capacity: 1700 W
Recommended Power: 3000 – 4000 W
Sensitivity (1 W at 1 m): 101.5 dB
Maximum Output – Continuous / Peak (SPL at 1 m): 134.5 dB / 140.5 dB
Cabinet Type: Vented, rectangular enclosure
Enclosure Material: Baltic birch plywood / 18 mm
Grille: 14 gauge powder coated steel
Connectors: 2 x NL4 in parallel
Pin Outs: Pins; 1+/1-Sub; 2+/2-NC
Attachment Points: Sixteen (16) threaded M10 inserts
Weight: Net – 191 lbs (86.6 kg); Shipping – 209 lbs (94.8 kg)
Dimensions (H x W x D): 20″ x 47.17″ x 30″ (508 mm x 1198 mm x 762 mm)
More information – QSC