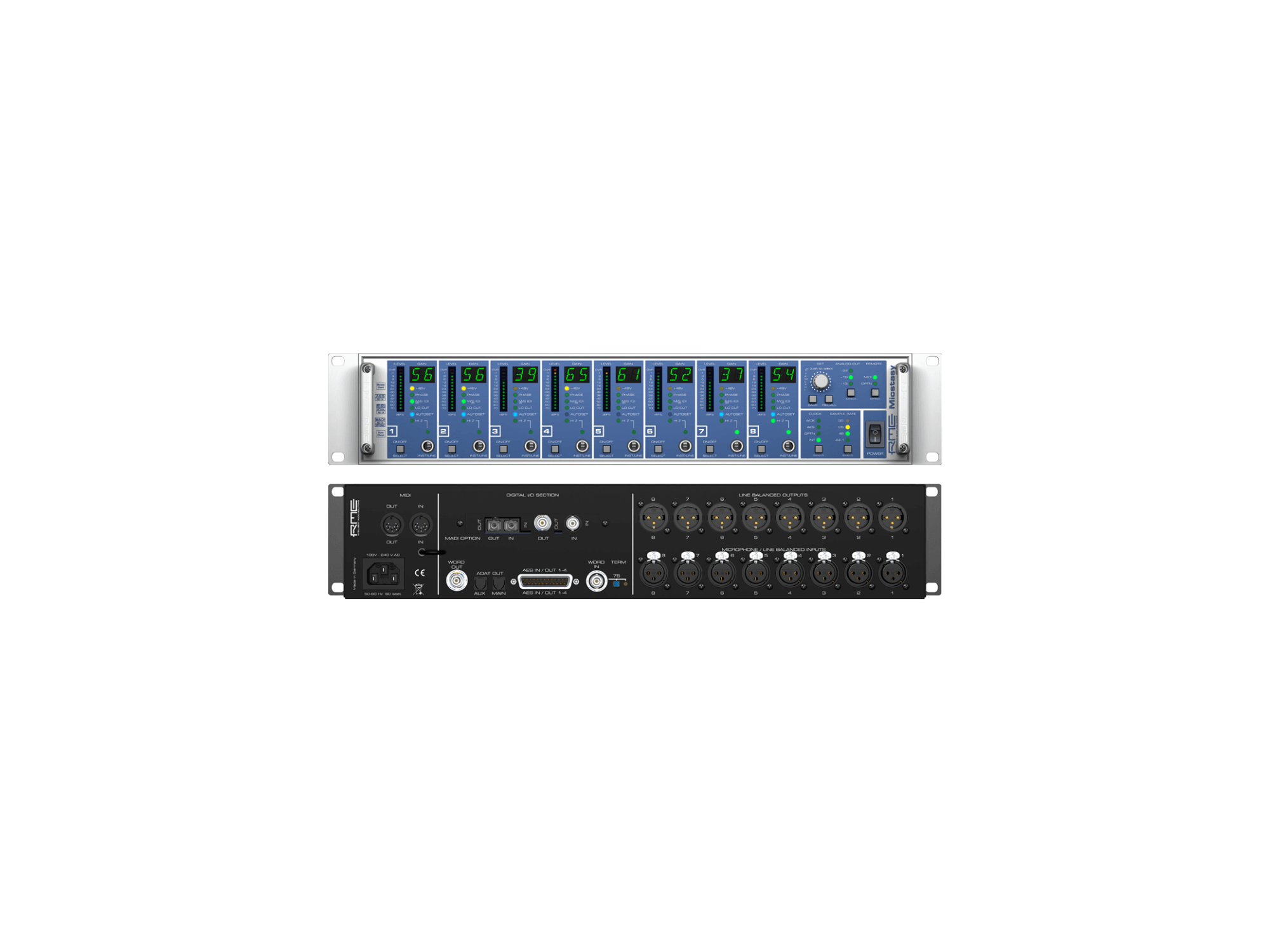 In a standard 19″ box with 2 unit height the device offers numerous extraordinary features like Intelligent Clock Control (ICC) , SyncCheck ®, SteadyClock, TotalGain, AutoSet, MIDI over MADI, and remote control via MADI and MIDI.
The technologies known from other RME products like SyncCheck® ensure perfect synchronization and clear detection of errors. Also multiple units can be stacked and operated sample-aligned, using word clock. All settings are stored when the unit is switched off.
The Micstasy can be fully remote controlled and configured via MIDI, and all status displays can be queried through MIDI. Each Micstasy can be given a separate ID, allowing separate remote controllability of various devices with only one MIDI channel. The MIDI remote is also compatible to Digidesign's Pro Tools system, Yamaha's M7C and PM5D. The manual further shows how to remote control the Micstasy from the DM-1000 and DM-2000.
RME's SteadyClock(TM) guarantees excellent clock quality in any situation. Due to the highly efficient jitter reduction, the Micstasy's AD-converters operate independently from the quality of the external clock signal, as if they are working with internal clock all the time – guaranteeing a pristine sound quality! Additionally Intelligent Clock Control (ICC) will retain the last valid sample frequency in case of a loss of the input signal.
192 kHz

8x Balanced XLR mic / line inputs with Hi-Z option and 85 dB gain range

8x Balanced XLR line outputs

4x AES / EBU Out via D-Sub, 8 channels @ 192 kHz

2x ADAT Out, 8 channels @ 96 kHz

Optional MADI I / O (I64 MADI Card)

LED level display with 13 LEDs per channel

M / S decoding / encoding at the digital output

Current device status can be stored in 8 memory locations

Fully remote controlled
More information – RME