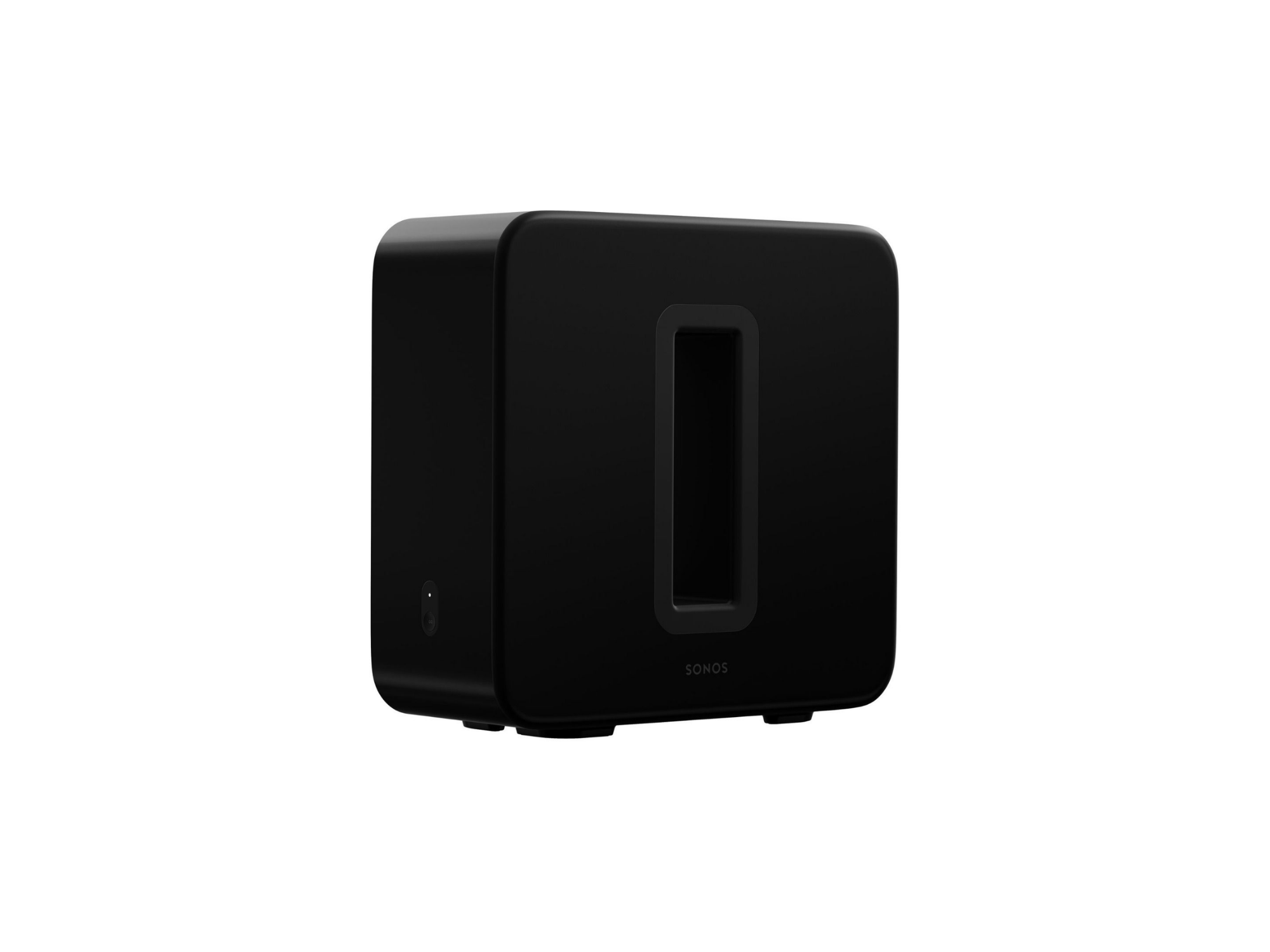 Add more bass to your existing Sonos setup with the black, Gen 3 Sonos Sub Wireless Subwoofer. It connects to your system via Wi-Fi or Ethernet and features a dual-driver design to help eliminate unwanted vibration and distortion.
Designed to Eliminate Distortion
Two force-canceling drivers at the center of the Sub help eliminate vibration and rattle to provide powerful bass without any distortion. The sound ports are designed to strategically force the internal energy out of the cabinet to prevent muffling while the Sub's resin cabinet helps resist vibration.
Slim Design
The 6.2″ slim design of the Sub allows it to be situated upright or laid on its side.
Produces Low-Frequency Effects
The Sub takes over the lowest frequencies of your audio, enhancing the midrange playback of your paired speakers to help provide fuller, more detailed sound.
More Immersive Entertainment
Connect the Sub to your Arc or Beam to enjoy added bass in your TV shows, movies, and video games. You can further expand your system with a pair of One SL speakers as surround speakers for an even more immersive home theater experience.
Automatically Upgradeable Design
Enhanced storage and processing power allow the Sub to be automatically updated with new integrations, enhanced security, and more.
Wi-Fi Connectivity
Stream via your Wi-Fi network and wirelessly connect to other Sonos speakers for an expanded sound system.
Trueplay Tuning Technology
This feature optimizes the sound for the unique acoustics of your room.
Designed for Simple Setup
Go from unboxing to listening in minutes. Just plug in the power cable and open the Sonos app.
Enhance Your Home Cinema & Music Listening
Clean, Deep Bass Without The Vibration
Sleek Design To Fit Any Room
Wireless Connection & Simple Setup
Updated Internals
| | |
| --- | --- |
| Department | Subwoofers |
| Skaļruņi | 6″ |
| Ieejas | WiFi |
| Izmēri | 38.9 x 40.2 x 15.8 cm |
| Svars | 16 kg |
More information found here – Sonos