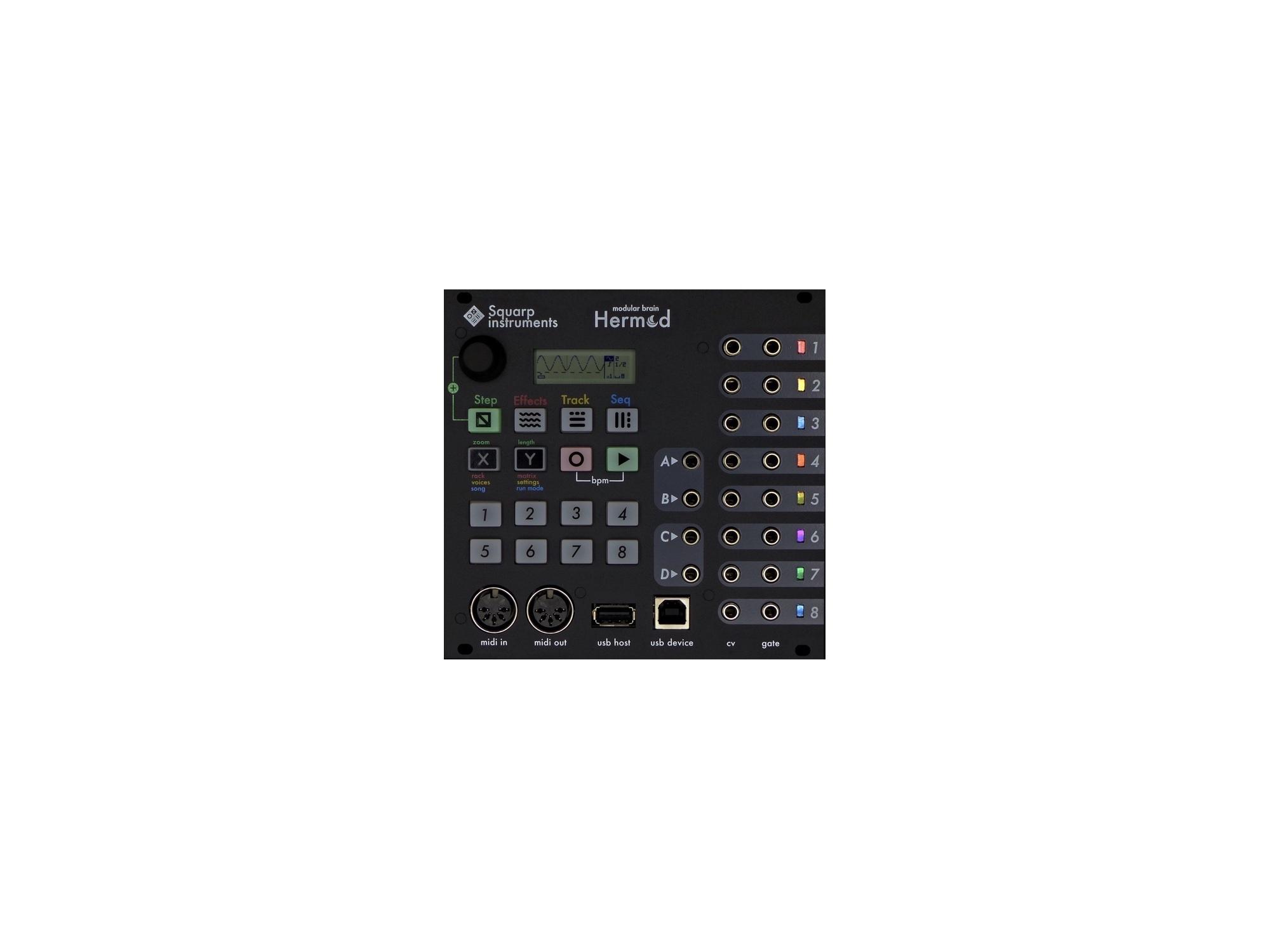 Hermod brings together a powerful step sequencer, a CV looper, a real-time effect processor, LFO generators and a complete bi-directional MIDI-USB-CV input/output interface.
Record a performance at any time thanks to the CV inputs, the USB HOST, the USB DEVICE and the MIDI input. Create and edit your tracks with the STEP mode and its piano roll and automation view. Generate crazy patterns with the randomization tool.Hermod is polymetric, it means that each track can have a different length, from 1 step to 64 steps. Moreover, you can zoom in to increase the resolution of the step sequencer (up to 512 steps).
Core player
Number of tracks: 8
Number of sequences: 8
Number of projects: unlimited
Number of events (notes, automation) per project: ~80000
Recording resolution: 24ppqn
Tempo: 1 to 250 BPMTracks
Maximum number of notes per step (polyphony): 8
Maximum number of effects per track: 8
Maximum number of modMatrix destinations per track: 4
Automation per track: 3 (modulation, pitchbend, aftertouch)
Note pitch: C0 to B9
Note velocity: 0 to 127
Note width: 1/24th to 16 bars
Track length: 1/4 bar to 16 bars (1 step to 64 steps at zoom x1)
Zoom: x1 (1 step = 1 quarter notes) to x8 (1 step = 1/32th note)Inputs
MIDI (control Hermod with a MIDI controller)
USB host (control Hermod with a computer)
USB device (control Hermod with an USB controller)
4x CV in [-5V to +5V] (control Hermod with CV/GATE notes, CV modulation, clock)Outputs
MIDI (sequence/control your MIDI synthesizers with Hermod)
USB host (sequence/control your computer with Hermod)
USB device (sequence/control your USB devices with Hermod)
8x CV out [-5V to +5V] (= midi range C0 to C10, with C5 = 0V)
8x GATE out [0V to +5V]User interface
16 backlit silicon button pads
Menu clickable encoder
White backlit high contrast LCD screen
8x RGB LEDS to display the CV/GATE output voltages
MicroSD card slot to save/load your projects and upgrade the OS in a flash (SD card included)
Real time save/load: if Hermod is the master or is slaved, it keeps receiving and sending midi/usb/cv clocks, in order to be always perfectly synchronized.Other
CPU: 216MHz ARM
DAC (CV outputs) resolution: 16-bit (= 0,15mV precision!)
ADC (CV inputs) resolution: 12-bit
Width: 26HP (up to 30mm in depth)
Weight: 290 gr (0.64 lbs)
Requires a ±12V eurorack supply (consume 310mA from the +12V rail and 30mA from the -12V rail)Hermod is engineered in Paris and assembled in France.