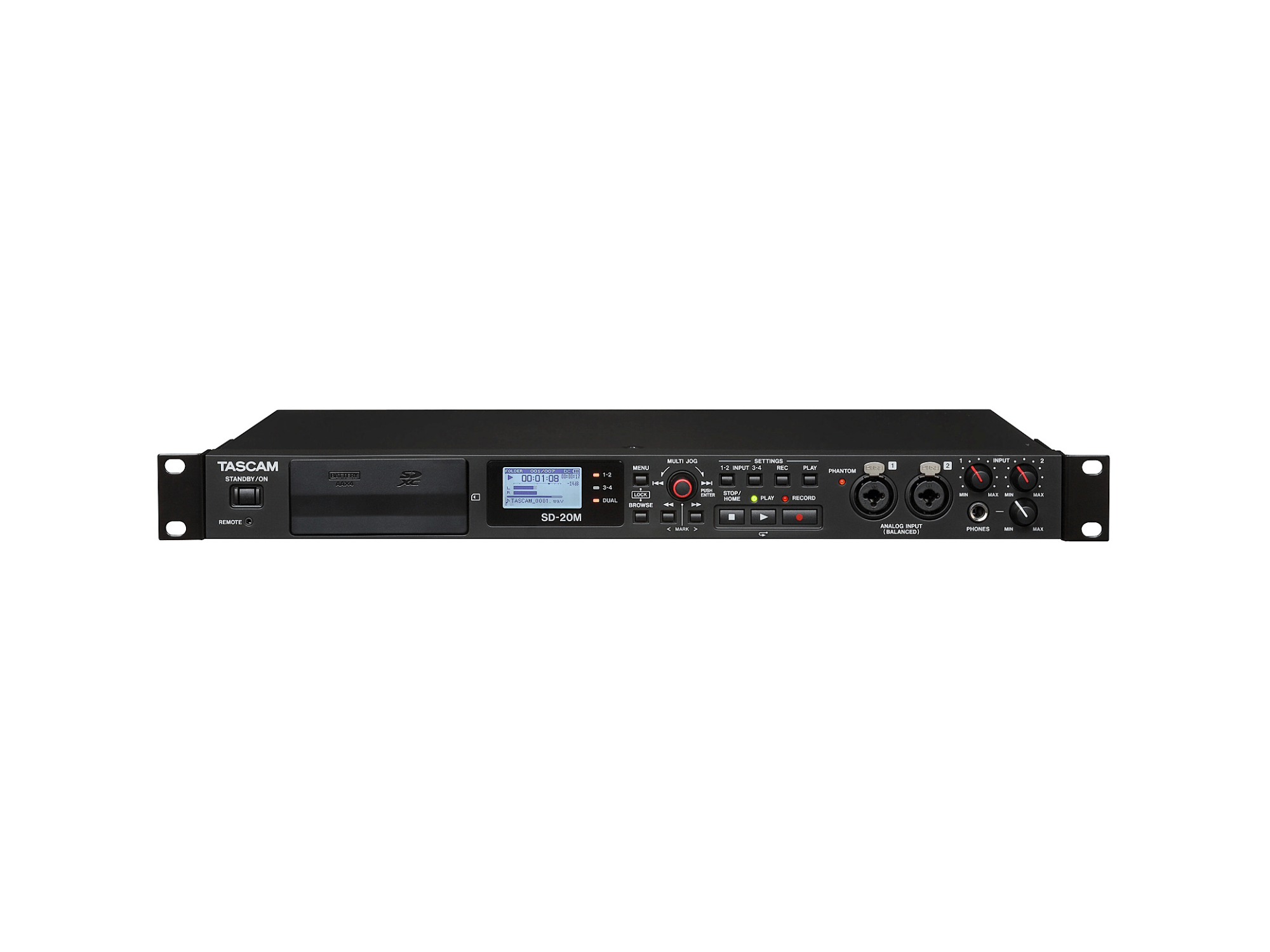 The SD-20M is a simple-to-use solid-state recorder at a breakthrough price. The 1-U rackmount includes a pair of microphone preamps with phantom power for direct microphone recording. Both the mic inputs and line inputs can be recorded simultaneously in four-track mode. The dual recording mode captures a copy of your audio at a lower level, as insurance against distorted takes.
The SD-20M includes a battery backup system: AA batteries can keep recording for hours in case of power loss. A wired remote or footswitch can be attached to control recording and playback. Variable speed playback allows the playback to be changed without affecting the pitch.
Designed for installations like schools, house of worship, and conferences, the SD-20M is a flexible, affordable solution for long-form recording.
Microphones or equipment with line-level output can be connected directly to the two XLR/TRS combo inputs on the front. Their levels can be adjusted with the dedicated knobs.
During the recording of a meeting, for example, while recording the line outputs of the meeting system equipment via the recorder's rear line inputs, you can simultaneously record two channels separately using microphones as a backup.
In a music classroom, studio or similar situation, you can easily set up a system for multitrack recording and other purposes using the line inputs for instruments with line output and the mic inputs for acoustic instruments.
Studio line level support and phantom power
The two XLR/TRS combo inputs on the front are suited for balanced +4 dBu line level input from mixers and other devices. They also support condenser mics that require phantom power supply (48 volts). These features enable a wide range of setups. The locking mechanism also prevents the unintended disconnection of cables.
The RCA unbalanced inputs on the back support –10 dBV line level input from mixers and other devices. Together with the XLR/TRS combo jacks a variety of devices can be connected.

Dual recording creates a backup to avoid distortion
The dual recording function allows a file to be recorded simultaneously at a lower level in addition to the main recording. If the main recording should become distorted due to sudden loud noises, you can use the backup file recorded at a lower level.
(When the dual recording function is enabled, only two inputs can be used to record.)
Specification and other feature lists, https://www.tascam.eu/en/sd-20m