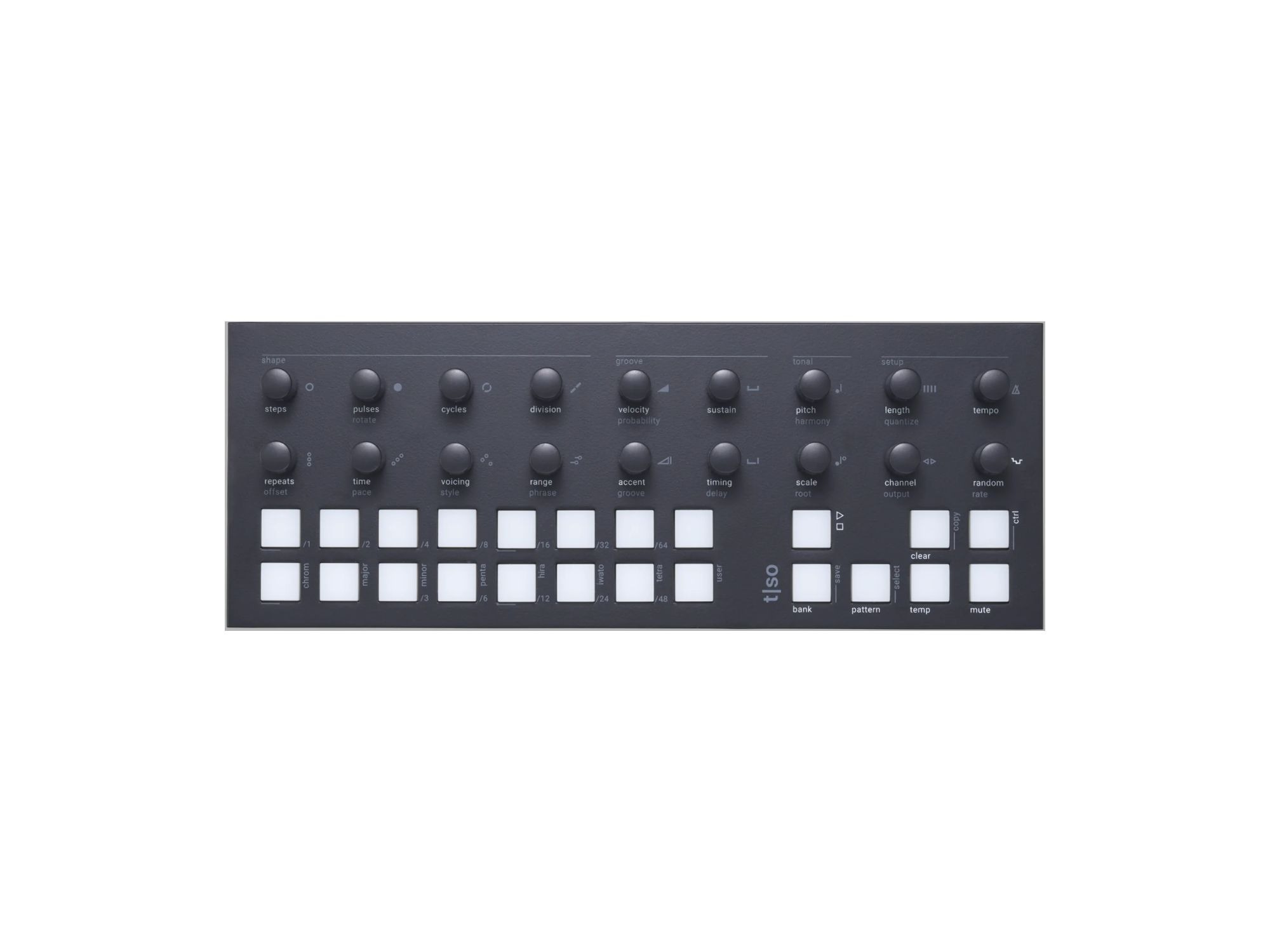 Designed for a workflow that resembles designing a sound on a synthesizer rather than simply programming a sequence of musical events, T-1 offers an intuitive approach to composing electronic music with plenty of pleasant surprises at every turn.
At the core of T-1 is a Euclidean rhythm generator that allows you to quickly construct complex rhythmic patterns with a few knob turns. However, what sets it apart from other Euclidean sequencers is an additional step edit feature that lets you manually edit the rhythm on top of what's generated by the algorithm. But there is more to it—the sequencer is equipped with a sophisticated per-step note repeater that can quickly spice up a simple sequence.
Not only does T-1 excel at creation of intricate rhythms, but it is also a powerful tool for composing elaborate melodic and harmonic structures. Melodic composition is accomplished through modulating of the pitch via looping random melodic sequences, and locking notes to a selected or customized musical scale. Moreover, a voice-leading algorithm is implemented to supply you with a plethora of voicings to ensure the most musical of chord transitions. The algorithmic nature of T-1 is further reinforced with a flexible randomization feature that can be applied to varied extent to any or all parameters. This creates an opportunity to either gradually evolve the content of the sequences or generate completely new sequences in an instant.
T-1 doesn't disappoint in its capacity to connect with a variety of other gear either. The sequencer sports support for Ableton Link, and connects to hardware via MIDI, and a generous amount of CV/Gate and analog clocking I/O. Being extremely portable, T-1 is really a sequencing powerhouse that can as comfortably take cues from other sequencers in your setup or claim a leading role.
T-1 FEATURES
Powerful algorithmic sequencer for rhythms, melodies, and harmonies
16 polyphonic tracks
16 banks with 16 patterns in each
Based on a Euclidean rhythm generator with step editing functionality
Melody creation via looped random sequences
Built-in quantizer with option for user-customizable scales
Voice-leading algorithms for musical chord progressions
Comprehensive randomization options
MIDI via TRS and USB
Analog clock I/O
2 Gate and 4 CV outputs
CV input
Support for Ableton Link
More information – Torso Electronics